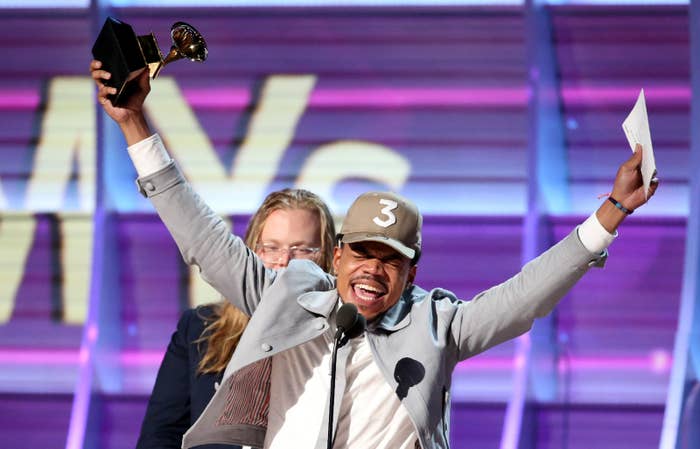 Chance the Rapper, the artist who recently won a historic Grammy for his online mixtape "Coloring Book," took to Twitter today to respond to growing skepticism over his status as an independent artist.
Chance has publicly championed his freedom from record labels throughout his career, and he hasn't signed to a label to date. But there's been a rising tide of questions and criticisms (The Village Voice, the Ringer, Fact Magazine) about his growing stardom and his choice to temporarily make "Coloring Book" an Apple Music exclusive for two weeks, despite claiming that it was free.
Reality TV personality and rapper Joe Budden debated Chance's independence just yesterday on his podcast, "I'll Name This Podcast Later." Chance previously made all his music available for free online, so his decision to sell exclusive streaming rights over his music to a major corporation (even if for a limited time) jarred some of his fans.

You can listen to the conversation about Chance in this clip posted to YouTube:
Some people on Twitter were also unconvinced about exactly how ~independent~ Chance might be:
Apple Music struck a similar deal with Frank Ocean for his album Blonde, which also debuted in 2016 exclusively on Apple Music.
But others pointed out that Apple Music isn't a label and therefore doesn't own the rights to the rapper's music.
According to sources within the company, Apple only worked with Chance as a distribution and marketing partner, so it doesn't own the rights to any of his music.
In an interview with Complex Magazine released March 13, Chance talked about the creative importance of being independent from major labels.

"I don't mean do it by yourself, like literally, like, 'I'm doing everything,'" he said. "You can bring on your friends and professionals that you know and build a business where you're the upper management. Where you're the creative, and you are the last decision maker, and you don't ever have to feel compromised...But [when] you sign to label, you get a boss, and that shit's just fucked up to me. Why should you have a boss?"
Chance the Rapper's publicist did not immediately respond to request for comment.