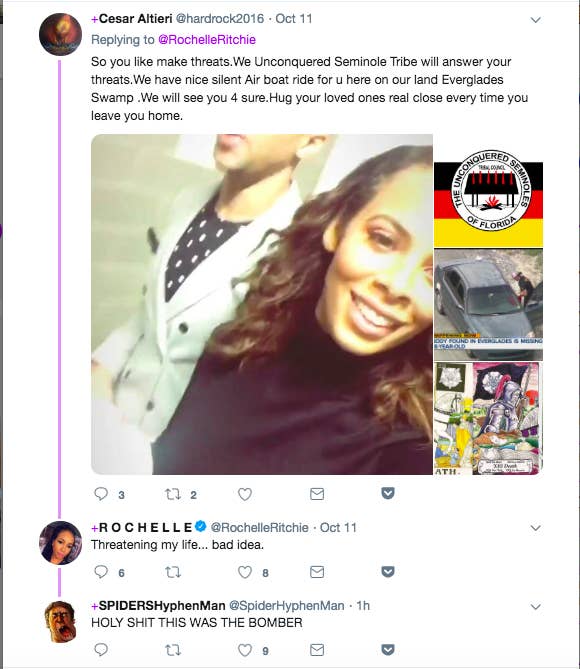 The man suspected of sending pipe bombs to prominent Democrats and critics of President Trump threatened the life of a political commentator in a tweet earlier this month, but Twitter told her it did not violate its guidelines.
Cesar Altieri Sayoc, 56, who was identified Friday as the suspect behind the 13 "improvised explosive devices" that were intercepted over the past week, has a history of threatening people on social media. But one of them, Rochelle Ritchie, 36, a cable news contributor and former journalist, tweeted that Twitter did not penalize Sayoc after she reported his threatening tweet.
Less than three weeks ago, Sayoc replied to a tweet from Ritchie in which she said she was an independent political thinker.
"So you like to make threats. We Unconquered Seminole Tribe will answer your threats. We have nice silent Air boat ride for u here on our land Everglades Swamp. We will see you 4 sure. Hug your loved ones real close every time you leave you [sic] home," he tweeted.
The tweet included a picture of Ritchie and a screenshot of a local news report about the discovery of a corpse in the Everglades.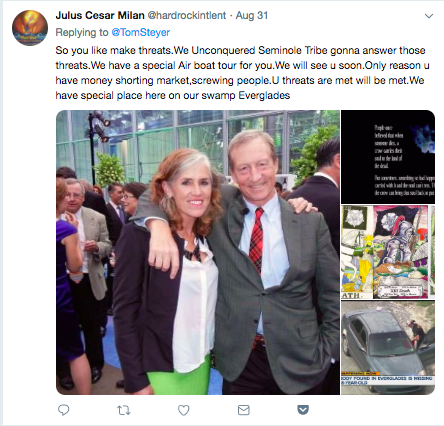 Ritchie responded, "Threatening my life...bad idea."
On Friday, after Sayoc was identified as the pipe bomb suspect, she shared a screenshot of an email showing that Twitter had determined that Sayoc's tweet was within the boundaries of its terms of service when she reported it.
Reached for comment, a Twitter spokesperson declined, telling BuzzFeed News, "This is an ongoing law enforcement investigation. We do not have a comment."
But on Friday evening, Twitter said in a statement that it "made a mistake" and that Sayoc's tweet "clearly violated our rules and should have been removed."
"We are deeply sorry for that error," the company said.
When Sayoc's Twitter account was suspended Friday afternoon, Ritchie tweeted, "Oh so now you suspend his account @Twitter!!!"
Ritchie said Friday afternoon that she received another message from Twitter, this time claiming its initial ruling was "sent in error" and that it had investigated and suspended Sayoc's account.
"What's abusive behavior? Do I have to be found floating in the Everglades in order for this to be taken seriously? Does a bomb have to go off in order for this to be taken seriously?" she told USA Today, adding that Twitter's responses made her "really, really mad."
In an interview with Fox News on Saturday, she said Twitter didn't take her complaint seriously.
"We are told if you see something, say something. And I saw something and I said something and nothing happened. And it seems that that motto does not apply when it comes to social media websites," said Ritchie.
She noted that Twitter replied to her just seven minutes after she reported Sayoc, to say that his tweet would not be removed.
Ritchie said she's used to nasty comments, but Sayoc's struck her as more malevolent.
"Whether it's someone calling me the N- word or bitch, I let those roll off my back. But this one was a little different," she told USA Today.
And she argued that President Trump needed to "take responsibility for his divisive rhetoric," which she blamed for the kind of abuse she received from Sayoc.
"Look the president is not going to come out and say 'I apologize,' I get that ,but what he can do is simply change his tone. That's it," said Ritchie on Fox News on Saturday. "He doesn't have to necessarily take ownership of it but what he can do is, behind the scenes, say 'I'm going to take a little bit of a different approach because I don't want to see people become harmed as a result of what may be fueling this fire.'"
Ritchie had blocked Sayoc, but took notice again when her followers flagged the tweet to her Friday morning.

Sayoc had also tweeted images at former vice president Joe Biden that outlined a similar trajectory. They showed an airboat, a swamp, and a cloud of blood in the water. Another tweet seemed to say Sayoc would feed Biden's body parts to alligators.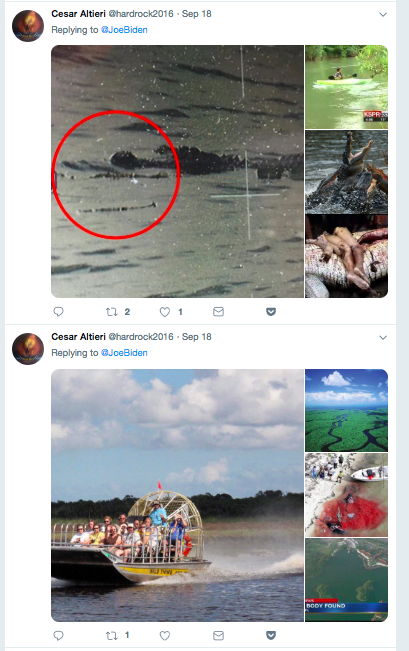 Sayoc also tweeted threats at CNN anchors, James Comey, John Kerry, Illinois Congressman Luis Gutierrez, Democratic billionaires Tom Steyer and George Soros, and US Sen. Cory Booker.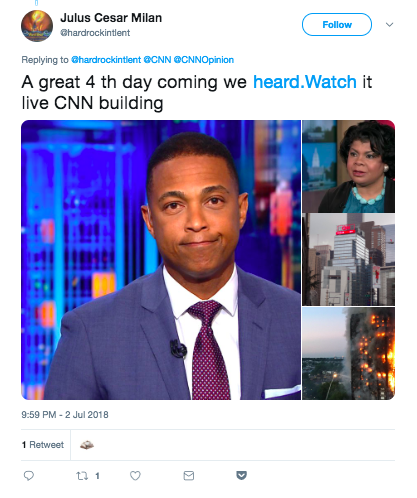 Sayoc's van was also plastered with a collage of stickers that showed rifle cross hairs over the faces of some of the Democratic figures he allegedly sent bombs to.
The Florida man was charged with five federal crimes, including interstate transportation of an explosive, illegal mailing of explosives, threats against former presidents and certain other persons, threatening interstate communications, and assaulting current and former federal officers.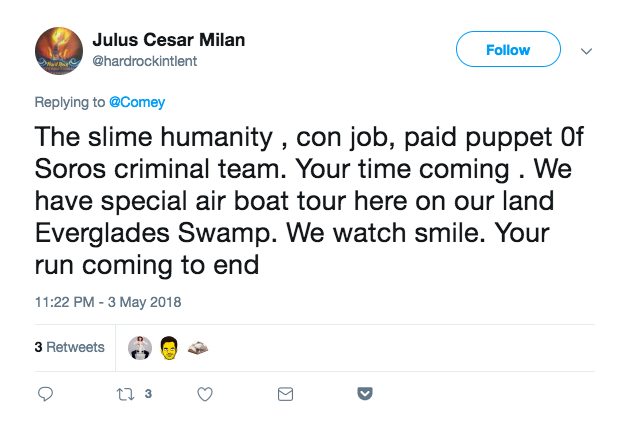 He faces up to 48 years in prison if convicted, according to a spokesperson for the Department of Justice.
Twitter has repeatedly tried and failed to curb harassment and abusive behavior on the platform, and its response has been far from consistent.
"Out of all social media services, Twitter is the absolute worst when it comes to political divisiveness," Ritchie told USA Today.