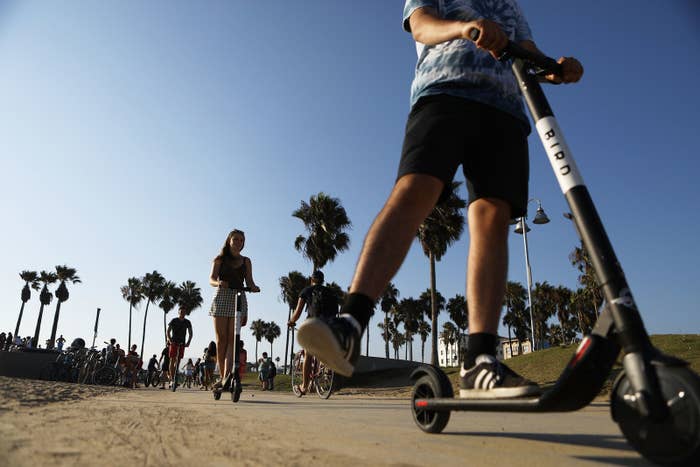 A burglar allegedly fled the scene of the crime on a Bird electric scooter Tuesday and the company is reportedly cooperating in the investigation.

Michael Leppert, a 51-year-old lobbyist, told BuzzFeed News he was in the shower on the second floor of his house in Indianapolis when he heard an unidentified noise downstairs. He left the shower and called down "Hello?" and the noise stopped. But when he went downstairs, he saw his back door was open and that his wallet, laptop, and backpack were gone.
A neighbor who had come to his yard to close an open gate told Leppert she had seen what she thought was a delivery man in his backyard on the phone and then riding away on a scooter. Leppert said his yard is roughly 30 to 40 yards off the nearest street, so the alleged thief would likely have ridden the scooter to his house.
He called the police — he said they weren't interested in the scooter — and tweeted at Bird for help.
In Leppert's email correspondence with Bird, the company asked for the location, time, and direction the suspect was heading in. Bird told him it could not share customer details, but that it would investigate the incident and "take appropriate action against the rider responsible." The app tracks the locations of scooters, and users must create unique accounts with personally identifiable information to be able to ride them.

A Bird spokesperson said in an email that the company was working with authorities:

We do not condone criminal behavior regardless of the mode of transportation that is used to commit the crime ... We are currently investigating the situation, and fully cooperating with local authorities during this process.
Leppert said he's more worried about future uses of Bird scooters as getaway vehicles than he is about his stuff, though he'd like to get it back.
Electric scooters have popped up in cities across the country in the past few months, disrupting city life in unexpected ways.

The Indianapolis Police Department did not immediately respond to a request for comment.