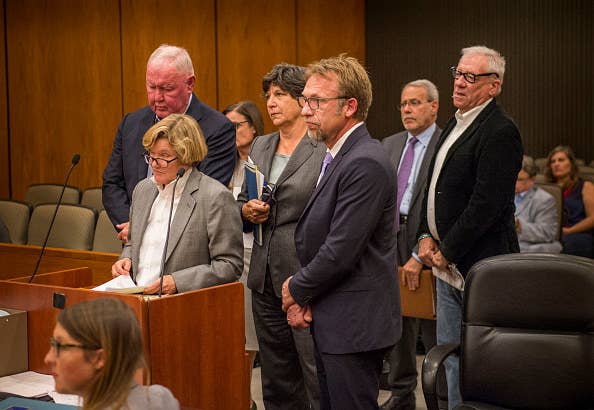 Backpage.com has pleaded guilty to human trafficking and conspiracy to launder money, officials announced Thursday, one week after the US government shut down the classified ads website and days after Attorney General Jeff Sessions called it the "dominant marketplace for illicit commercial sex."
The Department of Justice announced that Backpage CEO Carl Ferrer, 57, pleaded guilty to federal charges filed in Arizona of conspiracy to prostitute and conspiracy to engage in money laundering. Attorneys general in Texas and California also announced Thursday that the executive pleaded guilty to money laundering.
In a 93-count indictment unsealed on Monday, federal prosecutors alleged Backpage earned $500 million in prostitution-related revenues since launching in 2004.

Ferrer admitted knowing that the majority of Backpage's "adult" and "escort" ads were, in fact, ads for prostitution, according to the Department of Justice. He also allegedly told investigators he instituted policies to conceal the nature of the ads from law enforcement, but allow them to remain on the site. Ferrer said he also conspired to launder Backpage's funds with other executives, officials announced.
Texas Attorney General Ken Paxton said in his announcement that Ferrer's cooperation "could lead to other criminal charges against individuals associated with the company."
According to California Attorney General Xavier Becerra and the Department of Justice, Ferrer has agreed to assist in the prosecution of Backpage's cofounders Michael Lacey and James Larkin, shut down the site worldwide, and hand over the site's data to law enforcement.
He also faces up to 10 years in prison.
Larkin, Lacey, and five other defendants were charged Monday with knowingly facilitating prostitution-related crimes, as well as money laundering for their work at Backpage. They have pleaded not guilty.
Ferrer is not named as a defendant in that indictment.
Paxton's office previously arrested Ferrer in Houston in 2016 and executed a search warrant at his Dallas home. The evidence gathered there played a part in building the current case against Backpage and Ferrer, according to Paxton's announcement.

Ferrer, along with Lacey and Larkin, had faced criminal charges for conspiracy to pimp and other related counts in California. But that case was dismissed in 2016 after a judge found that the defendants were protected by the federal Communications Decency Act, which provides immunity against charges for speech created on a website by third parties — in this case, the ads on backpage.com.

"Taking down Backpage and obtaining a criminal conviction for the company and its CEO represents a significant victory in the fight against human trafficking in Texas and around the world," Paxton said in a statement.

Becerra also called the latest legal victories against Backpage "a game-changer in combatting human trafficking."
Gregory Zarzaur, who has been litigating against Backpage for a year on behalf of an alleged child sex trafficking victim in Alabama, said he hopes other victims would be encouraged to come forward.
"It is my sincere hope that my client's tenacity and today's news of Backpage.com's acknowledgment of its guilt in facilitating human trafficking will encourage other survivors of human trafficking to come forward, tell their stories, and hold wrongdoers accountable," he said.
Backpage did not immediately respond to a request for comment, nor did the Department of Justice. Ferrer's attorneys did not immediately respond to request for comment.
Last week, Backpage began displaying a message saying the federal government had seized the website. The site was the dominant hub for sex workers to advertise their services and it had come under increasing scrutiny in recent years as the US government made efforts to crack down on sex trafficking with legislation like the Stop Enabling Sex Trafficking Act, which President Trump signed this week.
SESTA aims to halt sex trafficking, particularly of children, by restricting what kind of information can be posted on websites like Backpage, where people often advertise sexual services. Critics say it endangers sex workers and may impinge on free speech online.