People have been going nuts over their Instagram antics.
Comments like "the chamber of secrets has been opened" and "u tryna slytherin" have people like 👀👀👀👀. Davidson also got two tattoos inspired by Grande in the past month.
The relationship has been public for only a few weeks, but People, TMZ, and Us Weekly are now reporting that the couple is engaged.
According to TMZ, Davidson proposed to Grande, who accepted.
The couple, Us Weekly reported, attended Robert Pattinson's birthday party in Los Angeles on Saturday and told people that they're engaged.
Billboard reported that Grande posted a photo to her Instagram story in which she "appears to be sporting a big rock on her left finger," but Davidson's manager told BuzzFeed News it was not an engagement ring.
Neither Grande nor Davidson have confirmed the engagement reports.
When asked if the reports were accurate, Davidson's manager said: "He will most likely be at The Stand tonight...It's Pete's favorite stage."
Asked whether Davidson would make an announcement at the Stand, the manager said he didn't know.
Representatives for Grande did not immediately respond to requests for comment.
After the engagement was reported, Grande tweeted "i love u sm" with a bunch of "see no evil" monkey emojis and "ok bye," which...???
And she liked these tweets about the engagement.
Grande also posted these cryptic tweets just before the news broke.
Obviously, fans have a lot of questions.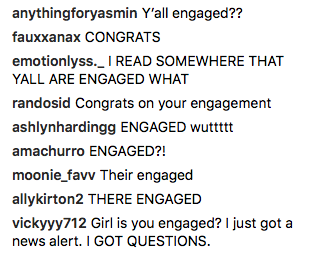 Well, one question. But it's a big one.
This is all happening very fast!
One fan said Davidson should be commended for holding out as long as he did.
Who knows what's going to happen next?
Suffice it to say their dating life is not like yours or mine.