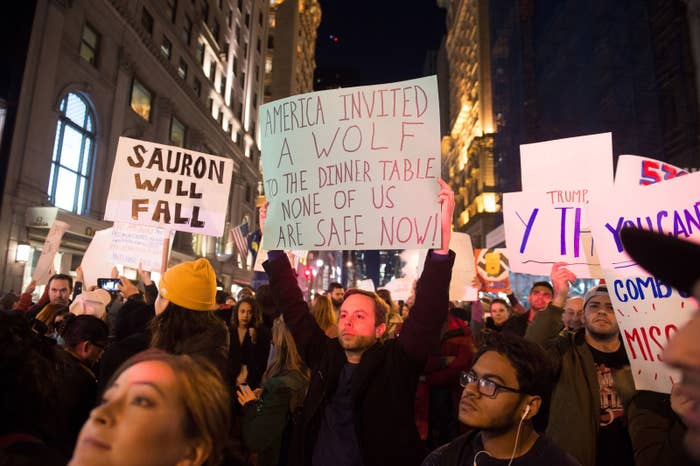 While Twitter provided a launching pad for the Arab Spring in 2011 and the #BlackLivesMatter movement and protesters in 2014 and 2015 — BLM leaders even eventually forged strong relationships with executives there — Facebook has emerged as the main organizing platform for the current wave of anti-Trump protesters in the streets around the nation.
Facebook's growing influence over voters — including its promotion of fake political news — and its giant user base of 1.7 billion has attracted every type of activist, from those with deep roots in the radical left to political neophytes. They've broadly used the platform despite widely-recognized drawbacks.
Professor Philip Howard, who studies the influence of digital and social media on civic engagement at Oxford's Internet Institute, said the stronger sense of community on Facebook has likely led to greater engagement with #NotMyPresident.
"At this point the Facebook platform supports several different kinds of media," Howard told BuzzFeed News, "And many people have put in their entire networks of family and friends. Facebook allows people to directly communicate with networks of family and friends, often using personal photos or videos to make a political issue immediate and visceral."
That wide range of media supported by Facebook's platform — events, groups, videos, articles, etc. — coupled with stronger ties between users than on other platforms allows users to more fully express themselves, Howard said.
"While #blacklivesmatter and #notmypresident arose from rapid fire sharing of news and information about protests, it is probably Facebook that allows people to demonstrate full membership in these social movements," he said.
In Baltimore, Kaila Philo, who organized protests on Nov. 9 and describes herself as more of a writer than activist, said, "I was just angry, so I made a Facebook event." One thousand people attended. She had never organized a protest before and isn't planning any more, though she said that many people have asked her to.
"I'm not sure why it got so big, but it's probably a combination of how many of my own friends shared it and good timing," Philo said. "I just happened to propose an action when people were looking for one."
Willa Cowan-Essig, a 20-year-old college student in New York City, created a Facebook event for an art-themed protest this Saturday, Nov. 19, in Union Square. As of Thursday afternoon, there are 530 people attending the event, and 2,700 people have expressed interest on Facebook.
She's never organized a protest before. "I'm 20, I don't know what the fuck I'm doing," she told BuzzFeed News, adding that she created the Facebook page as a way of coping with the results of the election.
The event grew as other New York activists shared it within their networks and crossposted their own ideas and thoughts to Cowan-Essig's event wall.
Noting the numbers (1,300 people had said they were interested by November 14), Cowan-Essig applied for a permit to demonstrate, which police denied. She still plans to protest and urged people registered for the event to come anyway.
The Alabama Unity Rally on November 10 in Birmingham, billed as an anti-Trump and anti-KKK rally, also began as a Facebook event. Jordan Giddens, a student at the University of Alabama at Birmingham who created it, said he didn't expect anyone to respond. According to local news site AL.com, 500 people showed.
Then there was the response on the Facebook event. Some residents expressed solidarity, while some Trump supporters posted death threats before the events started, using hashtags like #LockedAndLoaded and #BulletsForBitches. They threatened group members on Facebook during after the event as well: "Easy solution to this, put them all down. Their [sic] useless to us anyway."
Facebook has, in many ways, put individuals on the same footing as established activist movements.
Professor Howard of Oxford's Internet Institute said, "Traditional civil society groups are well organized to launch television campaigns and go door-to-door. But the spark that ignites a social movement is often a story of abuse or social injustice that passes to you from someone you trust. Facebook has made it possible for individuals with good stories to motivate action with much the same impact that a traditional civic group can."
Howard is also skeptical about the momentum of #NotMyPresident if the individuals who organized protests the week after the election can't or won't combine with larger social organizations.
"Many political issues require a long game strategy that involves knocking on doors and buying TV ads," he said. "The social movements that bloom over Facebook draw a lot of attention to an issue but rarely last long."
Those established activist organizations are planning anti-Trump protests with Facebook because it means turnout will be promising. What they gain in numbers, however, they lose in organizing capability because they aren't able to harvest email addresses and phone numbers for an ongoing list.
Ben Becker, an organizer with the Answer Coalition in New York — a group with roots that trace back to supporting the Soviet invasion of Hungary in the 1950s — said that Facebook helps events spread at unprecedented speeds because attendees are sharing the events and adding their own commentary, which touches something in their friends.
Greg McKelvey, the leader of Portland's Resistance — which endorsed Sanders for president, though McKelvey said the group doesn't have a political ideology — said the group's page allows him to reach a larger audience than local media and to craft their own story.
"Local stations tell me they'll reach 20,000 people with a broadcast, but we're reaching 500,000 people with each post," he said. "The media lost a lot of credibility in the election, and Facebook allows us to drive our own narrative."
But, Becker said, using Facebook means "we're not collecting emails and phone numbers from the protesters," he said, "so often we're just hoping something catches on."
Facebook events do continue to exist after the IRL event has occurred, but the company doesn't allow organizers to pull contact information from attendees. Organizers can continue to post bulletins and send messages through the event page, though not many people who spoke to BuzzFeed News said they used or even knew about this feature. Using the event as an ongoing means of contact is also not something Facebook advertises on its official events page.
And McKelvey was wary of an overreliance on Facebook because it's not encrypted — his group members use encrypted communications to talk amongst themselves, though he wouldn't disclose which tools.
A Facebook spokesperson declined to comment on the protests but pointed to Facebook's publicly available numbers, which say that 35 million people view a public event each day and 650 million do so per month. The company referred to itself as an "a platform for all ideas" unaffiliated with a political ideology.
In addition to events focused on a single action, some hobbyist organizers use Facebook groups for meta purposes. The creator of the group Fuck Trump SF, who declined to give her name, collects articles, events, and links to other groups that are relevant to the anti-Trump movement in the Bay Area.
She said she made her Facebook group so that Bay Area protesters could "determine their protest calendars for the day" because rallies often happen simultaneously.
She doesn't believe that the anti-Trump movement could have launched on any platform besides Facebook: "When you say you're going to an event, you continuously get notifications for posts and location changes. It reminds you to go. Those notification settings are key. It's so easy for messages on Instagram and Twitter to get lost."
She has doubts about whether the movement can maintain momentum among younger people, who she sees as less likely to be on Facebook. "My students ask me, 'I don't have a Facebook, how should I organize?' And I honestly don't know what to say."
Mary Ann Georgantopoulos contributed to this report.