Amazon has launched Amazon Music Unlimited, a premium version of Amazon Prime Music, and it's betting that its Alexa voice control technology will convince listeners to ditch their Spotify or Apple Music subscriptions.
Here's how it works
Unlimited gives users access to a library of tens of millions of songs. The current version of Amazon Prime Music, which comes free with a Prime subscription, has a library of a few million. Unlimited is available to Amazon Prime subscribers for $7.99 a month and to non-Prime members for $9.99 per month. Echo owners have access to a specific subscription plan: They can get a "just for Echo" subscription to Amazon Music Unlimited for $3.99 per month. It's the same library, but it only works for Echo and any connected speakers. A more wide-reaching Unlimited plan works for smartphones and computers.
Here's what's cool about it
The real difference between Amazon Music Unlimited and other streaming services, including Spotify and Apple Music, is its integration with the Echo, Amazon's signature speaker, and Alexa, the voice-controlled assistant that goes with it. You can say things like "Alexa, play the latest single from Adele" to listen to "Send My Love to Your New Lover," or "play U2 from the '80s" to listen to that band's music from that specific era. You can look up songs by lyrics: "Play that song that goes 'One, two three; one, two three, drink'" will get you Sia's "Chandelier." And you can combine genre and mood, requesting "Play sad country music from the '90s" to listen to some Shania Twain when you're down.
Alexa's also listening to you and learning your habits, so if you say "play dinner-party music," it'll play low-key R&B if that's your thing, or Bach if you're more the type to host your boss. You can even ask Alexa to get you a free trial of Amazon Music Unlimited.

The Echo's default music player is Amazon, but the speaker and its Alexa voice control will also play tunes from other streaming services. But if you're asking Alexa to turn on Spotify, it won't respond to your detailed requests; playing from a non-Amazon streaming service will be more like searching and playing from your phone. Amazon is hoping the difference in experience will attract customers who haven't tried streaming services before, or that it will attract people who already subscribe to other services.
"We've done our best to mimic the way people talk to one another about music, rather than the way they search for it on their computers or smartphones," Steve Boom, Amazon's VP of digital music, told BuzzFeed News. "We believe the streaming industry is poised for a new phase of growth outside smartphones."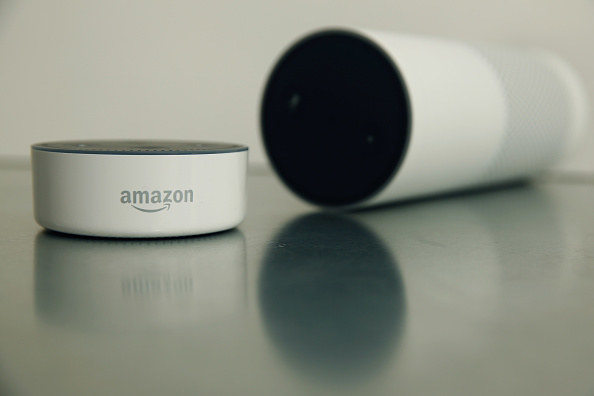 Amazon's also created its own content to accompany the release. You can listen to "side-by-sides" with artists, where they talk about the creative processes behind their songs, or the Amazon Song of the Day, a track picked and described by an Amazon DJ.

Amazon faces stiff competition. Spotify, arguably the biggest player in streaming, is famously unprofitable. Apple is developing a smart speaker that will likely integrate with Apple Music. Google Home, which offers Google's search advantages, already integrates with Google Play. Boom said Amazon is "definitely still in the investment phase" with Unlimited, but he said the company has a plan to make the service profitable within a few years.