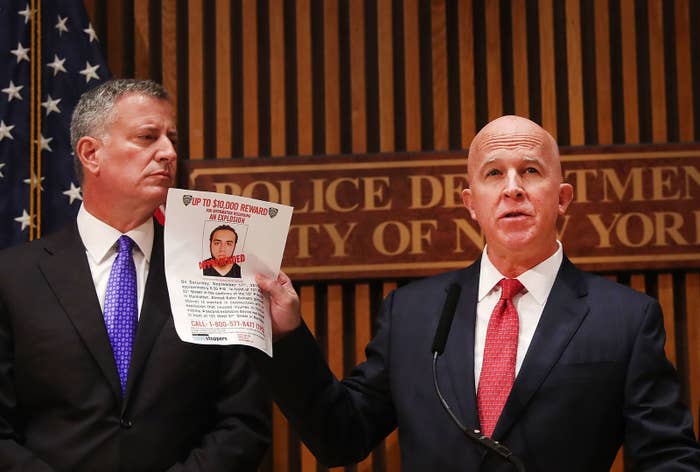 As the NYPD hunted for Ahmad Khan Rahami, the suspect behind the Chelsea bombings, they tried a new tactic: sending out a Wireless Emergency Alert (WEA), a tool typically used to send citizens Amber Alerts and severe weather warnings.
Before police arrested 28-year-old Rahami, they sent out a wireless alert to all cell phones in New York County reading, "WANTED: Ahmad Khan Rahami, 28-yr-old male. See media for pic. Call 9-1-1 if seen," and initiated both an audible and vibrating alarm on New Yorkers' phones. New York City Mayor Bill de Blasio called the use of the WEA "a first" for a manhunt.
Police arrested Rahami Monday in Linden, New Jersey in connection with the detonation of an explosive device in New York's Chelsea neighborhood, an attack that injured 29 people, according to the Associated Press. He was also arrested on suspicion of planting an undetonated second device on West 27th Street in Manhattan.

In a press conference after the arrest, NYPD Commissioner O'Neill praised the wireless alerts, saying, "There's 36,000 of us and a number of FBI agents, but if we can get everybody engaged in the city helping us keep it safe, this is the way to go. This is the future." Mayor de Blasio suggested that the city will use the tool again.
This was not the first time FEMA has used the system for a criminal investigation, but the disaster relief agency could not provide a recent example, according to the AP.
Wireless Emergency Alerts, which are 90-characters long, first rolled out in 2012. They target cell phone users in specific areas to notify them of Amber Alerts, extreme weather, national emergencies, or "imminent threats." The messages originate from local, state, tribal, or federal government agencies and are authorized by FEMA. Wireless carriers determine the recipients of alerts by proximity to cell towers. According to the Federal Communications Commission, the alerts can target users down to the county level.