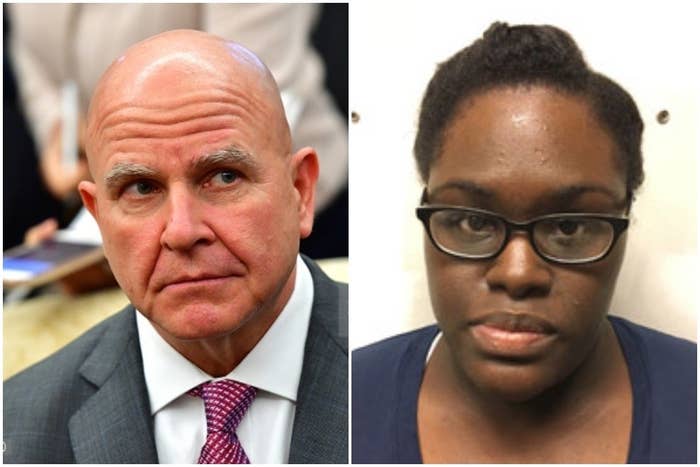 A nurse was charged Thursday with involuntary manslaughter in the death of the father of President Trump's former national security adviser.
Herbert R. McMaster Sr. fell and hit his head April 12 in the lobby of the Cathedral Village retirement home in Philadelphia. The 84-year-old suffered blunt force trauma and a subdural hematoma as a result, but his nurse, Christann Gainey, allegedly falsified records of her administering required checks on his neurological well-being. He died about eight hours later.
McMaster, a retired Army officer, had been admitted to the home just three days prior after suffering a stroke. His son, Gen. H.R. McMaster, served as Trump's national security adviser until resigning March 22.
Pennsylvania Attorney General Jon Shapiro said at a news conference Thursday that surveillance footage showed Gainey did not perform the post-fall neurological checks she had listed in her logs. Had she done so, prosecutors said they could have indicated the severity of McMaster's injuries and steps could have been taken to save his life.
"The evidence shows Gainey intentionally, knowingly, and recklessly caused serious bodily injury by failing to provide treatment or care," Shapiro said. "She failed to administer the care that would have saved his life."
In fact, the last check, which Gainey said she gave at 7:20 a.m., was 20 minutes after McMaster had died, prosecutors said.

In addition to involuntary manslaughter, Gainey was charged with neglect of a care-dependent person and tampering with records. She was taken into custody but had not immediately been arraigned.
When asked if he would charge the retirement home in connection with McMaster's death, Shapiro deferred to the Philadelphia Department of Public Health, which did not immediately respond to request for comment.
Cathedral Village issued a statement, saying it had removed Gainey "from our community immediately following Mr. McMaster's passing" and that it would cooperate with the attorney general. The nursing home also said last month that it had launched an internal investigation.
A spokesperson for Gainey's contracting agency General Healthcare Resources said in a statement, "When we learned about the incident, General Healthcare Resources immediately investigated the matter and took appropriate action with the nurse involved." The spokesperson declined to clarify what the action was.

Gainey did not immediately respond to request for comment.
McMaster's daughter, Letitia McMaster, said in a statement that the family was grateful to authorities for their investigation and decision to "prosecute those responsible."
Shapiro on Thursday also advocated for reforms that would expand the authority of his office to investigate elder neglect and abuse.