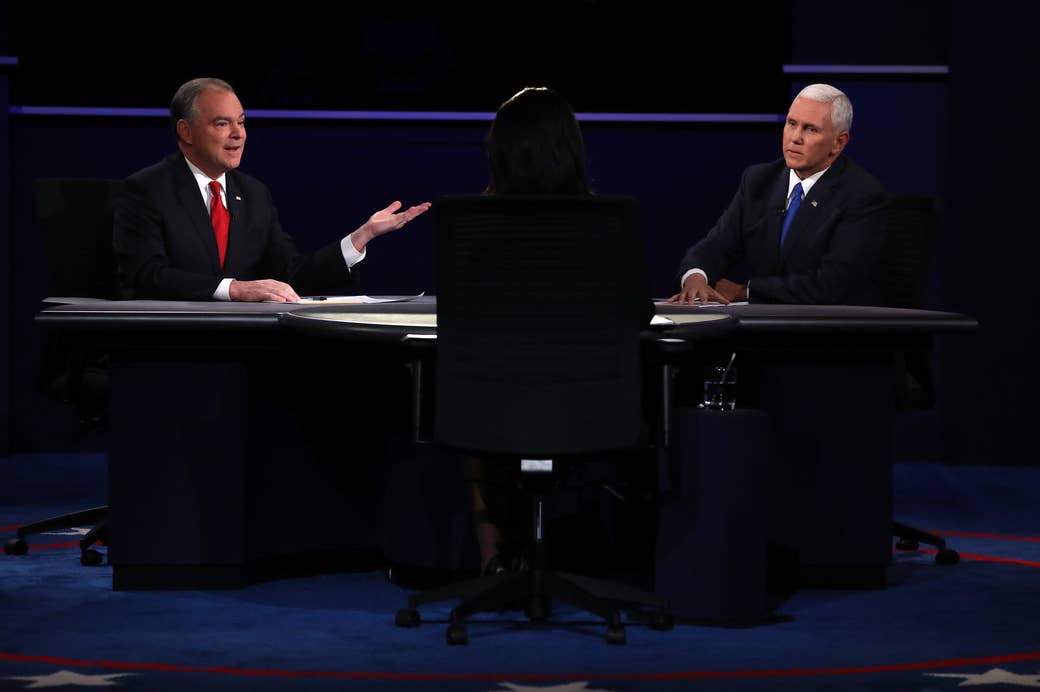 Finally, at 10:27 p.m., Roe v. Wade made its first timid appearance.
It was the first explicit reference to women in the entire vice presidential debate, held at Longwood University in Farmville, Virginia, on Tuesday night. It came up not because moderator Elaine Quijano asked specifically about reproductive rights, but because Republican VP candidate and Indiana Governor Mike Pence brought up abortion, and his opposition to it. Back in July, Pence was very clear about where he stood: "We'll see Roe v. Wade consigned to the ash heap of history where it belongs," he told a town hall audience. On Tuesday night, seated at a table next to Gov. Pence, Democratic VP candidate and Virginia Senator Tim Kaine was just as clear in his own political position. "We support Roe v. Wade," he said. "We support the constitutional right of American women to consult their own conscience and make their own decision about pregnancy. That is something we trust American women to do."
On Oct. 3, women across Poland took action to protest the proposed total ban on abortion in their country: They went on strike, and, wearing black, "mourned" their reproductive rights as they marched across Polish cities. A day later, here in the US, Tim Kaine asked a question that needs answering, not just here, at home, but across the world: "Why don't you trust women to make this choice for themselves?"
The vice presidential debate is not designed to set the world on fire. The last time we had one was in 2012, when Joe Biden sparred with — and bruised — his rival, Paul Ryan. It was Biden's second go-around; back in 2008 he debated then-Governor of Alaska Sarah Palin. "It's so obvious that I'm a Washington outsider," Palin had said at one point, "and not used to the way you guys operate." On Tuesday night, it was clear that both Kaine and Pence had been in the ring a long time. And it seemed apparent that both men knew they were the sideshows, wheeled into the big tent for one night only. Understudies who feel the all-too-brief warmth of the spotlight sometimes forget their lines. You might have thought the pair would come out and redirect the public's gaze to their respective bosses. But no: Kaine, in full irritating attack dog mode, sort of "forgot" to center Hillary Clinton in his attacks against Trump. Pence, whose condescending chuckle appeared more than once, seemingly conveniently "forgot" many of the things Donald Trump has definitely said in the past. The men talked over each other. They talked over Elaine Quijano. Quijano talked over the men. And yet it was all so very boring. Maybe they should've talked more about women.
Only two days before the debate, Trump surrogate Rudy Giuliani asked on ABC's This Week with George Stephanopoulos, "Don't you think a man [Trump] who has this kind of economic genius is a lot better for the United States than a woman?" The woman question has a permanent seat at the table, because this is the year Hillary Clinton is running. The "woman question" is inescapable. It is a question with many tentacles, each one subtly different, but with essentially the same root. How do we feel about women? What do we want from them? How far are we willing to let them go? What punishments will we devise for them when they deviate from the paths we have prescribed?
"Donald Trump and I would never support legislation that would punish women who made the heartbreaking choice," said Pence of abortion at the debate. But of course, unlike Trump's tax return, Pence's activities in the arena of women and their bodies (including this "heartbreaking choice") are public, and easy to access. Most recently, in March 2016, he signed a bill banning abortions sought because of race, gender, or a disability diagnosis that included an exception for the life of the mother (in June 2016, a judge temporarily overturned the ban). Pence has a long history of trying to defund Planned Parenthood. Both he and Kaine support the Hyde Amendment, which prevents federal funds from being used to pay for abortion. But Kaine has vowed to follow his leader when it comes to abortion — at the debate he said, "I think you should live your moral values, but the last thing governments should do is have laws that would punish women who make reproductive choices. That is the fundamental difference between the Clinton–Kaine ticket and the Trump–Pence ticket."
Does it matter that the fate of women, and their bodies, came so late (and so fleetingly) in the game? Pence and Kaine were working in a long-held tradition in which straight white men get to pontificate on what women get to do with their bodies. That one of them appeared to be pro-choice was nice, but it certainly means something that the topic was only broached after a question was asked about how both candidates square their faith with difficult policy decisions as public servants. The whole segment felt like an afterthought. And the thing is, because there was so little time devoted to women, it meant these two men were never quizzed about specific groups that fall under that umbrella term: women of color, disabled women, LGBT women, poor women, and even women who manage to fall into more than one of these categories. "Oh, yeah — women" was the general vibe of the few minutes in which the candidates went back and forth on women's rights. Which was a curious thing, because there was one sitting in front of them, imploring them to use their inside voices and not talk over one another.