"Undercover" Shouldn't Be A Big Deal, But It Still Is
Undercover​ has brought Sophie Okonedo back to U.K. TV screens. But the absence of black British female actors on television is still a real problem.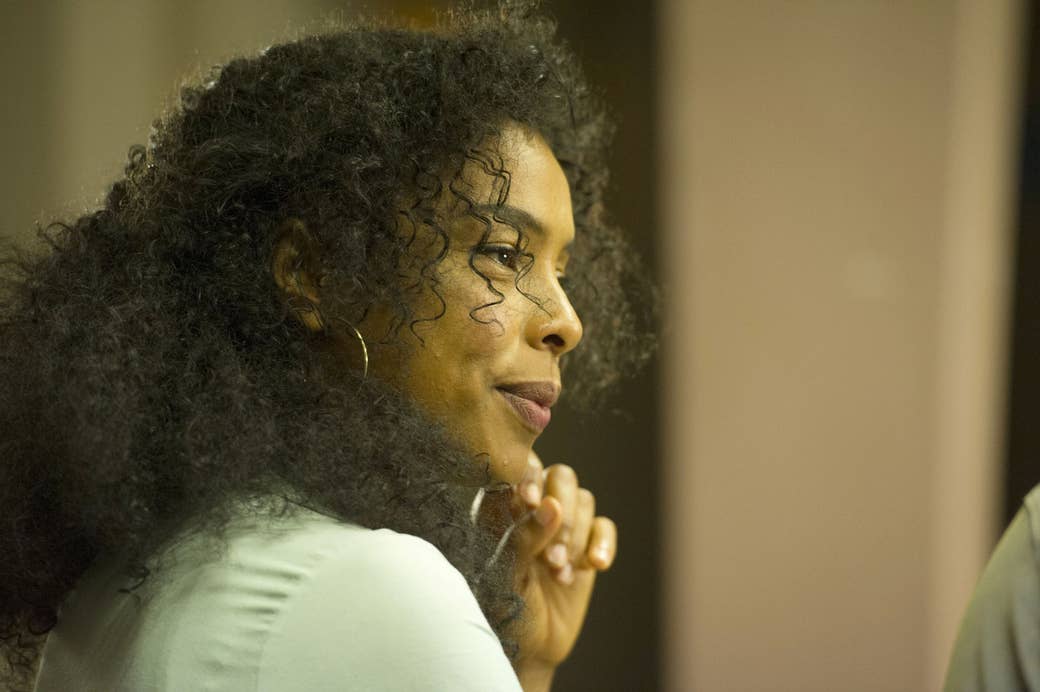 A woman and a man are in bed, wrapped around one another. We see an expanse of their backs — all smooth and supple. They entwine their hands and move together. It's a tender moment and even though it's only a few seconds of a longer scene, we can tell it's supposed to be sexy. This is classic TV intimacy.

Another moment: The couple is surrounded by children. One of them hugs the woman, who appears to be their mother, while the man watches them and smiles indulgently. And in another, the same woman sits in the lap of the man at the breakfast table as they kiss. We can almost hear this is idyllic whispered in the breeze.
The woman is black. The man is black. They're both British. The program, Undercover, is a primetime drama on BBC1. All of this shouldn't still be a big deal. But oh, it is.
The story being told in Undercover is an important one, grounded in real-life events: a British undercover policing scandal, in which officers entered into relationships — and in some cases fathered children with — women who were members of activist groups, in order to infiltrate the organisations. Years after the story first broke, the Metropolitan police apologised — and have paid compensation — to the women whose lives had been so profoundly affected by the deceit.

In Undercover, Sophie Okonedo plays a barrister on the verge of being appointed the head of the Crown Prosecution Service, when she discovers a terrible secret about her own husband, played by Adrian Lester. The creator of the show, Peter Moffatt, highlighted a peculiar thing in the optics of one scene: "Here was a black family sitting around the dinner table eating pasta," he told The Guardian. "So normal and yet I had never ever, not once, seen that on mainstream TV [in the U.K.]"
If you've never thought about how rare a sight it is to see black people doing things like being tender with each other and their children — and generally living lives not constantly marred by pain and prejudice — before Moffat pointed it out, you may be white. Because for many black British people, it is a state of affairs we've come to know as our "normal." That is to say, while we cultivate much of what becomes global popular culture, we're kept firmly offscreen — and subsequently, off industry awards stages as well.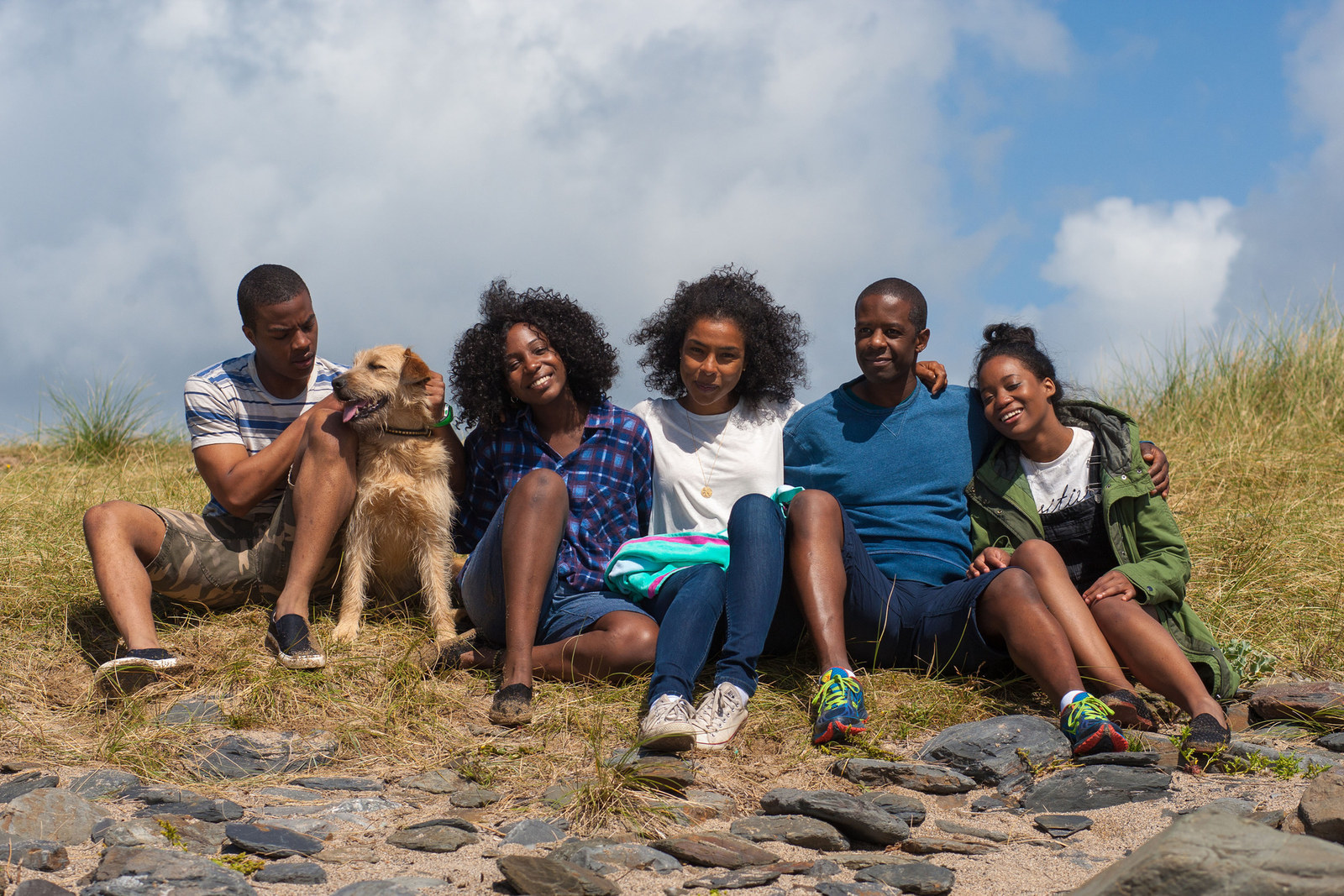 The general absence of black families in pop culture is interesting and, as a depressing phenomenon, absolutely worth exploring. But there's an arguably even rarer standalone sight on British television: black women.
What does that absence mean for someone who is looking to see themselves in the media they consume? What does it mean that the appearance — however brief — of a black woman in any kind of major role on television still elicits gasps of pleasure and surprise? (See the rapturous response from black women for the multiple-award-winning show Chewing Gum in 2015.) What does it mean when there is no clear equivalent "elder stateswoman" for [British] black actors, with the same name recognition as Dames Judi Dench and Maggie Smith? It means there is no one — who has "been there," so to speak — to advocate powerfully for younger black female actors in the U.K.
Invisibility doesn't mean extinction, though. The absence of black British actors on British screens doesn't mean they're not working — it just means they're mostly doing that work in America. And that's a problem.
Even in a landscape in which women in general are reduced to playing the supporting characters — girlfriends and wives, as well as one-line wonders — it is incredibly difficult to bring to mind a terrestrial TV series of the last five years that has featured a black British woman in a substantial role. If you narrow that field to black women as headline "star of the show" performers in the mold of dramas like Line of Duty, Doctor Foster, and The Fall (just three of the biggest women-led hits of the last few years) it's a comfortable zero. And looking to the big screen doesn't yield better results — Naomie Harris as Moneypenny in the Bond films aside, who else occupies any sort of regular, mainstream film space?

The absence of black women on British screens is an urgent issue, and one that's not often even specifically articulated when the monochromatic appearance of British television is brought up. In December 2014, Chris Rock wrote about the lack of roles for black women in Hollywood films. "I can go a month and not see a black woman having an actual speaking part," he wrote in The Hollywood Reporter. British television and cinema are in similarly poor shape. The conversations around the black talent brain drain to America almost exclusively center around big-name male actors like Idris Elba, Chiwetel Ejiofor, David Oyelowo. Black British actor David Harewood, who, prior to being offered the role of CIA director Davis Estes on Homeland had been unemployed for a year, told The Telegraph: "I haven't been offered a single lead role in England, so all I'm saying is: That's why we leave." Elba's big break came almost a decade before, in 2002, as Stringer Bell in HBO's The Wire; his previous TV career had hardly set the world alight. Oyelowo starred on BBC1's MI5 hit Spooks before packing his bags; small roles on TV's The Good Wife and Rise of the Planet of the Apes paved the way to Oscar-nominated Selma a few years later.
The timeline suggests the move of black British talent reached a tipping point in the early to mid-aughts. In reality, of course, there has been a more or less unbroken chain of British actors venturing out to Hollywood for better roles and financial rewards for a while. The first big wave of actors to leave, many of them women, came in as early as the '90s, and for them, success and visibility either did not last, or were a lot more muted. In light of what we know about the way many women's careers in the industry are truncated (the age of leading men can keep rising, something unreplicated for women), and what we know about the industry's issues with race, this isn't necessarily a surprise. But it isn't something a lot of people talk about — and perhaps, something they don't even think about.
Some of the most prominent women to head to the U.S. had less than auspicious starts. In 1995, Thandie Newton took on the role Sally Hemings, the enslaved woman who gave birth to American founding father Thomas Jefferson's children, in Jefferson in Paris. That same year Sophie Okonedo starred as "The Wachati Princess" in the Jim Carrey vehicle Ace Ventura: When Nature Calls. When a mid-career Eddie Murphy starred as a hostage negotiator in Metro, a young Carmen Ejogo was cast as his love interest. But there were more substantial roles in the bunch: In 1996, Marianne Jean-Baptiste starred in Mike Leigh's Secrets & Lies, and became the first black British woman nominated for an Academy Award in the category of best supporting actress.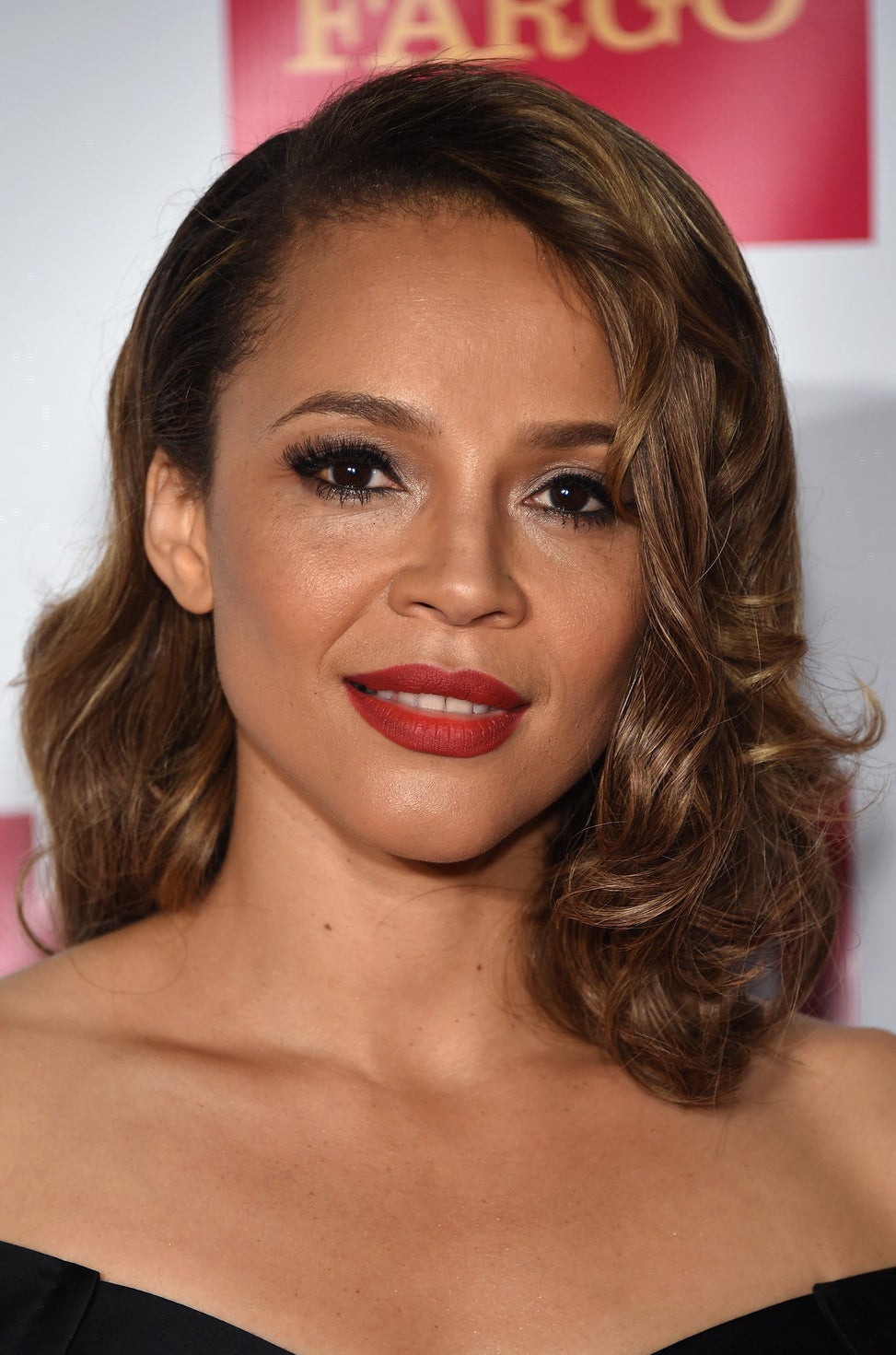 From left: Carmen Ejogo, Thandie Newton, Marianne Jean-Baptiste.
That nomination came when Jean-Baptiste was in her twenties; she is now 48. Okonedo, 47, is of the same generation, as are Newton and Ejogo. Newton's post-Jefferson career is startlingly U.S.-centric — Beloved and Mission: Impossible II to an arc on ER followed by Crash and For Colored Girls. She will next be in HBO's (somewhat beleaguered) Westworld. Ejogo had a quiet decade, but was featured in Sam Mendes' Away We Go (2009), and the 2012 Sparkle remake, before playing Coretta Scott King in Ava DuVernay's Selma. Her next roles will be in what looks like an early Oscar contender, Born to Be Blue, and the upcoming Harry Potter spinoff, Fantastic Beasts. Okonedo has had the most returns to British stage and screen: playing Nancy opposite Tom Hardy's Bill Sikes in the BBC's 2007 adaptation of Oliver Twist, and BAFTA-nominated for work in another Moffat drama, Criminal Justice, in 2009. Even so, these did not come from an abundance of offers. "All I know is that I have to go across the Atlantic to get work," Okonedo said last year.

In an interview with The Guardian, Okonedo said plainly, "I think I'm at a certain level and have a good range, so why isn't my inbox of English scripts busting at the seams in the same way as my American one is? There's something amiss there." Her experience echoed that of Jean-Baptiste's, who told Al Senter in an interview during her run of The Amen Corner at the National: "In the scheme of things you are led to believe that if you do things in a certain way — if you got to certain drama schools, and … your career starts going in a certain direction, and you win this accolade — then of course you expect that it's going to take off." There was no career take-off for Jean-Baptiste, though. Instead, she called that time period "the wilderness years." When she was offered a role as an FBI agent on the Los Angeles-based show Without a Trace in 2002, she took the job, and ended up starring on the show — American accent as standard — for seven seasons.
These talented actors want to keep working and when they do are even rewarded with acclaim and award nominations. The problem is parlaying American success into British roles. The dearth of stories about black women in the U.K. becomes its own kind of circular hell: There are few roles, so you go to the U.S., where you keep working and build a profile, which means there are fewer high-profile black women onscreen in the U.K., so even fewer roles are written for them, which means they have to go to the U.S. to get work. And so on.
Elba, who is 43, is roughly the same generation as Jean-Baptiste. At 38, Ejiofor and Oyelowo aren't that far behind. And a younger generation, populated by emerging stars like Ricky Whittle, who was in the American sci-fi drama The 100 until earlier this year and will soon be seen in an adaptation of Neil Gaiman's American Gods; Alfie Enoch, star of How to Get Away With Murder; and John Boyega, one of the breakout stars of the latest Star Wars film, are all forging careers in an American industry that is more open to them. As TV has become more racially diverse, both in terms of casting and subject matter, opportunities that simply weren't there a decade ago have been created, and better yet, these new opportunities are the very groundwork that will yield dividends if or when these male actors choose to return home. See: Elba's homecoming role in a hit like Luther and Ejiofor's Hollywood career buffeted by U.K. TV prestige dramas like Hugo Blick's The Shadow Line and Stephen Poliakoff's Dancing on the Edge.

The flipside of this relative male success is that there are still very few equivalent black British female actors turning into household names at home or abroad, earning plaudits in network shows and big-screen blockbusters. For them, the so-called "wilderness years" potentially stretch even further. And because of this, there is a missing generation of black British female actors. As a business model, "go to America, get a big role and get famous, then come back home" is flawed. And what's more, if you're a woman, it doesn't even always work. Where is the big TV newsroom drama for Carmen Ejogo? Or the sprawling cop saga for Marianne Jean-Baptiste? Or a spy drama starring Thandie Newton and Angela Griffin? In a widely reported-on speech given at the House of Commons in January, Elba talked about the lack of opportunities for black actors at home in the U.K. But there was one aside that didn't receive very much attention. In a segment about the paucity of roles for women he said: "...women on TV are 10 times more likely to be treated negatively than black people on TV. That's crazy, right? I'm not saying you expect black people to be treated worse than women — although God help black women…"
God help black women.
No one else seems to be.
In 2012, a study suggested that watching TV lowers the self-esteem of all groups of children except white boys (for whom self-esteem only increases). That might have something to do with who and what they see on television. What does the relative absence of black women from British screens mean? Who — except black women — cares that there are so few of them onscreen? Admittedly television and movies are just one of the many ways we process the world in all its complexities, but they are, alongside the vast internet, the dominant cultural form. Television "norms" behavior. What happens on TV bleeds out into the rest of the world, and if television persists in peddling the narrative that there are few black women whose stories are worth telling, the roots of such an idea continue to spread, and bear fruit. Where are black women in book and newspaper publishing, in TV production? Where are black women in boardrooms, and in positions of political and financial power? Imagine what would happen if the culture radically shifted to include, showcase and celebrate the lives of black girls and women. What would happen if black (and non-black) British viewers were exposed to nuanced portrayals of black women, the luxury of which has not been extended widely? In a world that can accommodate James Norton playing a woke AF vicar in the 1950s in Grantchester as well as a violent convicted rapist and drug dealer in Happy Valley, there's room for us to see the multi-talented Susie Wokoma (so brilliant in Chewing Gum) in a hard-hitting drama about a boarding school in Cheshire, for example.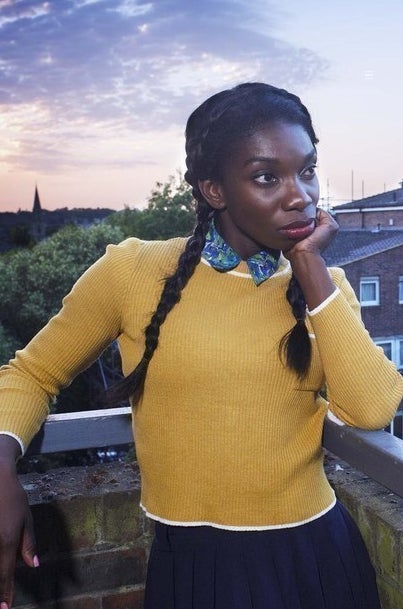 From left: Michaela Coel, Zawe Ashton, Freema Agyeman.
What might it mean for racial inequality that there are so few black women giving nuanced portrayals of black womanhood on British screens? We do not exist to "explain" our existence or humanity, but there is something to be said about proudly inhabiting the space due to us in culture. Novelist Angela Flournoy spoke about the potential shift in thinking after white people read her book, The Turner House: "It might just be that more white people I know acknowledge that it's dangerous to be a black body walking down the street. It is more dangerous than to be in your white body walking down the street. That's a very small success, but that is a success."

Undercover started its run on British television last Sunday, with 5.2 million viewers. It will play out over the next five weeks, telling a complex story about abuse of power, families, relationships, and the law. With a black British family. With a black British woman. Five weeks in which British people will have Sophie Okonedo in their living rooms. It shouldn't be a big deal in 2016. But it still is.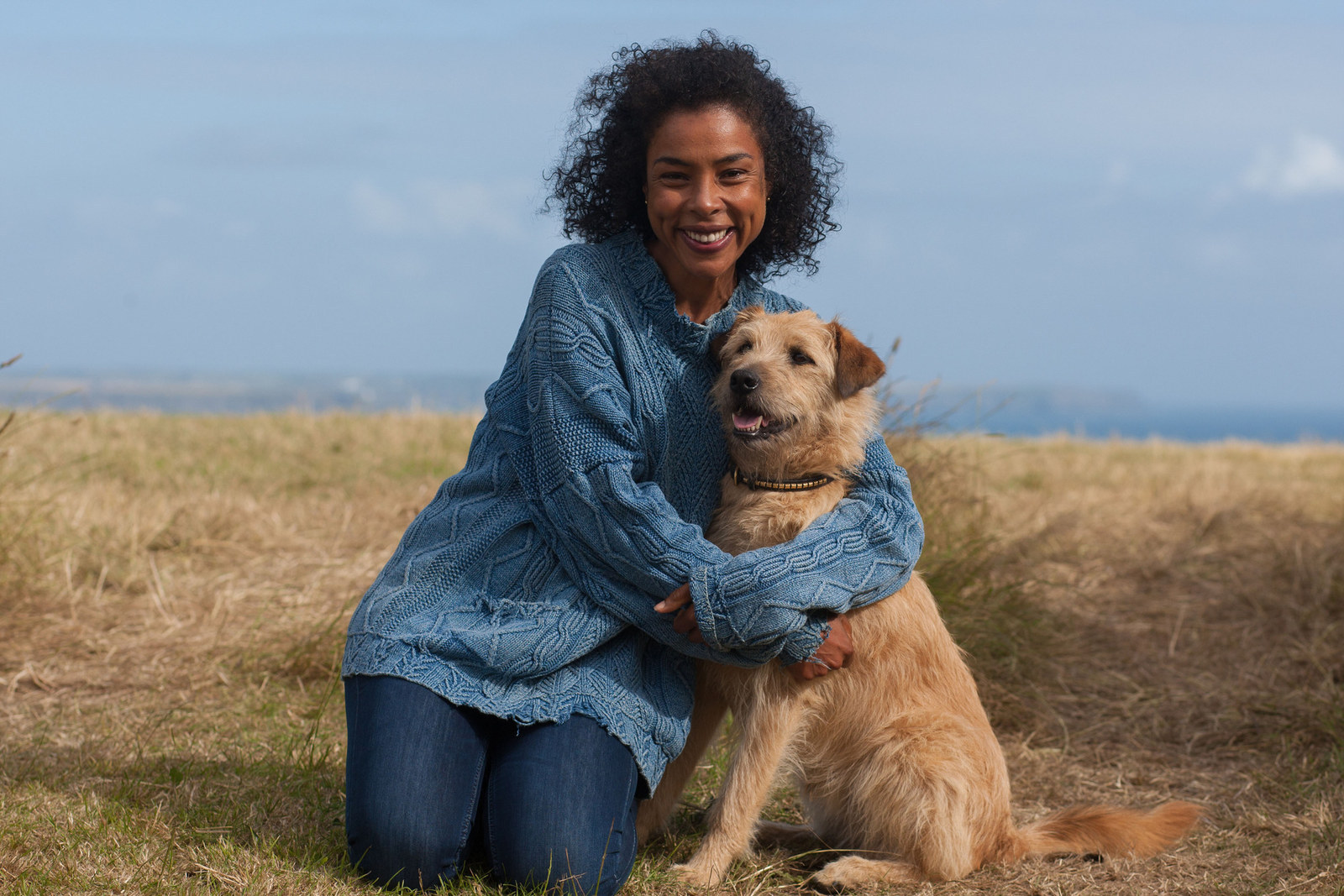 Undercover continues at 9pm on Sunday nights on BBC1