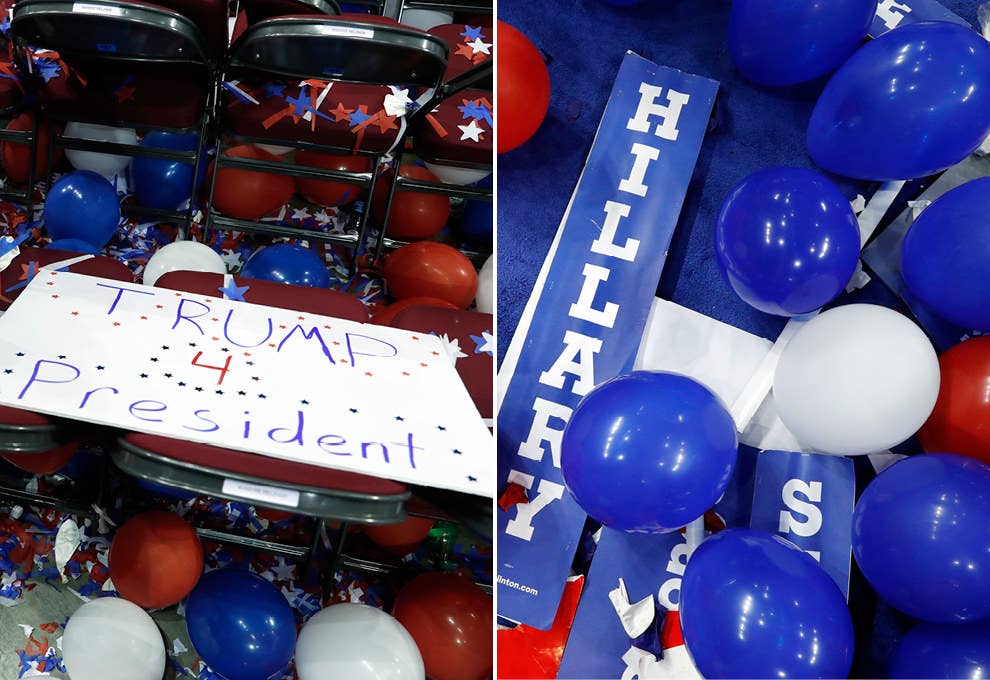 In a few hours' time, I will get the train back home to New York and watch as the election campaigns kick into high gear for the final stretch. I survived my first American political party conventions. What did I learn?
There is no doubt in my mind that the RNC was better organised. Perhaps this was due to the air of police menace that meets protest in general, but that city had seemed to be teeming with police officers, ready to quell any overly boisterous activities. Here, routes were not as clearly marked, and a few of us wandered as though we were in the wilderness, crossing vast car parks to find where we needed to be. To be fair, though, the DNC seemed a much busier affair all around: The crush of bodies leaving the speeches at the Wells Fargo Center was bruising (and in one case drew blood, as a "Stronger Together" placard cut across my leg). On the issue of food, Philly won hands down. Before this week, I had never seen a jerk chicken cheesesteak and likely never will again. In Cleveland's Quicken Loans Arena, the options, not least at the "GOP Bistro", were…less colourful.
And speaking of colour! The purple twists that had garnered so much attention (and touching) at the RNC in Cleveland went largely unremarked upon at the DNC. It's still great hair; there just seemed to be an understanding that it was OK – and indeed preferable – not to touch. I saw yarmulkes and hijabs, turbans and headwraps in Philadelphia, sartorial options that had been in short supply just the week before. I felt less like an unusual creature at the DNC. And again, I saw the overrepresentation of black people working service jobs in the convention arena.
---
Besides the work of nominating their candidates for the White House, both conventions were focused on selling ideas to the people gathered in the arenas and at home. Or perhaps more accurately, they were projecting something: their vision of America. On every level, the image was largely the same: America is wedded to militarism, and all its misadventures at home and abroad have only strengthened that connection. America is deeply unfair, and both parties believe that, even if they vehemently disagree on who is being shafted and who is enjoying positive discrimination. There was talk about who would repeal what, whose Supreme Court nominee would fight for what, whose unalienable rights would be fought for…and on it went. Special mention to the recurring motif of America as the greatest country in the world, no doubt about it, no sir. Uniquely blessed, absurdly gifted, unabashedly brave, and unequivocally free, one nation under God (though many of the Democrats' speakers were quick to welcome brethren of no faith at all as well), indivisible, with liberty and justice for all.

Both the RNC and the DNC were drawing a portrait of America – they just happened to be using slightly different palettes.
Both the RNC and the DNC were drawing a portrait of America – they just happened to be using slightly different palettes.
Nationalism comes in all sorts of flavours, and on that score, both conventions served up Neapolitan ice cream. On the RNC's last night, as Donald Trump delivered his speech, I felt on edge every time the crowd chanted. What makes a choir powerful is not only the lyrics of the song, but also the awesomeness of collective human endeavour. One voice can be reedy; add 99 other voices and the reediness is lost in the amplification. Last Thursday night in Cleveland, thousands of people chanted "LOCK HER UP!", an unambiguous request. They also chanted "TRUMP" in honour of their champion, and to shut down dissent from Cruz's breakaway delegates. Here in Philadelphia last night, there were numerous "HILLARY" cheers, some spontaneous, others more calculated in order to shut down hecklers and delegate protesters. The call that was common to both? The classic, of course.
"U-S-A!"
Does the chant of "U-S-A!" sound any less anxiety-inducing when it's coming from the mouths of Democrats or Republicans? My findings are based on a survey of one so feel free to disregard them, but the answer is no. I've mentioned how displays of nationalism make me clam up and I believe it is always slightly chilling. We are all of us carrying some sins, either personally or carried out in our name, and flag-waving is the magic eraser of those sins. It's worth mentioning that the claiming of human decency as a distinctly American trait might come as a shock to many other world leaders. (Interestingly, both American values and British values sounded curiously similar according to what I heard at the conventions.) On the one hand, I get it. That chant is the equivalent of a spiky Beyoncé song, designed to gee you up when you feel low and need to remind yourself you're the biggest and the baddest. On the other hand, it harks to a known terror. Amplified by thousands, "U-S-A" takes on a very specific form, and that form is intimidating. But hey, perhaps that is its job.
Not coming from a political reporting background means I came to the conventions with a firm eye on popular culture; it's clear which party gave me more to work with. The (actually famous) celebrity situation at the DNC was almost laughably high calibre. By contrast, the RNC's celeb roll call was dismal. Meryl Streep and Lenny Kravitz and Sheila E. and Paul Simon surely stomp out the heft of someone from Duck Dynasty and a cadre of soap opera stars. Politics isn't Hollywood, but by golly, doesn't the sheen of star power help? Donald Trump has been quick to lay the blame for the bad TV ratings at somebody else's door: "I didn't produce our show," he told the New York Times. "I just showed up for [the] final speech." To which I replied, in my mind, "same."
Here's what the conventions did do: They awakened and intensified an interest in me. Politics needs interest and participation from the little people. At these conventions, I put faces to names, learned about movements that were going on outside, talked to people whom I will never see again. I got to see the fullness of the country, and what tribalism looks like in the real world. I got to see a historic moment, in which a woman won a major party nomination to run for president. (In the meantime, Shirley Chisholm's name was brought up at the DNC more than once.) It's cheesy to say it, but I have to: I saw another glimpse into America. Naturally the picture was uneven, with pockets of quiet, everyday alarm. Which is a neat metaphor for America itself.