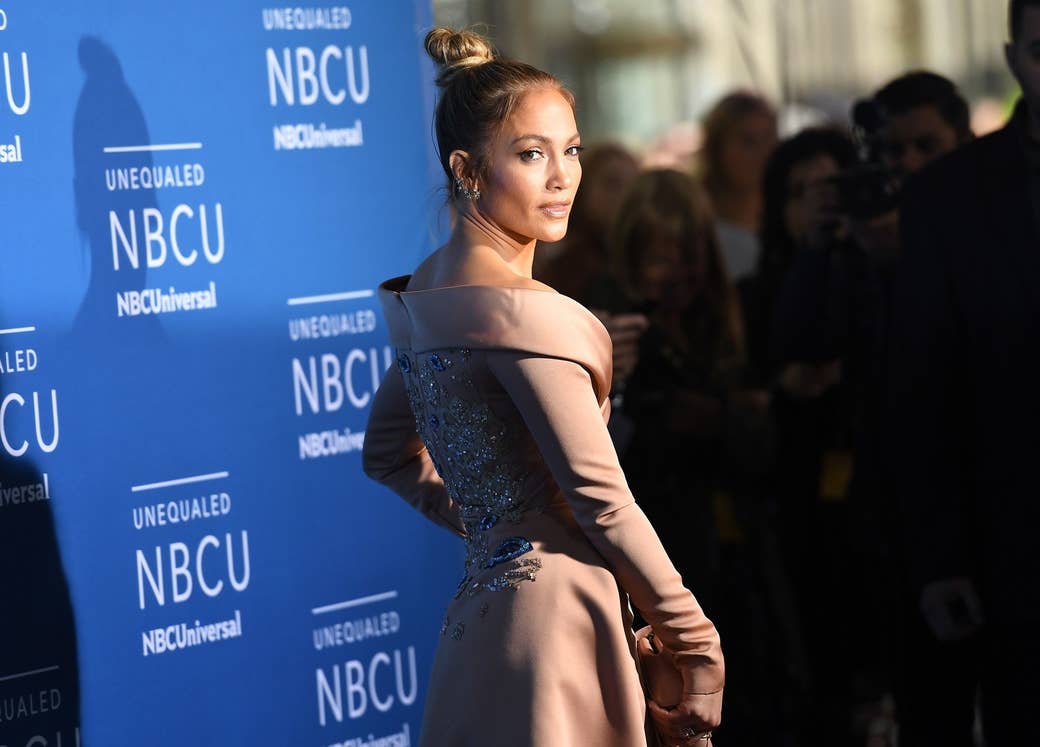 Jennifer Lopez moves through the world as if she firmly believes two fundamentally oppositional things: 1) The world owes her nothing, and 2) the world owes her everything. You see, Jennifer Lopez doesn't need you to believe in her — she has that covered, thank you very much. But the fact that you do? Well, that's expected. These dichotomies confuse people, and perhaps make them a little more pliable, even amenable to whatever she is peddling. And it appears that's just the way she likes it.
Jennifer Lopez, a curvy Nuyorican of average height (5'5"), walks into rooms with the confidence of straight white men who are far below her pay grade and abilities, and she operates her empire — one estimate from Forbes had her combined salary for 2016 at $39.5 million — with a firm hand: Seemingly nothing moves without her say-so, and without her say-so, nothing moves. She is both old glamour (like a certain violet-eyed star from another era) and new money. She takes lovers and marries as she pleases, rears her biological children (twins, a boy and a girl) as she pleases; she pushes back against the rule that women should be even more mild than the world has already made them.
At 47, secure in her stardom and wealth, J.Lo has settled into her role as an old-school entertainer. But getting to this point, 25 years after appearing as a Fly Girl on In Living Color, has taken a good deal of hard work, which is of course the most necessary ingredient of all. Her musical stardom was never dependent on a strong, singular, once-in-a-generation voice — she is neither a Whitney Houston nor a Karen Carpenter — and so Lopez never had to be more than a competent singer. She is, when given the direction she needs, a good actor (that the consensus seems to be that her best screen work was in Selena and Out Of Sight, which are 20 and 19 years old, respectively, says a lot).
In a famous 1998 interview, even she was frank about her talents. "I'll just get better as I go along because I'm open to getting better," she told Movieline. "I'm not the best actress that ever lived, but I know I'm pretty good." J.Lo's unique selling point, then, is a combination of the sturdiest elements of herself — a good dancer, a good-enough singer, a decent actor — and the whole is somehow greater than the parts. What she is truly best at is seizing the moment and striding confidently in the direction of success.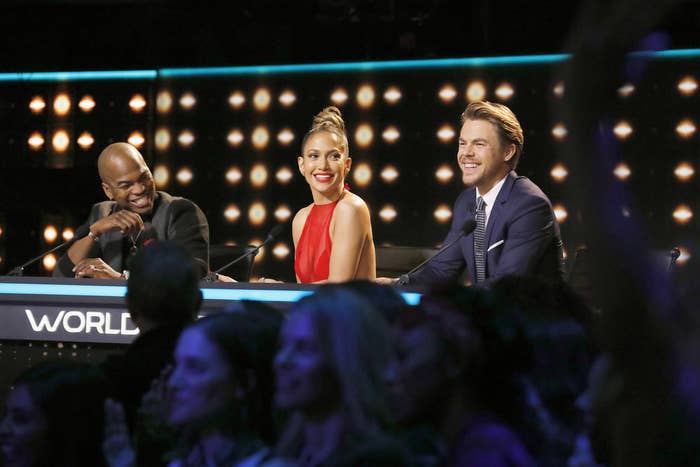 It is her ability to create and manage her own story that has led her to where she is now, having founded her Nuyorican Productions back in 2001: under its umbrella, she is starring in and executive producing the cop drama Shades of Blue on NBC, as well as executive producing and cohosting NBC's new dance competition show World of Dance. The premiere pulled in 9.7 million viewers, and is so far the most-watched nonscripted summer series debut in 9 years. "I started as a dancer," she tells us in the trailer for the show, in a firmly nostalgic nod to her start. She's still standing. From her start as in-house dancer, to acting in middling rom-coms and mediocre action films, enduring public heartbreak and endless column inches devoted to "diva" tendencies, motherhood, and all the way through to a musical resurgence, Lopez has earned her seat on that panel.
The Jennifer Lopez Way™ is to shine without apology, artfully weathering the waxing and waning of her audience's interest, while keeping us transfixed.
The key to marketing herself in a way that feels admirable to her fans is controlling her narrative utterly. She's done this through her movie choices (playing romantic, enterprising, and tough, by turns) and TV work (playing "herself" on Will and Grace and allowing her persona to be sent up, and her recent appearance on James Corden's Carpool Karaoke) and her music (she moves with prevailing trends but crucially never leaves behind her core fandom), but it is away from those ventures that she has shaped culture most pressingly. Think about this: In 2000, she inspired the birth of Google Images, thanks to That Dress; in 2002, she reinvigorated the largely dormant celebrity fragrance game by releasing Glow; in 2003 she gave us a new touchstone — and set a Razzie record for its time — for the noble turkey misadventure with Gigli. Her critically lackluster later films is outstripped by her vast cultural influence — and it is remarkable that we are not fatigued by her presence, despite her seeming ubiquity. Amid soured love affairs, it is Jennifer Lopez who emerges most unsullied and still fragrant, having avoided the most insidious celebrity crime of all: oversaturation (a near miracle, especially post-"Bennifer").

Yes, it takes work, but J.Lo is no stranger to work, especially when the rate of return is so solid. That implicit and surefooted knowledge — knowing when to sit back, or forge ahead — is what sets Lopez apart, and keeps her relevant and likable, despite dramas that might permanently damage a lesser star. Not being "the best" hasn't harmed Lopez. Instead, her versatility when it comes to wearing many hats has been her saving grace. The Jennifer Lopez Way™ is to shine without apology, artfully weathering the waxing and waning of her audience's interest, while keeping us transfixed.
The genre of borderline-creepy interviews of young Hollywood "starlets" by magazine men — oily throwbacks to an era of more overt male power — has become a source of rich comedy on social media over the last few years. The ingenue who needs explaining is a cultural trope — a young woman's ascendancy is described with the kind of poetic license that should have been revoked years ago — with copy that often reads as both unctuous and overpoweringly condescending. Recall, if you can bear it, Rich Cohen's 2016 profile of Margot Robbie: "She is 26 and beautiful, not in that otherworldly, catwalk way but in a minor knock-around key, a blue mood, a slow dance. She is blonde but dark at the roots. She is tall but only with the help of certain shoes. She can be sexy and composed even while naked but only in character," an interview the actor admitted she found "really odd." Or consider Rob Haskell's feature on Selena Gomez earlier this year: "As I slip an apron over her mane of chocolate-brown hair, for which Pantene has paid her millions, and tie it around her tiny waist, I wonder whether her legions have felt for years the same sharp pang of protectiveness that I'm feeling at present." These interviews are of course 90% projection, but some still manage to provide insightful results.
Lopez starred in her own canonical interview back in 1998, post-Selena and just before Out of Sight was released, when Movieline sent along reporter Stephen Rebello to interview her. Her first album was still ahead of her, and the "J.Lo" moniker was still far in the future, but Lopez was building her own myth from the get-go. The resulting 5,400 words drawn from their encounter has become classic: Jennifer Lopez, unguarded (or, at least calculatedly "reckless"), dropped bombs all over the shop — Cameron Diaz was a "lucky model"; Gwyneth Paltrow was "hot by association"; Woody Harrelson was "the world's horniest anteater," etc. — and, in the reporter's retelling, seemingly retained a cool hauteur throughout. The feature opened with an indelible image: Lopez on a chaise by the pool of a Beverly Hills mansion, towel-draped and receiving a massage. The interviewer notes "all 66 caramel-colored inches" of her "formidable" body, her loosened bikini top, her "slow languid smile and half-mast gaze." The poolside interview was not new in 1998, and Lopez was happy to utilize the device to further her own agenda. "Hi, Stephen," she said. "I'll be with you in a second." Then she tossed her hair and turned away from him. It was a boss move. A short masterclass in Power Plays 101.
The feeling that J.Lo most assuredly evokes is one of powerful control (especially after that incredibly frank interview earlier in her career). It is distinct from and dissimilar to Beyoncé's way — it may be a symptom of how differently we read control when it is in the hands of a black woman as opposed to a brown one — but what looks stiff on Bey appears looser and semi-freewheeling on Lopez. Consider the perplexing and ongoing search for Beyoncé's feminist credentials alongside J.Lo's atrociously basic answer when asked if she was a feminist. "I don't even know what that means any more. It feels like such a Sixties word," Lopez told Stylist magazine in 2013. "Isn't everybody? I don't know, I am a very girly girl, I have a lot of girly friends and I cherish my time with them."
Like Queen Bey, Jennifer Lopez does not sacrifice what she is not prepared to see burn anyway.
But like Queen Bey, Lopez does not sacrifice what she is not prepared to see burn anyway — creative choices are made decisively (both have severed ties with years-long management over the years, for example), and storms are weathered stoically (elevator-gate or Bennifer fallout) Their behavior is the diametric opposite of recklessness. No opportunities are missed — witness her "bring your kids to work day" photo on Instagram, from the set of her cop drama Shades of Blue back in April, for example, in which she is wearing her work wig with her kids in the foreground — because it is all in service of the life and image she's been crafting so carefully. The photo is a more relaxed glamour than the gilded behind-the-scenes photos her account also showcases, and her hashtags, "#workingmamalife" and #backatit," are self-explanatory. Lopez is Every Woman, and that makes her relatable too. We know her life is not like our lives, but we don't mind so much, because parts of it appear to be similar enough. Of course it's calculated, but it has not let her down yet. She understands that sprinkling in details of wifedom and motherhood alongside the aspirational romance and glitz of celeb life is what her fans want.
J.Lo is also incredibly astute when it comes to taking the temperature of the culture and collaborating accordingly. Out of Sight, the Steven Soderbergh movie she made with George Clooney in 1998 is arguably still her finest big-screen performance (playing Selena in the biopic the year before comes close). Her projects do not suggest a star in search of Oscar glory, and her filmography jumps genres effortlessly: As well as making serious bank, J.Lo seems interested in getting the roles where we have not often seen/do not often see nonwhite actors (even when she is playing, implicitly or explicitly, ethnically white characters, as she did when she played Italian-American Mary Fiore in The Wedding Planner or Zoe in The Back-Up Plan).
Her rom-coms range from poor to terrible — from the odd (2001's The Wedding Planner with Matthew McConaughey), to the awful (2012's What to Expect When You're Expecting), via the...baffling (shout-out to the negative onscreen chemistry she generated with Ralph Fiennes in 2002's Maid in Manhattan), J.Lo confirms what we already knew: She loves the genre. "I love seeing the Oscar films and epic dramas. But I'd rather watch a romantic comedy than any other kind of movie," she said in an interview with Redbook back in 2010, as she promoted The Back-Up Plan. "There's something about movies like these that make you feel so good and happy and that you want to live in that world — to be that girl and be part of the fairy tale. I have always believed in fairy tales." And why shouldn't she? In many ways Lopez is living one. The difference, of course, is that in her fairy tale, Lopez is rescuing herself.
Her filmography post-2006 suggests a more involved steering position; as is standard for a Hollywood star at a certain level, she has created, produced, or co-produced a good number of projects, from family drama The Fosters to what now looks like a World of Dance sort-of prototype, DanceLife, which followed six dancers trying to break into the industry. In music, she straddles markets and audiences with ease, delivering in English and Spanish as she deems lucrative. In 2011, she connected with the eternally enthusiastic Latin superstar Pitbull on "On the Floor," which became the biggest single of her career (from her seventh album!), and the beginning of a canny long-term collaboration habit — they have released nine mostly high NRG dance singles together so far. "It's a new generation," she sings presciently at the start of their first joint effort. For his part, Pitbull calls Lopez his "angel." It's her most creatively fruitful pairing since the Ja Rule era of the early aughts (one idly wonders how Ja Rule is feeling these days).
While we were hooked on her romantic life, J.Lo was always making moves.
Other musical partnerships with zeitgesty stars: Iggy Azalea, French Montana, Flo Rida, Jack Mizrahi to name a few, can feel like she's merely hopping to what's hot, guided only by the money. Maybe so, but like Drake (who sampled her first single on his most recent playlist, More Life), there's usually a feeling of at least mild fandom (on her part) involved, which means it's difficult to see these moves in a truly cynical way. J.Lo skates along easily, no doubt aided by being at the intersection of so many identities that effectively act as credentials: her working-class Boricua roots in the Bronx (she named her debut album On the 6), New York hip-hop, dance, and black culture ("Jenny From the Block"; In Living Color), new money, glamour, a steady Hollywood career, and sheer star quality. And she's classically stunning to look at — imagine how different this career might have panned out if Lopez were a dark-skinned Puerto Rican, for example — which certainly helps. But after the dumb luck of genetics and life's random selection process comes another "secret": She never stops working. While we were hooked on her romantic life, J.Lo was always making moves.
The power plays would go on to become a defining move for Lopez. There is almost no one better skilled at managing a career than Jennifer Lopez. This is apparent in her professional work choices, of course, but Lopez has become very good at broadcasting her moves via red carpet behavior. Who she shows up with matters as much as the where and when.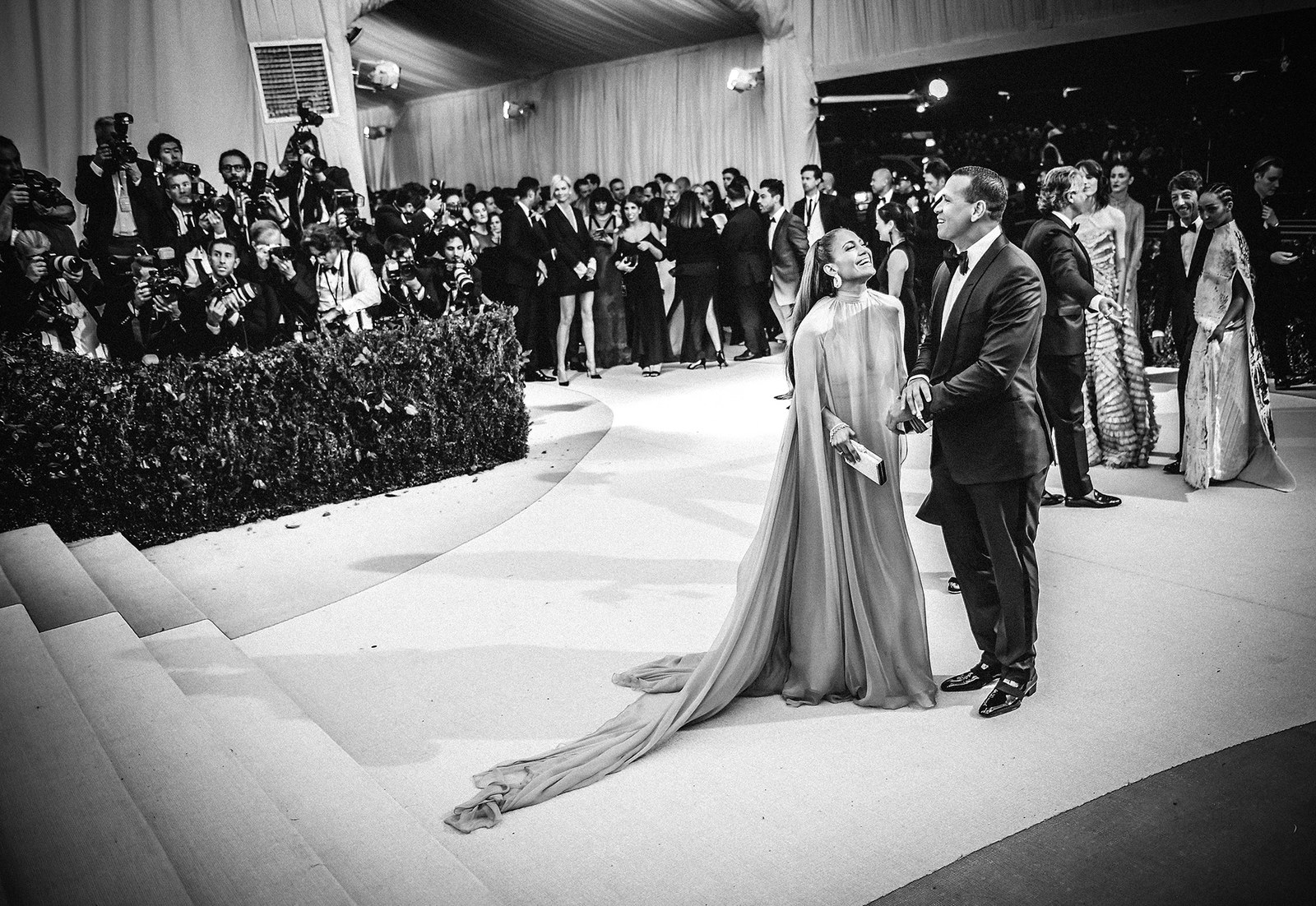 At the 2017 Met Gala, Jennifer Lopez attended with former Yankees player and current love interest Alex Rodriguez on her arm. Gliding across the red carpet in Harry Winston diamonds and a baby blue Valentino gown (she was covered from the top of her neck to her feet with diaphanous sleeves), she recalled, according to Vogue, "a '60s-era Elizabeth Taylor, who often opted for a loose, chic caftan." It was an apt comparison in the moment, but beneath the surface lies yet more connective tissue between the two women. They both share a hustler's spirit: nearly larger than life and thoroughly unapologetic for having big dreams and appetites. But they are also famous lovers, both apparently wildly romantic, as evidenced by how they throw themselves into love affairs and holy union (between the two of them, there have been 11 marriages, and as Taylor once put it: "I've always admitted that I'm ruled by my passions.").
While Lopez's first two marriages, to waiter Ojani Noa, and then dancer Cris Judd, lasted less than two years altogether, her last marriage, to singer Marc Anthony, ended in 2011. In an April 2016 interview for W magazine, she told Lynn Hirschberg, "I hung in there for seven years. I knew very quickly that it wasn't the right thing." She went on to add that she still wanted marriage and a long, monogamous life: "A dream of mine is to grow old with someone." The A-Rod appearance was perhaps the move of a woman on the road to long lasting love. It also came after J.Lo had grappled with rumors of cheating by her last boyfriend, backup dancer Casper Smart. With this being the Met Gala, J.Lo was in alpha mode, with A-Rod in the secondary, more passive role of her escort. Transmission received: J.Lo back on top.
In wearing that Versace dress, J.Lo was drawing a line in the sand, away from the idea that she was not in control of her own celebrity framing.
Even before the Anthony union and the twins that resulted from it, Jennifer Lopez's biggest love stories had been generationally iconic. The first, with music industry mogul Sean Combs (then known as "Puffy"), was high profile and ubiquitous in a way that is different to the Instagram-nourished celebrity of today. Diddy and Lopez looked like they were living a very decadent life – and the fact that we had no real knowledge of what was actually going down, without Instagram or Snapchat, added to the allure. They seemed exciting, maybe a little dangerous, as illustrated by the couple's arrest in 1999, after they fled the scene of a nightclub shooting. Lopez, who was wearing a fur-collared overcoat at the time of their arrest, was charged with criminal possession of a weapon (the charges against her were later dropped). It is the one jarring, jagged detail in an otherwise smooth story (being arrested is no picnic, and Lopez reportedly cried during the 14 hours she remained in the police station). For a person who likes to maintain control as much as J.Lo seemingly does, it must have been moment of clear-eyed realization: Was the potential disruption of this relationship to her brand worth it? Perhaps that night was the beginning of the end, but the biggest night of their relationship (for us civilians) was still to come.
In early 2000, the couple attended the 42nd Grammy awards, where J.Lo was nominated in one category: best dance recording, for her single, "Waiting for Tonight." Almost no one even remembers it was her first nomination, because it was also the night J.Lo wore that dress: Versace, green silk chiffon, split to below her navel where it was cinched by a brooch, and then a downwards split from directly beneath her crotch to the ground. Another thing people don't remember: The dress had been spotted on red carpets before (worn by its designer Donatella Versace, and the singer Geri Halliwell), but it was Lopez who owned it. She owned the night — joining an elite group of people who come to have an italicized and or capitalized "THAT" before their sartorial choice — and just like Elizabeth Hurley in 1994 with her safety-pin dress (Versace again!), Lopez owned the whole epoch. Enough people wanted to see her in the dress that the demand essentially spurred the invention of Google Images a year later, as former CEO of Google Eric Schmidt said in a 2016 interview. As Lopez presented the first award of the night, her co-presenter David Duchovny said, "This is the first time in five or six years that I am sure that nobody is looking at me." He wasn't wrong.
That dress may forever haunt her, but it's more of a friendly ghost than a truculent poltergeist. That's because Lopez understands the importance of images. In wearing that Versace dress, J.Lo was pivoting the story away from the narratively disruptive arrest incident of the year before — drawing a line in the sand, away from the idea that she was not in control of her own celebrity framing. She constructs a perfect visage through which to tell her own story, whether it is being filtered through the veil of a sheer bodice, a sunny smile, or salty tears. Her next post-Diddy relationship pushed her more firmly towards (even more) Hollywood stardom.
Even before Jennifer Lopez got engaged to Ben Affleck in 2002 (they'd met in 2001, on the set of Gigli — and speaking of power plays, it is important to note that she walked away from that disaster relatively unscathed, unlike her costar, and indeed, her director Martin Brest), there was already a cultural narrative in place, in which she, a societally lowly New York Latina, had somehow "bagged" a societally superior lantern-jawed white hero from Boston. More than that, she was to be "handled" and remolded into something less "exotic." She was described as a "Latina babe,"and Isabel Molina-Guzmán noted one headline from the time in her 2010 book Dangerous Curves: Latina Bodies in the Media: "Ben Orders J.Lo Makeover" (if J.Lo's fashion sense was altered — and a look through the Getty archives suggests it wasn't — it did not necessarily serve to make her look more demure). Lopez rode it out as best as she could, but like Diddy before him, her talk of Affleck and their relationship (and of course, his unforgettable star turn in the video for "Jenny From the Block") painted him as utterly uxorious, very nearly a lapdog for Lopez. Years after their breakup, Diddy called Lopez "a player," saying, "She just knows how to keep all us men in line."
J.Lo never gets relegated to the Aniston leagues, where we are encouraged to feel sorry for her, nor is she suffering under the burden of Angry Scorned Ex-Lover.
In actuality, most of J.Lo's men have always seemed wholly devoted, if not exactly completely lovestruck (in later years Lopez claimed Diddy had cheated on her while they were together, and she wrote in her first memoir, "It felt like my heart had been torn out of my chest" after Affleck called off their wedding). But through her ups and downs, J.Lo never gets relegated to the Aniston leagues, where we are encouraged to feel sorry for her, nor is she suffering under the burden of Angry Scorned Ex-Lover. No matter how it ends (or begins), she is never left holding the bag, and while she may retreat for a while, she never fully disappears. And she can even laugh about them. In a 2014 interview with radio station Power 106, host Big Boy asked who she would save from drowning — Ben Affleck or Diddy? Laughing hard, she replied, "I'd let both those motherfuckers drown!" Then, still laughing, she added: "That's terrible! I'm just joking! Ben, Puffy, you know I love you. You know that. They know it. It was a good punchline!"
Indeed, she generally remains on almost aggressively cheerful good terms with her (high-profile) exes. The day before the Judd divorce was announced in 2002, the couple were seen at a dinner party, looking very together (Judd's father later told the National Enquirer he believed she had been cheating on his son). At a Golden Globes afterparty in 2011, she cordially introduced her beau, backup dancer Casper Smart, to Diddy (she eventually broke up with Smart amid allegations of his infidelity). In a universe in which a single woman is either to be pitied ("pathetic") or viewed as defective ("pathetic" but in a different tenor), Lopez emerges from and enters into every relationship with a light touch — she does not jump on talk show couches. And when they come to an end, she wins the PR battle, every time. Her philosophy when it comes to Ex Management is clear: Life can get messy, but you don't have to be.
J.Lo has always been the epitome of "just give me something I can work with." In her Movieline interview, it was something she was very candid about: "I feel I can do anything — any kind of role," she said.
Hence World of Dance. In addition to her own (relative) rags-to-riches story, Lopez did a five-season stint as a judge on American Idol, reportedly earning $20 million for her final season, and placing her perfectly for this new gig. She's an enthusiastic judge who appears to be "real" (she cries, she cheers!), and has the gravitas of authenticity and contemporary success — who better to discern star quality? On World of Dance's premiere episode, Lopez, in a sheer red dress, stood up to give an encouraging hug to a young dancer from Miami, before kissing her cheek and leaving a bright red lipstick outline as the girl cried (no signature nude lipstick this time; red is for emotion).
This is J.Lo coming home. This is not a faded star humbled by years of obscurity or trying to recover from a crushing box office/chart failure. J.Lo is on top, and at this point in her career, she is using her celebrity and producing power to mold new stars — boys and girls who maybe have similar dreams to a younger Lopez — in her own image. There she is walking boldly onto a new set, with the confidence of that apocryphal mediocre white man, trying to repackage and/or sell us something new. "Big is Jennifer Lopez's forte," noted Rebello in that interview all the way back in 1998. Nothing has changed. The tao of Lopez is as follows: Stride purposefully forward and take what you believe to be yours. ●
CORRECTION
Jennifer Lopez was a judge on American Idol for a total of five seasons. This piece previously mentioned only her first two seasons, and not her final three.