With just over two weeks until Election Day, Stacey Abrams' voice was raspier than normal as she delivered her well-honed speech to a crowd gathered at Theze Bonez, a ribs restaurant run by a military vet in Powder Springs, Georgia.
"I apologize for my voice," she started off. "We have been traveling the state of Georgia and my voice is somewhere between Spalding County and Worth County."
Over the course of an October weekend, Georgia's Democratic gubernatorial candidate gave tweaked versions of a stump speech that she has polished to a gleam over the last few months. Among her stops were the city of Dalton in Whitfield County, aka "the carpet capital of the world," which has a big Latino population, and Rome, Floyd County, in the foothills of the Appalachian Mountains. Abrams, the former Georgia House minority leader noted for working across the aisle, has visited all 159 state counties, meeting a demographically mixed cross section of Georgia's 10.5 million citizens. The day before she spoke in Powder Springs, she was on a whistle-stop tour in five different counties. In her speeches, she hits the same important beats she believes will get her into the governor's mansion after the election — including the importance of early voting.
"I don't want you to vote for me because I'm black, or because I'm a woman. I want you to vote for me because I'm better."
Abrams is a rare thing for her state, and for the US in general. If she wins, she will be the first black woman governor in the history of this country — but she's adamant that's not reason enough to vote for her. "I don't want you to vote for me because I'm black, or because I'm a woman," she repeated all weekend, at stops that included a church, a barbershop, a jazz club, and the meeting hall of the local chapter of the electrical workers union. "I want you to vote for me because I'm better." Cheers and applause met her, and that line, every single time. But Abrams' speeches don't start or end there.
There is the story of her previously incarcerated brother, Walter, who struggles with addiction and also has bipolar disorder: "We all know a Walter. Or are a Walter," she said at Golden Memorial United Methodist Church in Douglas County on Friday evening. There is her clarion call for Medicaid expansion, including mental health coverage, in a state ranked 47th nationwide for affordable health care. (As Abrams points out, the prison system is the biggest provider of mental health care in Georgia: "We have leaders who believe it's okay for folks to die from preventable diseases because they're too mean and too cheap to expand Medicaid in the state of Georgia.")
There are her big plans for education: making technical colleges free again, the introduction of need-based student aid, and a reimagining of the HOPE scholarship that looks beyond a B-grade average as a barometer for eligibility. "I don't know about you but I come from a family of strong C's and D's doing the best they can," said the graduate of Spelman College, the University of Texas, and Yale Law School, modestly. As a former small-business owner who couldn't get business credit, she also has an interest in making capital available for small-business owners across Georgia — Abrams wants to create a $10 million small-business financing fund. Her voice fluctuated in pitch from time to time, but she stayed true to the speech's central message, which in the words of the former president of the Atlanta City Council, Ceasar Mitchell, is that Abrams "is not only qualified to lead this state as governor, she is well prepared."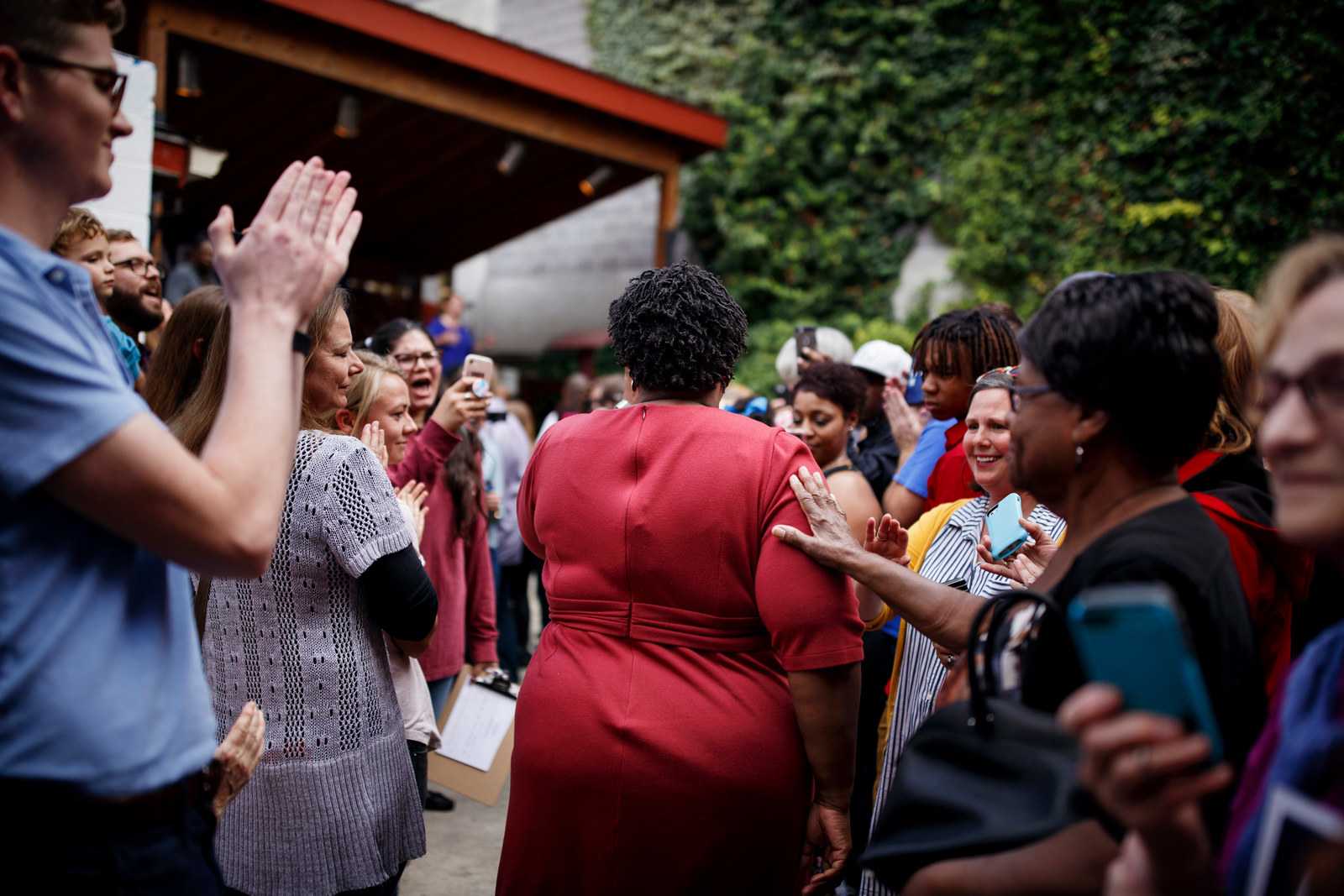 But it won't be easy. Georgia — and this governor's race in particular — has been in the news for months, because of allegations of voter suppression, which Abrams' Republican opponent, Brian Kemp, the secretary of state in charge of elections since 2010, has denied. Thanks to Kemp's enforcement of the stringent "exact match" law, which was passed in 2017 and requires an exact match between voter rolls and government-issued ID, there are 53,000 pending voter registration applications (the majority of them belonging to people of color). For his part, Kemp's office has blamed the New Georgia Project, a group founded by Abrams five years ago, for the fact that most of the applications pending are from minority voters. A court case requesting an injunction against the decision to reject the applications is pending.

In the meantime, the Lawyers' Committee for Civil Rights Under Law, in conjunction with other civil rights groups, sued Kemp's office for rejecting absentee ballots on the grounds of exact match requirements, and on Oct. 24, US District Judge Leigh May ordered the office to get county officials to stop rejecting them.
In Gwinnett County, the second-largest county in the state, almost 600 mail-in absentee ballots have been rejected, with half of those belonging to African Americans and Asian Americans. In 2017, Kemp was sued by the Lawyers' Committee for Civil Rights Under Law for allegedly illegally gerrymandering two state House districts (a panel of judges declined to grant an injunction). Kemp's office is also being sued by civil rights groups for allegedly purging 700,000 voters from the state's rolls over the course of the last two years.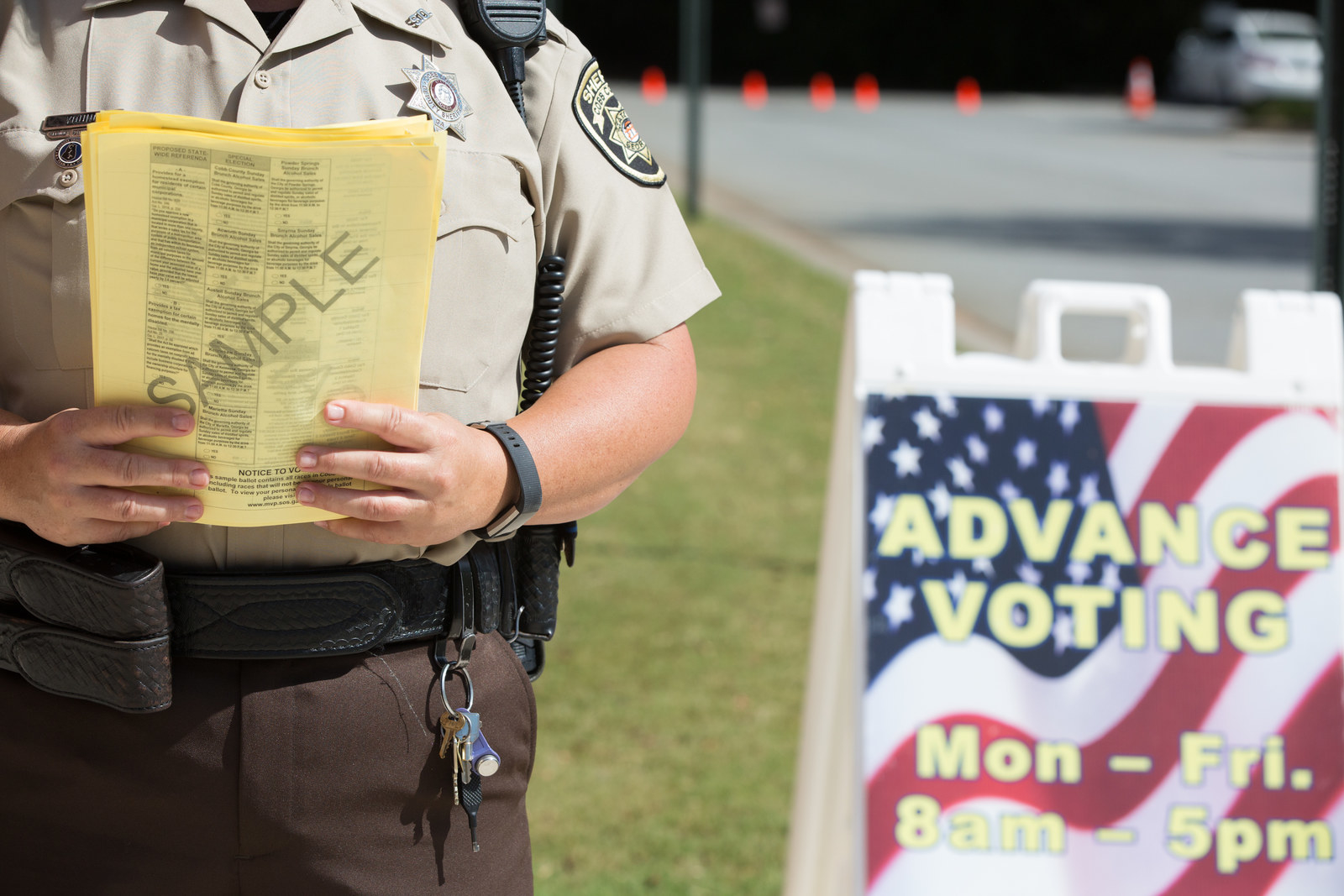 In an August 2018 op-ed in the New York Times, White Rage author Carol Anderson noted that while the population of Georgia had increased, the number of registered voters has decreased since 2012. This past week, Rolling Stone received leaked audio recorded at a Kemp fundraiser earlier this month in which the Republican candidate said Abrams' voter turnout operation "continues to concern us, especially if everybody uses and exercises their right to vote." The flare-ups of voter suppression coming out of Georgia in the last few weeks reached a fever pitch as all eyes fell on the state. Stories have come from big urban counties like Gwinnett and DeKalb (where 4,500 mail-in applications have gone missing), as well as smaller counties, like Randolph, each serving to revitalize an old fear: They can be traced directly to the 2013 gutting of the Voting Rights Act (1965).
That this is all happening in the shadow of both a Trump presidency as well as one of America's stickiest sins — systemic disenfranchisement and voter suppression — makes the stakes of the midterm elections all that much higher.
The Trump-endorsed Kemp has said his policy is to reduce voter fraud. Recently, the president tweeted about voter fraud, even as analysis by nonpartisan bodies have repeatedly described its incidence as so small as to be a "myth." But when it comes to allegations of voter suppression, it's hardly Georgia's exclusive domain. This month in North Dakota, the Supreme Court declined to overturn that state's voter ID law, leaving many Native Americans unable to vote with their Native IDs. In Texas, the NAACP Legal Defense Fund has filed a suit against Waller County for restricting early voting rights of black and Latinx students. That this is all happening in the shadow of both a Trump presidency as well as some of America's stickiest sins — systemic disenfranchisement and voter suppression — makes the stakes of the midterm elections all that much higher.
The preoccupation with voter suppression in Georgia is justified because the race is incredibly tight: In the FiveThirtyEight forecast, Kemp and Abrams are almost neck and neck (the third candidate is Ted Metz, a Libertarian, with a 4% share). A runoff appears ever more likely.
All weekend long, I followed Abrams as she made her scheduled stops throughout the state. For Democratic candidates and voters alike in Georgia, voter suppression is a real fear. And it has threatened to eclipse both the candidate and her platform. But Abrams, as well as her volunteers and fans, feel these are challenges they're up to. They are the "unlikely voters," as Abrams herself put it in her Friday night speech, aka voters who had been "counted out and overlooked and ignored" by Republicans. And they are actively participating in their own democracy by volunteering and pitching in at a time when voting alone no longer seems sufficient.
As Abrams herself, put it: "I mean, come on — a Democrat in a dead heat with a Republican in October in Georgia — we're about to win!"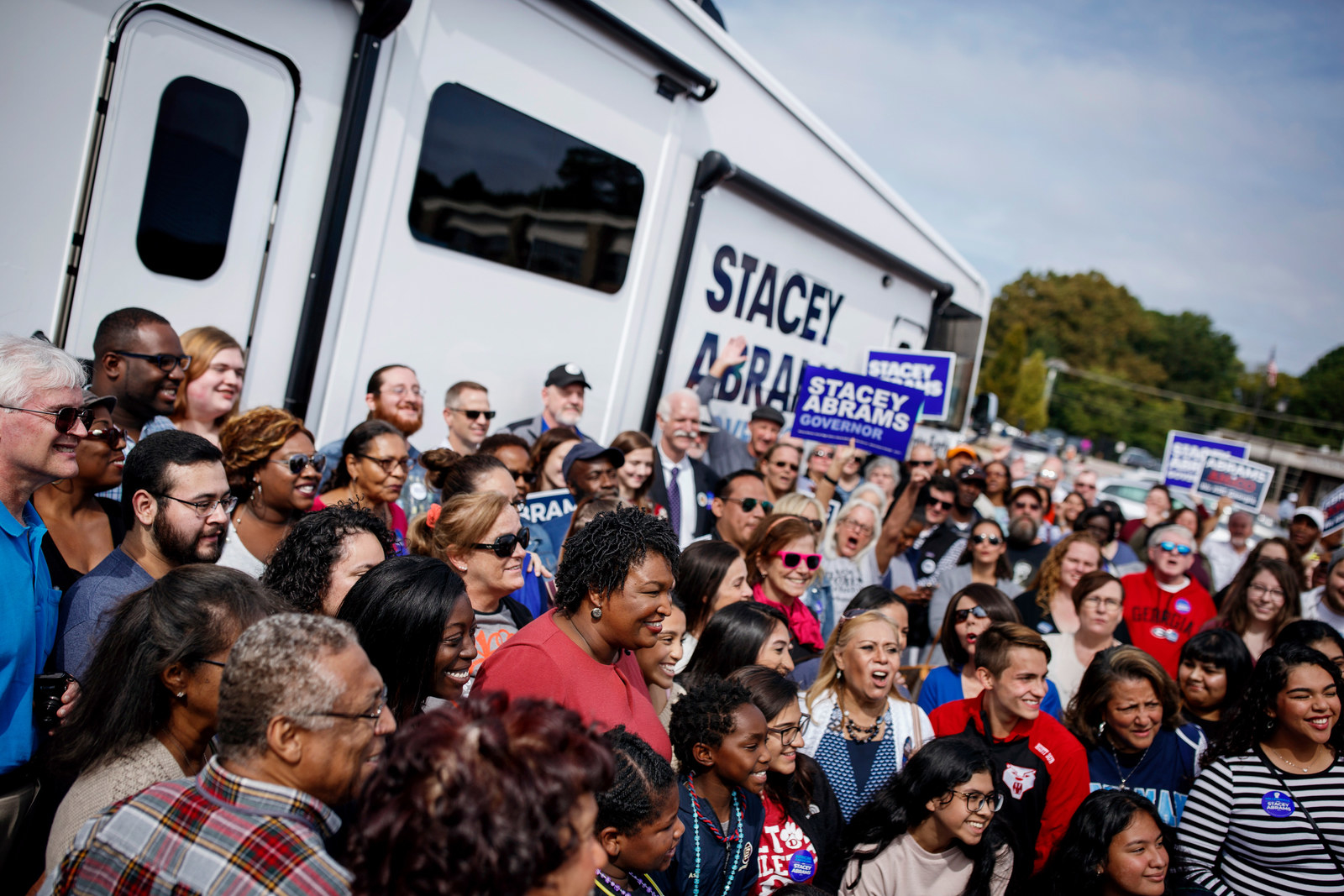 At least a half hour before the doors opened for the Women for Stacey panel discussion at St. James Live, a jazz club on Butner Road in Atlanta, there was already a racially diverse queue forming. Mothers and daughters and their male allies lined up patiently in the weak Saturday sunshine, a few of them holding signs and chatting loudly. The event's panel guests were a mix of politically inclined celebrities and mildly famous politicians: people like the first lady of New York City, Chirlane McCray, actor Patricia Arquette, and Girls Who Code founder Reshma Saujani, among others. Outside, though, it was clear that the main draw was Abrams herself.
Karen Weaver, the mayor of Flint, Michigan, was at the event with other black women mayors from across the US. "We keep talking to people about local and state politics and how important it is on your everyday living," she said. "You look at what happened in Flint when there was a state takeover — it's important to have the right person at the top running this state and she is who we need here."
I spoke to Katie Solon, former chair of Democrats Abroad, who said she had been watching the Georgia race from her home in Germany. "People who vote in Georgia and people who don't have been working really hard to get out the overseas vote for Georgia," she said. "We are expecting a turnout like we have never had in the midterms." She laid out the numbers. "Nine million [Americans] live overseas, 6 million of voting age and less than a million have been voting. That's 5 million votes on the table. Any race that's close in Georgia or the US, it's the overseas vote that's going to make the difference."
One of the crowd's biggest issues remains health care. Georgia's report card on the matter, as outlined by Sarah Riggs Amico, the Democratic candidate for lieutenant governor, appears bleak. "We have 64 counties without a pediatrician, 79 without an OB-GYN, 66 without a surgeon, and 9 with no doctor at all," she told a crowd of supporters. As of February this year, Georgia had the highest maternal mortality rate in the nation.
Nicole Franks was wearing a T-shirt that read "Spelman Vs Everybody." "Stacey Abrams is my college classmate, and I am out here to support her," she said. "She is an advocate for everyone — she's inclusive and that's why she's the best person for the job." Not far behind her in the line was Kate Dirks, a young white midwife from Atlanta, holding a sign that read "Midwives Pushing for Stacey." Next to her, a companion's T-shirt read "Be the cervical change you wish to see in the world."
"I used to think that if I voted personally, myself, it was doing enough, and now I don't feel like that's quite true."
"I'm supporting her in part because she's going to support Medicaid expansion in the state," Dirks said. "I see people every day whose families are actually making choices between food and medicine, and it would change lives for the people that I see and care for. That's the most important issue." She remembered Abrams' support for midwives when she was still a student at Emory. "She's a huge champion for health care."
Dirks will be voting early because she will be on call on Election Day. But she's also been volunteering and trying to fundraise for Abrams and the candidate who's running for attorney general, Charlie Bailey. "I am trying to be more active to get out the vote. It feels like voting isn't enough anymore," she said, laughing. "I used to think that if I voted personally, myself, it was doing enough, and now I don't feel like that's quite true. So I'm trying to show up to more things and post more on social media and try to be more active."
Another woman volunteering for the Abrams campaign, Ashley, said she had been driving voters to the polls since they opened for early voting. Her husband, equally politically active, had traveled to Statesboro in Bulloch County, South Georgia, to volunteer by taking college students to the polls. (He'd taken time off work to volunteer for the Hillary Clinton campaign in Ohio back in 2016, and she had joined him there briefly.) Ashley was doing her part in Atlanta. "I do not like knocking on doors, that's not me," she said. "I did it in Ohio and I didn't want to do it again." For her, volunteering to drive voters to the polls made sense because of the city's "terrible" transit system. She pointed out apartment buildings on Cascade Road and a nearby MARTA bus stop.
"The bus stops right there. So that whole road is bus-less," she said. "In a city like this, you basically need to have a car. I pick people up at the library and the assisted living home, and it helps so much. This is a way I can contribute. I hope it makes some kind of difference."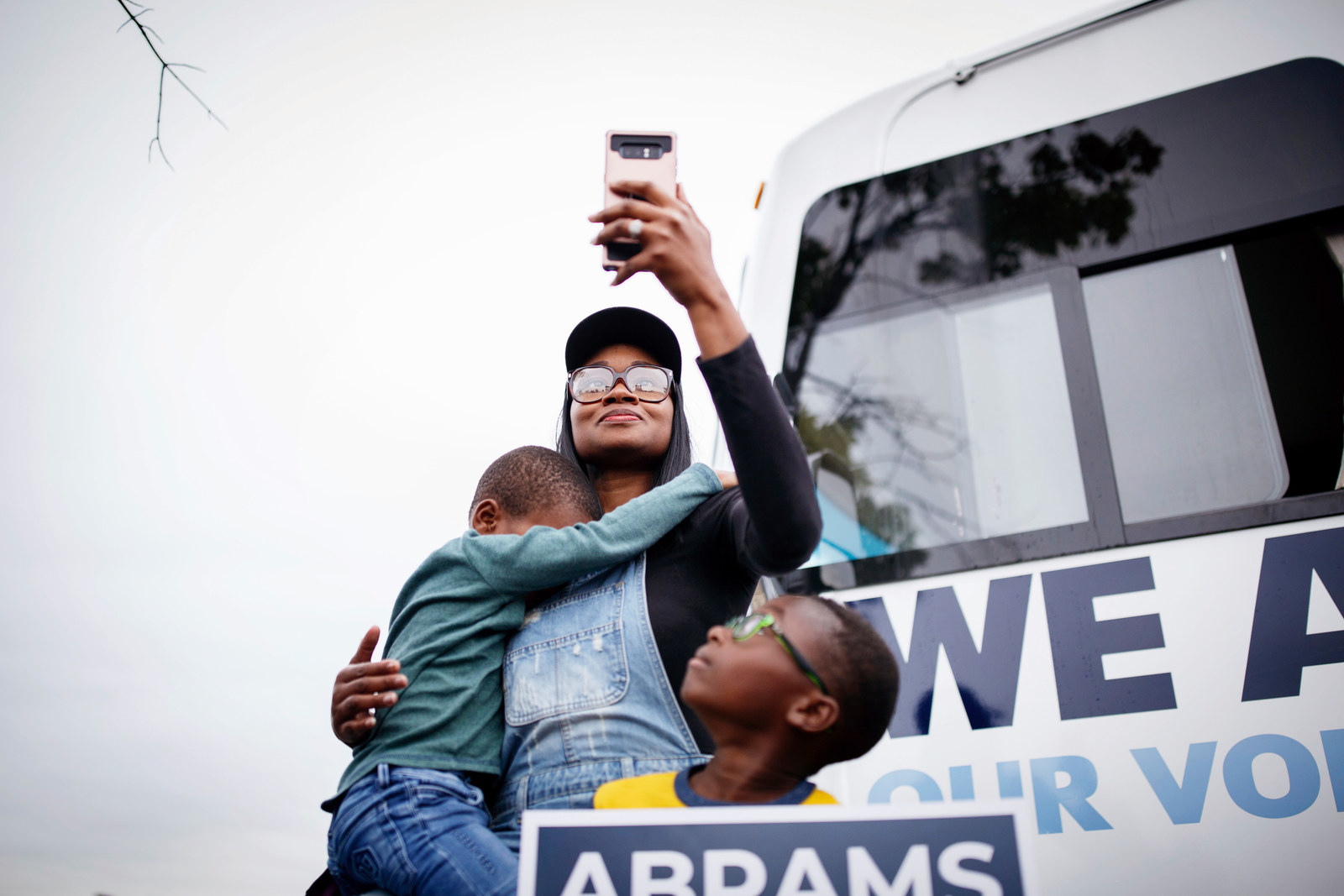 Olaoshun Lakesin was at the Women for Stacey event with her son and granddaughter and members of her social club. This was, for her, as close to Abrams knocking on her door as it could get. "I like that she's very tenured in politics," she said. "And I'm sick of looking at one particular demographic being the governor: White males are not the only people qualified to be the governor of Georgia."
When I asked Lakesin about voter suppression, she was emphatic. "Voter suppression is real. I come from the segregation era, from the Martin Luther King Jr. days, when you actually got killed for trying to vote. In America. Down here. It's real." In the meantime, she said, she would be following all the voter suppression stories with great interest. "I'm an educator by profession, and I'm a readaholic. Educated voters are readers."
One of the organizers of the Saturday morning event in Fulton County was Kelly Johnson, along with his husband. They had previously organized a fundraiser for Abrams during her primary race, when she beat Stacey Evans in a mildly contentious battle for the nomination. "This is one of the biggest pockets of black votes in the city and we wanted to make sure she was heard here." His "LGBTQ+ for Stacey Abrams" button was prominent on his chest. "She's my candidate because she reflects progressive values," he said. "We're in the South, so let's be very clear: We are in the Bible Belt, I'm LGBT, and she is all about equality and equity, which is important to me. There is no way that I could support the other...person running for governor."
In the fight against voter suppression, he said, the key was to get out early. "Getting out to vote early is important because we don't know what kind of tactics they'll try to do on Election Day and historically, Democrats have always voted early. It's the right thing to do."
Mary Coons, a young white woman who was at the Powder Springs event on Saturday, said she had voted early and has been volunteering with the campaign with her friend Jennifer. (As of Oct. 28, Fulton County has the highest turnout for early voting in the state, at 152,963.) "We are going to be knocking on doors, we're canvassing, we'll be doing anything and everything they ask. Right now, it's go time and we're going to be out there," Coons said. She described the situation as "an old page from the Republican — especially the Georgia Republican — book."
She added: "I've helped with voter registrations. We've seen the things Republicans try to do, where they're asking for a lot of different ID, stacking the deck against those who are maybe not as well educated or lower socioeconomically. I've watched as our legislature has tried to redraw the lines to prevent and to count out areas that are African American in our city."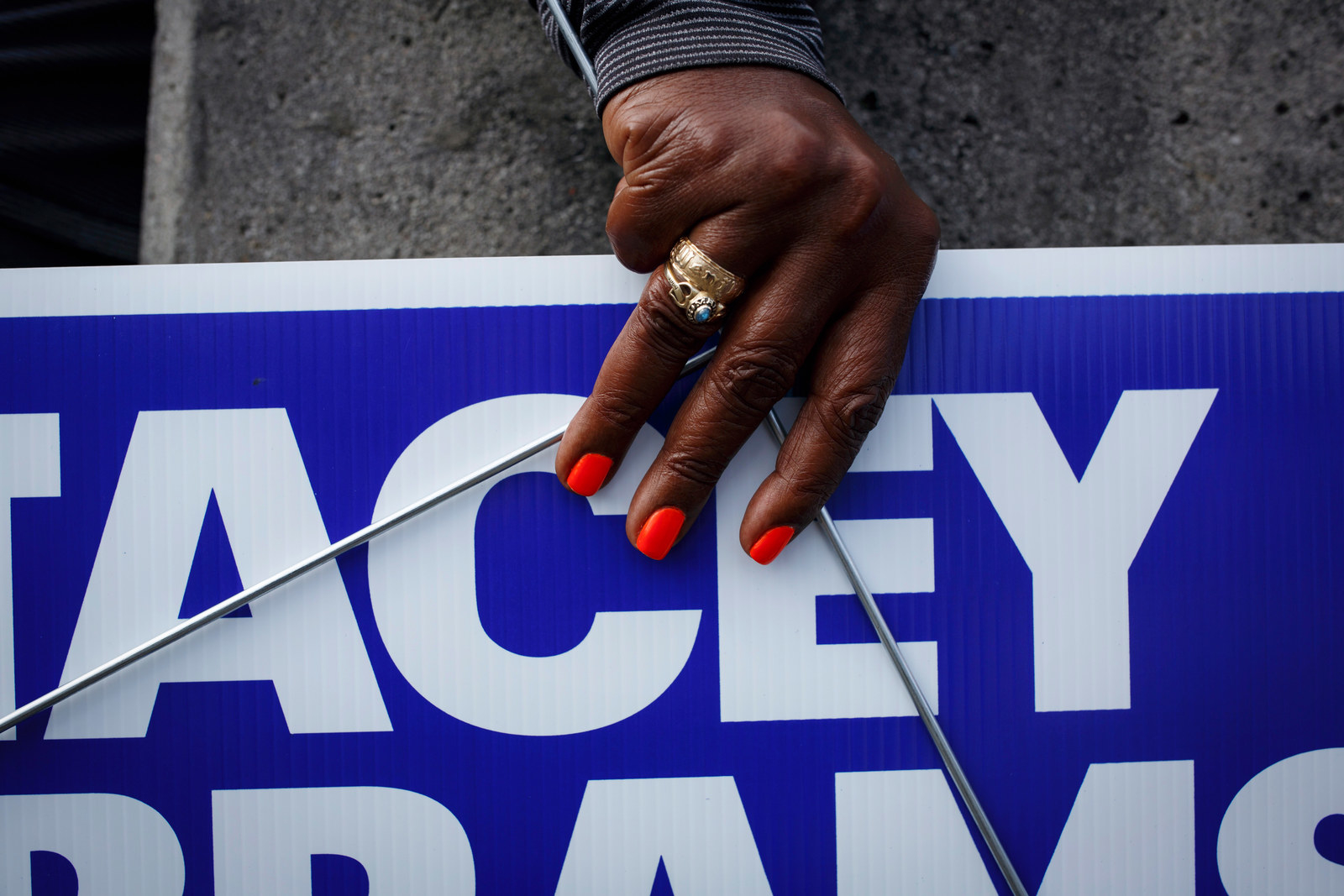 Abrams has also not been shy in calling voter suppression out on the stump. I spoke with her very briefly after an event at Off the Hook Barber Shop in the Castleberry Hill neighborhood of Atlanta and asked her exactly how voting early would help curb voter suppression. "If people vote early, we are able to identify earlier who is being blocked, and we have time to solve it," she said.
"The problem is if you all wait until Election Day, then all of the different machinations of voter suppression all work at the same time. And so if people vote early we will know there are long lines in Cobb County, we'll know there are absentee ballots being rejected in Gwinnett, we will know there are people who are being told they can't vote because of 'exact match.' But we only find that out by people doing it early enough for us to get in there and solve it. So the remedy to voter suppression is voter engagement. That's why I need people to vote early."
"I know about the people who get counted out and overlooked and ignored, who are just waiting for somebody to see them, and say, This is your state. This is your town, this is your time."
Voter suppression might stem from a federal issue, but its cure occurs at the state level, Abrams believes. "One of the reasons that Section 5 of the Voting Rights Act became necessary was that you had state actors who refused to acknowledge the right to vote. And you needed a federal law to force good action," she said. "By becoming governor and by being able to help change the composition of the legislature, my intention is to make certain that state law actually protects the right to vote without the necessity of federal law. Because it is state actors that passed voter ID. It is state actors that passed exact match. It is state actors that are closing these polling places."
At her Friday evening event, Abrams told the story of the redistricting session that followed her appointment as Democratic leader in 2010, "where politicians decide to pick their voters instead of letting voters pick their politicians." With the state maps redrawn, Abrams said, the Republicans thought they could get the 124 seats out of 180 available in the lower house.
"I looked at the maps and I saw what they saw, but I saw something they didn't see," she said. "They were looking at likely voters. They were looking at the folks who always show up. But I knew a secret. I knew about unlikely voters. I know about the people who get counted out and overlooked and ignored, who are just waiting for somebody to see them, and say, This is your state. This is your town, this is your time."
The applause was rapturous.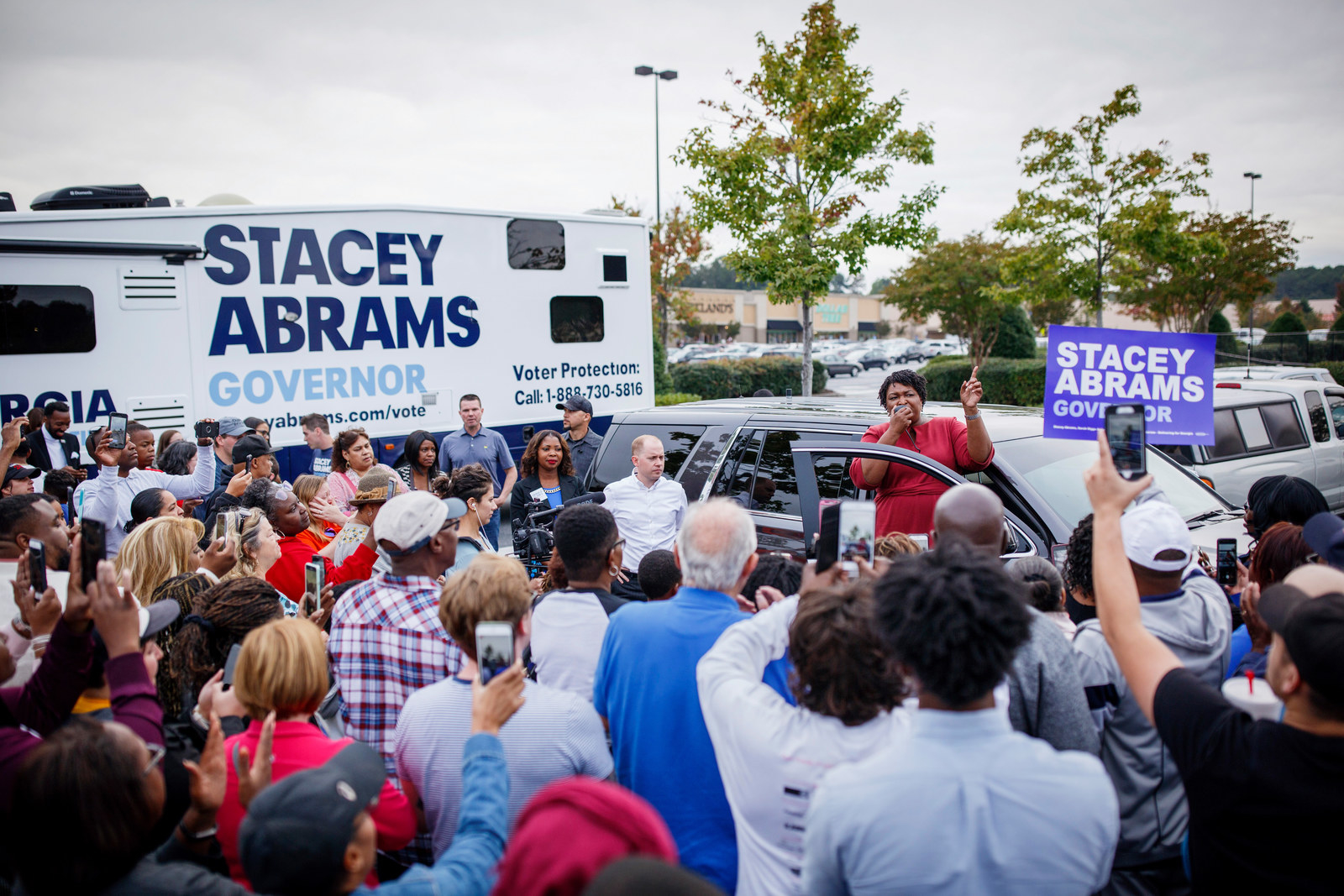 At an event focused on black men at the International Brotherhood of Electrical Workers Labor Hall in Atlanta on Sunday morning, a small phalanx of stars were in attendance. A dance troupe made up of tweens in matching uniforms danced to a remix of Jay Rock's "Win" (sample lyric: "Vote for Stacey Abrams / That's a win win win win! / ATL so lit / win win win win / Get out and vote"). Local entrepreneur and manager of rapper and actor Ludacris, Chaka Zulu, was there, as was comedian and actor Chris Tucker. Political gravitas came in the form of Sen. Cory Booker, who was there to introduce his fellow Yale Law graduate and friend. He was also banging the drum for early voting. "Right now Georgia is setting records for early voting, [and] we need to continue that momentum," he said. "They're doing outrageous stuff to try to undermine people's ability to vote in this state right now. Don't let them do that — get out there, fight for your right to vote in this election. The whole world is watching this election to see what's going to happen in Georgia."
Later that afternoon, the two would hold an event at a barbershop where Abrams would answer questions about, among other things, legalizing cannabis, homeless vets, small-business capital, LGBT discrimination, and Medicaid expansion. But for that morning, Booker gave a stirring speech that managed to include Maya Angelou's poem "Still I Rise."
"We are at a historic turning point in our country," Booker said. "When people spew hate from the highest offices in the land, there emerges leaders who know that you can't lead the people if you don't love the people. I have seen a light emerging over the horizon from the great state of Georgia, someone who inspires me like nobody ever has. Somebody that is a trailblazer, a history-maker, a glass ceiling–breaker, and I am telling you right now: Ready or not, here she comes."
"I know that black women are the backbone of the Democratic Party. I know that women show up and show out every election but I need some good men to stand up too."
Abrams herself was a little less flowery in her own speech. She had attended church that morning, the daughter of not one but two pastors, and she reached for the third chapter in the book of Micah. "The story of Micah is the story of men and women — but mostly men — who were leaders, who got too used to being in charge," she said. "And the scripture talks about those who wanted to hate good and love evil. Does that sound like anything that's familiar to folks in Georgia right now?" The crowd murmured its assent.
"This is a close election," she said. "You know it's close. They wouldn't be working so hard to make sure your votes didn't count, if they knew your votes couldn't count." She repeated the line from the day before, in Cobb County: "I'm voting for me." Obligingly, members of the crowd yelled out "Me too!" to laughter. But when Abrams continued, her voice had turned serious again. "The thing of it is, we need you. And we know we can do this because they wouldn't be fighting so hard to stop us if they didn't know victory was in our sights."
Pinning her gaze on select men in the audience, she continued. "We're not just going to the places folks are used to seeing us — we're going places that no one's used to having a conversation. I know that black women are the backbone of the Democratic Party. I know that women show up and show out every election, but I need some good men to stand up too. Because this is not an election that's going to be won by miles, and we have a chance to change the future of Georgia. And the reality is if we change Georgia, we change the South. And if we change the South, we change America, and there are those who know it's coming and they're going to try and stop us but we're not going to let them turn us around. Are you with me?"
The crowd was. ●