"I got a lot to be mad about"
—Solange Knowles, "Mad", A Seat at the Table, 2016
In the first part of her astonishing book Citizen, Claudia Rankine indexes micro- and macro-aggressions, and writes them in the second person: "Hold up, did you just hear, did you just say, did you just see, did you just do that?" Rankine isn't necessarily asking her fellow citizens these half-questions; instead, she frames her work as citizens questioning themselves and each other. What is stark is that racism is a virus that has no trouble adapting in hostile environments. And not every instance lives in physical terror. In Rankine's book, and in black people's lives, racism sits inside quotidian pursuits: at the supermarket, in your office, at your would-be therapist's, at dinner. In Solange's new album, A Seat at the Table, her first full-length record since her second studio album was released back in 2008, the artist is meditating on "identity, empowerment, independence, grief and healing," according to her press release. Concerned as it is with a specific perspective, A Seat at the Table is a strikingly analogous project to Rankine's Citizen. In fact, Solange lists it as one of her many inspirations as she was making her record.
On "Cranes In The Sky", Solange sings about an amorphous "it": She tries to drink it away, she tries to dance it away, she tries to sex it away, and work it away, and sleep it away, and read it away, and write and cry it away. Away, away, away, away, away. "Man, this shit is draining/but I'm not really allowed to be mad," Solange sings gently over the bumps of "Mad". And then Lil Wayne offers up perhaps the most heart-wrenching verses of his career, when he raps about the burden on his back, "like a motherfucking cap and gown". In Citizen, Rankine brings up John Henryism, where black people "... achieve themselves to death trying to dodge the buildup of erasure." We're all out here trying to be seen, to be complete parts of the societies that often look like they want to kill us, literally, figuratively, and creatively. "Man, you gotta let it go before it get up in the way/Let it go, let it go!"
The list of things we have to be mad about grows at the rate of Tribbles. The near daily death-and-hashtag cycle brings its own very specific exhaustion but the woes of the darker races are not limited to that issue. After mourning and dragging yourself to wherever it is you go in order to make your rent and fuel money, there is a catalogue of anger-inducing acts just waiting for you. And then you come home, and you slip into your house dress and slippers and play A Seat at the Table. The anger remains, but the hob beneath it is turned down to something akin to a slow simmer rather than a rattling boil. I got a lot to be mad about, you sing along, and as you do, you remember you are not only your anger. You are many more things besides.
You are joy, you are laughter, you are rage. You are also beauty and defiance. You are a kite soaring above the earth, bound to it by gravity and gravitas. You are deliberate and carefree, sad and contemplative, and you are bright and glowing. You are quiet, you are dancing, and you are fresh to death. You are untouchable, uncountable, refusing categories, but happy to stand among your own. You are light and dark, big and small, bulky and unwieldy but also pliable and soft. On specific days you are none of these things. Other days you are all of them. A Seat at the Table is a snapshot of all the things that you could be and many more besides.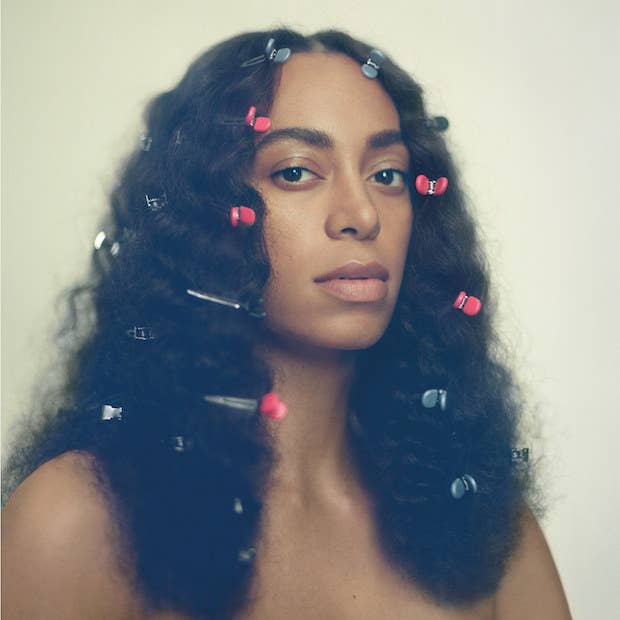 Three songs on A Seat at the Table sound like explicit exhortations: "Don't You Wait"; "Don't Touch My Hair"; "Don't Wish Me Well". On "F.U.B.U", The-Dream croons urgently: "Don't clip my wings before I learn to fly/I didn't come back down to Earth to die." These are not milquetoast requests. They are instructions on how to handle us: with care, with respect, with the dignity our human souls deserve. Don't touch us, except by our unequivocal consent and solicitation. Don't seek permission where you never needed to. Don't ask of us superhuman qualities you yourself could never live up to. Don't project your fantasies – violent or culturally desirous – onto us. Don't, don't, don't. We are making hard-line requests while going about the everyday business of living.
"We been lovers on a mission/so let's take an intermission" is the unambiguous way that Solange tackles self-care on "Borderline (An Ode To Self-Care)". "Baby, it's war outside these walls," she sings softly. It's a brick in velvet pouch. And then the tenderness morphs into (un)complicated and untempered black girl exuberance in the interlude: Nia Andrews and Kelly Rowland laughingly sing about their (and by extension our) magic and out comes another "don't": "Don't let anybody steal your magic." It segues smoothly into a dance jam, "Junie", named for Junie Morrison of the Ohio Players, aka the man behind the soundtrack to countless black celebrations across generations. Three minutes of funk-lite black girl joy. When André 3000 tells you to "jump on it!" how can you not?
Solange's voice is never raised up to a yell. It's often whisper-soft on A Seat at the Table; as a co-producer, she covers the whole record in sweet harmonies and melodies. Solange knows there are no hard and fast rules to making music. Just as racism does not always look like two deadly gunshots to a 12-year-old playing in a gazebo, anger has never had to have a discordant sound. It can sound like a beautiful, delicate thing, like the soaring strings that feel pulled out of you and make you want to break down on "Cranes in the Sky". It can sound like a dance-along like on "Junie". It can sound like "F.U.B.U.", all of us receiving the permission we didn't even know we were waiting on, or the issuance of a small but sharp directive: "don't try to come for us." Anger and defiance can feel a lot like love, and they can look like luxurious fabrics and sumptuous styling and images. Anger can grow in the cracks between joy and frivolity, enveloped within self-love and self-determination. Joy and anger can sit side-by-side at lunch, speaking sotto voce all the while. The "black experience" is many black experiences.
In listening to A Seat at the Table, where love and grief are companions, it is easy to locate other, older black art. Solange's inspirations are wide and varied, and in return, the record forces recollections and re-readings of long-held favourites. What came most readily to mind was Nobel Prize-winning poet Derek Walcott's free verse poem, Love After Love. "you will greet yourself arriving/at your own door, in your own mirror," Walcott wrote. When I listen to A Seat at the Table, I am reminded of the poem's final, powerful line: "Sit. Feast on your life."