There is a point in the self-awareness journey of mainstream culture when almost every black female actor's name comes with the implicit or explicit prefix of "underrated!" In the last great inclusivity push circa 2012–2015 (a wave that gave us Scandal, Being Mary Jane, Black-ish and How to Get Away With Murder, among other less successful ventures), Tracee Ellis Ross was nominated for her first Emmy (and won her first Golden Globe), and Viola Davis won her first Emmy and Oscar, and so the charge of "underrated!" has lost some of its (deserved) bite. But then there's Regina Hall.
Hall, 47, is by any measure absolutely underrated. In the years since she literally stalked through that open doorway and began her performance in her first substantial big-screen role as a stripper in The Best Man (1999), Hall has built a fruitful career on both TV and film. As an actor, she swings naturally between genres — as the indelible Brenda Meeks in the Scary Movie franchise ("This is some shit, up with which we will not put."), as the hilarious, foulmouthed Joan in the Leslye Headland–scripted remake of About Last Night, as Candace in The Best Man films, in any and all of her TV appearances in shows as diverse as Ally McBeal, Black-ish, Law & Order, show-within-a-show Due North on HBO's Insecure — and consistently delivers with seemingly little ego or vanity. She's also skilled in sweet outrageousness: Witness her late-night appearances on Conan and Late Night With Seth Meyers and her antics on the press tour for Think Like a Man (2012).
Yet she has somehow managed to stay under the radar. At least, she did, until she costarred in one of the biggest movies of 2017, Girls Trip, which reunited her with her The Best Man director, Malcolm D. Lee. The film, about four friends reconnecting over a long weekend at Essence Fest, returned $140 million at the box office on an initial budget of $19 million and helped make history for its black cast, writers, producers, and director. In an interview on AM to DM earlier this year, Hall soft-announced that a sequel was in the works.
Now she's the lead in Support the Girls. Released in August and written and directed by Andrew Bujalski, the movie stars Hall as Lisa, the general manager of a Texas sports bar "breastaurant" called Double Whammies. Over the course of the day, she is met with challenge after challenge from her staff, boss, and family, and repeatedly rises above the messes until she no longer can. Lisa is selfless and undervalued, which are often two of the worst things a woman can be. Yet Hall's big but subtle and exquisitely shaded performance is what pulls the whole thing off, elevating the pathos of Bujalski's story into something more substantial than a flight of working-class fancy. It is a markedly different side than we're used to seeing from the actor — who often shows up as a scene-stealer with incredibly expressive eyes — and yet one she has been capable of delivering for so long.
The movie has received almost universal rave reviews, with specific praise for Hall's performance. "Without taking any credit away from the rest of the cast, wrote the Wall Street Journal's John Anderson, "Ms. Hall owns the movie and her performance is a tour de force." Vanity Fair's K. Austin Collins was explicit in his praise: "Make her a leading lady already! Clearly she has the chops." Despite these ringing endorsements, the film, which opened on a limited release, has not yet broken out at the box office.
Soon Hall will appear The Hate U Give, an adaptation of Angie Thomas's 2017 Young Adult novel of the same name, which recently premiered at TIFF, and then in 2019, she will star alongside Don Cheadle in a new Showtime series, Black Monday, a comedy about 1980s stock traders. It's time we pulled Regina Hall's name out of the "underrated" basket because her moment has finally arrived.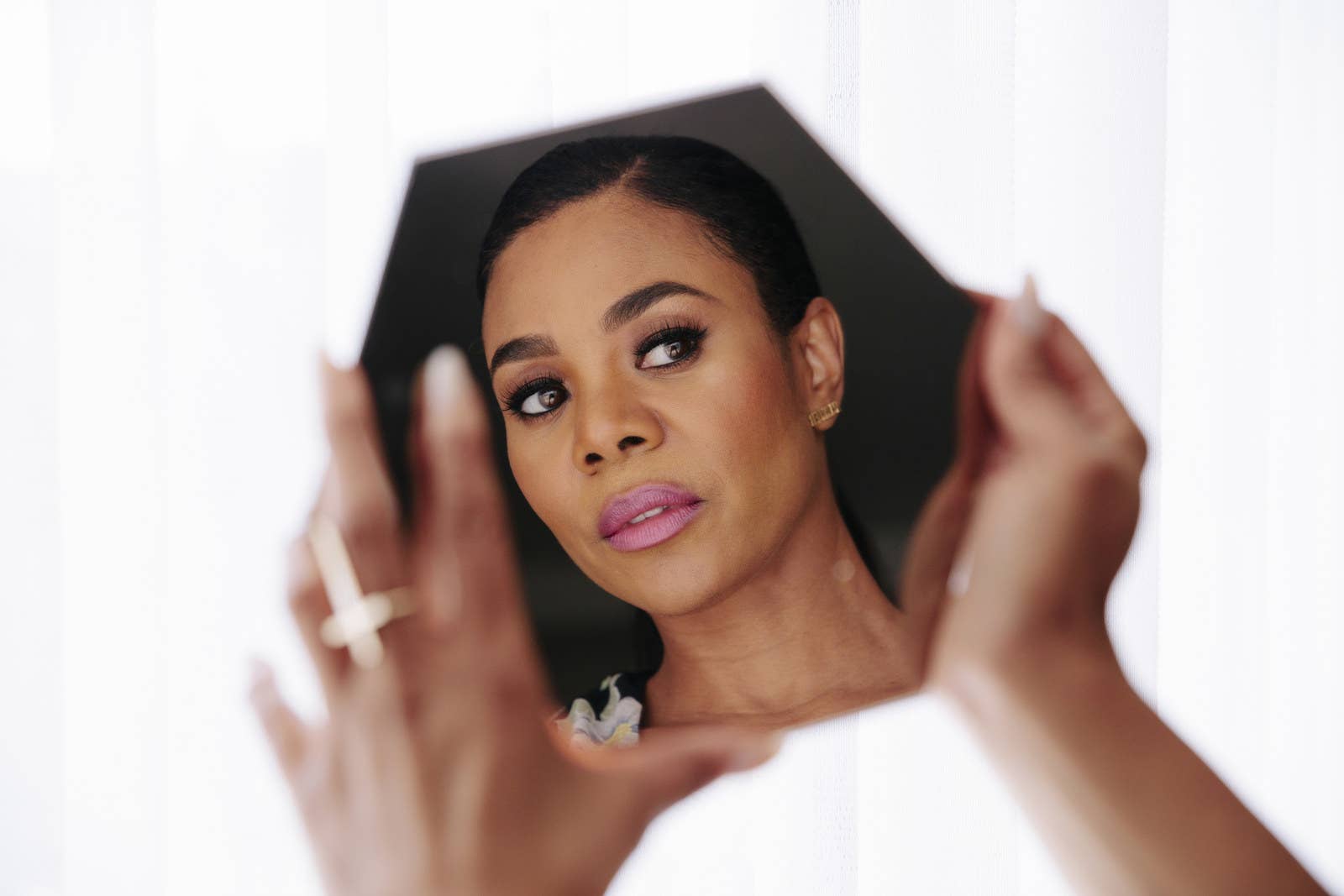 Regina Hall is telling me about how she visualizes all her roles. "I start every character with hair. I do. I see their hair before I see anything. If I can't see their hair, I can't...I can't...That's how I get into it." When she read the script for Support the Girls, Hall envisaged something a little tired but functional for her character, Lisa.
"I [saw] something that was a little dated...Like, probably the last time she really put a lot of emphasis on herself was when she got that hairstyle. I felt like Lisa always wanted to look...nice." And that's exactly how Hall makes Lisa look, from pared-down makeup ("We did no foundation and the makeup artist would put just frosted shadow on with her hands") right down to her sensible mid-heels.
It's time we pulled Regina Hall's name out of the "underrated" basket because her moment has finally arrived.

When we speak, several hours ahead of Support the Girls' LA premiere, Hall has been in junket mode for a few days and is loose from previous press interviews: She barely misses her step as the phone line we are on scrambles often and disconnects (thrice), and remains gracious even as I ask her to repeat herself more than a few times. The overall effect serves to show just how much of a team player she really is, and underlines the content of the film, which is a ripe and timely comment on late, late-stage capitalism and essentially about boomeranging selflessness. She couldn't stop thinking of the script, she says, struck by the fact that it was written by a man, and that he had managed to "create a story about sisterhood and support and integrity. It was just about the game of life, and people working hard every day to make life better and sustainable."
Bujalski, who was familiar with Hall's work in the Scary Movie films, said her name came up early in the process, and so he went on YouTube to watch her scenes and her interviews. "Certainly looking at her résumé, it was clear there was quite a breadth in it," he says. "There is a lot she can do — there wasn't necessarily one particular Regina Hall–type of character or role. All that intrigued me." The pair met and talked a lot about Lisa and her world. "Certainly I got a lot out of that meeting. She's got that quality that I think people associate with very charismatic politicians where when you talk with them, you get really swept up in their orbit [laughs]. You know, you feel good when you talk to Regina." He is notable for making Funny Ha Ha (2002) and is often called the godfather of mumblecore, a starkly white branch in the indie film tree. But this isn't Hall's first foray into indie film; she also had a small but necessary role as Diane, a love interest for Will, Jemaine Clement's character, in Jim Strouse's People Places Things (2015). Bujalski emailed Strouse about Hall, and he had nothing but praise for her.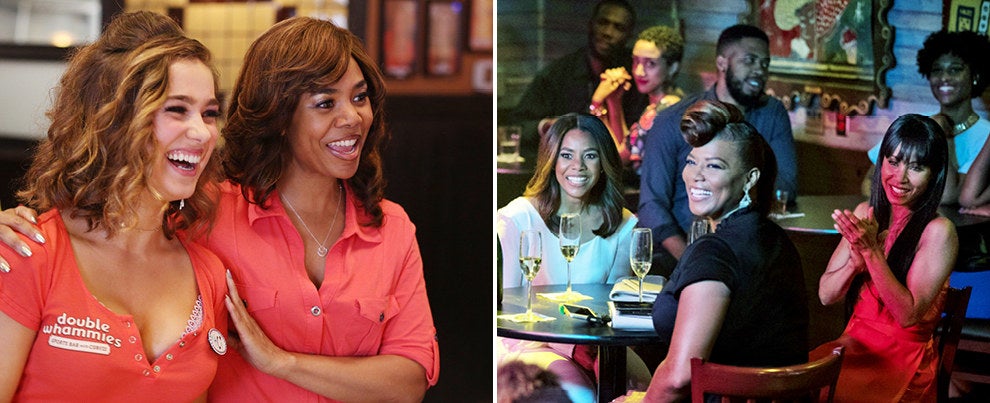 "When I read the description [for Lisa], it didn't have race in there," she says. "So I wasn't sure when I met with [Bujalski] that it was necessarily...You know, it is interesting, and I mean, I loved it. I'm always interested in when movies decide to, you know, go black. You know, Wow, he's going to have a black woman. Huh, quite interesting. I think it's important to be a part of those stories and tell those stories. I just love good writing and great filmmaking from an artistic perspective." She laughs before adding, "I want to be a part of it. But for larger reasons, of course I love that. The directors are thinking like that, the financiers are thinking like that, and I love that an audience gets to watch it, see it." Bujalski traveled to the New Orleans set of Girls Trip to meet with Hall and offer her the role.
Lisa, the put-upon manager of Double Whammies, carries a very gender-specific burden: She is a caretaker writ large, supporting not just her girls in the workplace, but seemingly everywhere else too. It feels like a bit of a heavy-handed metaphor to make her emblematic of African American women unofficially charged with the task of "saving" everyone else, I suggest, and Hall confirms that was deliberate.
"That's why [producer Houston King] and Andrew said they wanted that character; there was no other group [or] ethnicity who embodied that [trope] more than black women," she says." Bujalski clarifies that Lisa's race is "certainly not [her] defining characteristic." He was interested, though, in making Lisa out to be something of an outsider in this world. "These places are certainly not...Anybody can go there, and there are certainly African American customers at them. But I think their bread and butter tends to be Caucasian folks — certainly this fictional one we invented has a country and western vibe — and to me, it was just another potential layer for this character that made the situation a little more interesting to me."
Hall's laugh is rueful when she says everyone was aware how it sounded coming from a white man but added, "I know that he was conscious of the weight that black women have had, and what they do bear, and how they do take on so much and multitask. He said he definitely felt it would be true to that character and what that character stood for and what she was doing in the movie."
"I'm always interested in when movies decide to, you know, go black. You know, Wow, he's going to have a black woman. Huh, quite interesting."

That habit of caretaking is one she is weaning herself off of. "I was raised to do for other people. I saw my mom do it. And I think I'm a lot better at balancing now and staying conscious of self-care, but growing up I thought it was almost selfish to say no. My grandmother did it too. I've learned to say 'I can't do that but I can do this.' But that was definitely something I've had to work on as I've gotten older because it does take a toll." Hall asks me if I feel like I've had to be constantly available in a caretaking capacity. I tell her I have. She does this a fair amount, turning the question back around. Blame it on her education: She holds a postgraduate degree in journalism, after all.
Hall grew up in DC, the daughter of an electrician father and a teacher mother. Her parents divorced when she was young. She briefly harbored dreams of being a filmmaker because acting didn't feel feasible (she also flirted with being a nun). "I had at least seen Spike Lee, and She's Gotta Have It and I was like, That's what I can do." A few months after graduation from Fordham University, her mother gave her three options. "She said, 'Well, you just can't be in New York not working, Regina, going to clubs.'" Hall remembers her mother saying she either had to get a job, come home, or go back to school. "And I've always loved school. A job felt, really...I don't know. It didn't feel right," she laughs.
"I went to NYU, and I was like, 'I'll get my master's. That's fun,' and I thought my dad would keep on taking care of me. Perfect. And then my father had a stroke and he passed away my first semester, and it was very sudden and very sobering." She calls the experience "discovering the brevity of life." She was 23.
Her voice stutters and starts as she recalls this time — the pair were "very, extremely, extremely close." She tried her hand at small commercial acting jobs on the side before realizing it was harder than it looked, and decided instead to focus on school because she knew it would make her father happy. "I thought, 'Maybe I'll go to Tisch, and…' and they were like 'No.'" She laughs. After graduating this time, she went to the bartending school at Columbia ("I'm gonna need to bartend if I'm gonna try to act. You're supposed to spit the drinks out, I guess. I never learned how to make a drink. I just was tipsy — every night! I was like, 'This isn't working.'")
She went on to study acting with William Esper, working mostly in commercials and theater before she got her first movie, a tiny role in an independent film called Too Tired to Die (1998). "I was either Street Hooker No. 1 or No. 2, I can't remember," she told Backstage earlier this year. Then she landed a role as Candace in one of the movies that would come to signify a moment in (middle-class and aspirational) African American cinema: "When I got The Best Man, I was 28, which is late."
It was a learning curve for an actor more used to the live stage. "There were so many things I didn't know; I had been doing plays, and I didn't even know about matching for film. I was just moving all over the place. And Malcolm was so great, and everyone in the cast was great." And her career was off.
The sequel, The Best Man Holiday, set 15 years after the first movie, was just as lovely, Hall says, although she and Lee had to have a discussion on what Candace's hair would look like. "I was like, 'It's really important that Candace looks different.' I think he had her with her hair still longer...So, I was like, 'She's got short hair. I'm telling you, Malcolm, her hair is different.' And he was like, 'You know what, Regina? OK.' And I remember as soon as I did that, I felt her."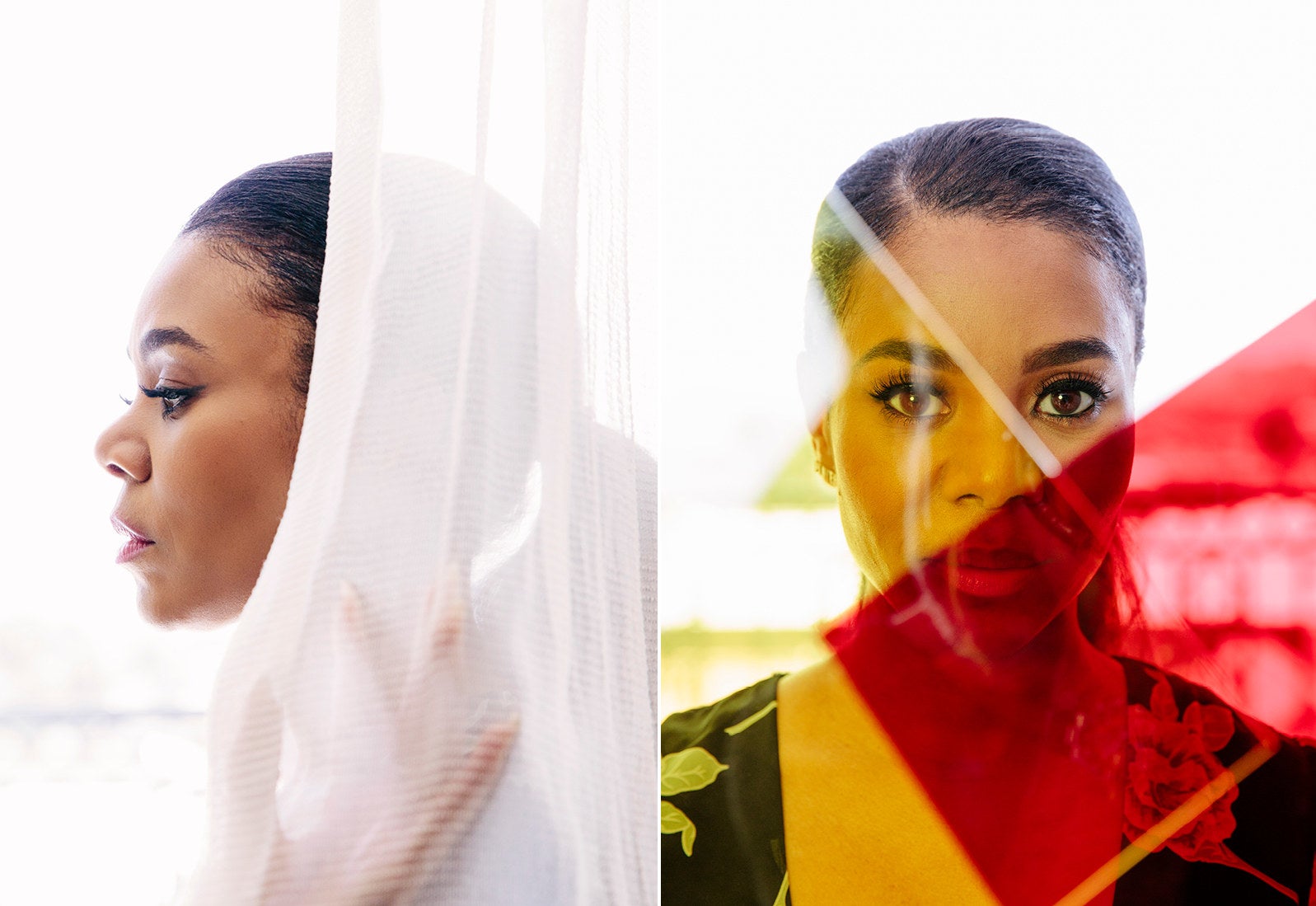 Though Regina Hall was part of the late-'90s wave of young black Hollywood, specifically in the rom-com and comedy genres, her career has evolved into something unique. She does foulmouthed R-rated broad comedy and primetime network drama, plus the harder-to-define things, like the meta role of Ninny in the "glossy slave narrative" on Insecure. Of the offer, she says, "I immediately thought, Oh, maybe I'm going to play maybe a coworker, and then they said 'It's Ninny; it's a slave.' And because it was so ridiculous, it was like a soap, we just went for it. I was like, 'Well, it's either the beginning or the end, so either way...!'"
I ask her if there was any conflict in embracing those very different audiences, or if it's this all part of her master plan. "It certainly wasn't a conscious choice," she says. "I can't sit here and say it was strategic. I think for me, it was always more like diversifying the roles more so than specifically the audience. If I had a chance to be a romantic comedy and then be in a broad comedy, and then do Ally McBeal, a lawyer — a quirky lawyer but a lawyer no less — I'd do it. I always feel like no matter who you work with, you're learning from. So it's almost like a classroom."
She has fond memories of working with real-life best friend Sanaa Lathan and director Gina Prince-Bythewood on Love & Basketball and Disappearing Acts (both 2000). And as a fan of In Living Color (1990–94) and I'm Gonna Git You Sucka (1988), she jumped at the chance to work with the Wayans. When the Law & Order franchise was offered, she took it. She views them all as consistent learning opportunities. "I've always loved to work. That's probably my favorite part about life. And so whenever I had the chance, I'd say yes — so supporting, or lead, whatever — I think [it's about] staying consistent."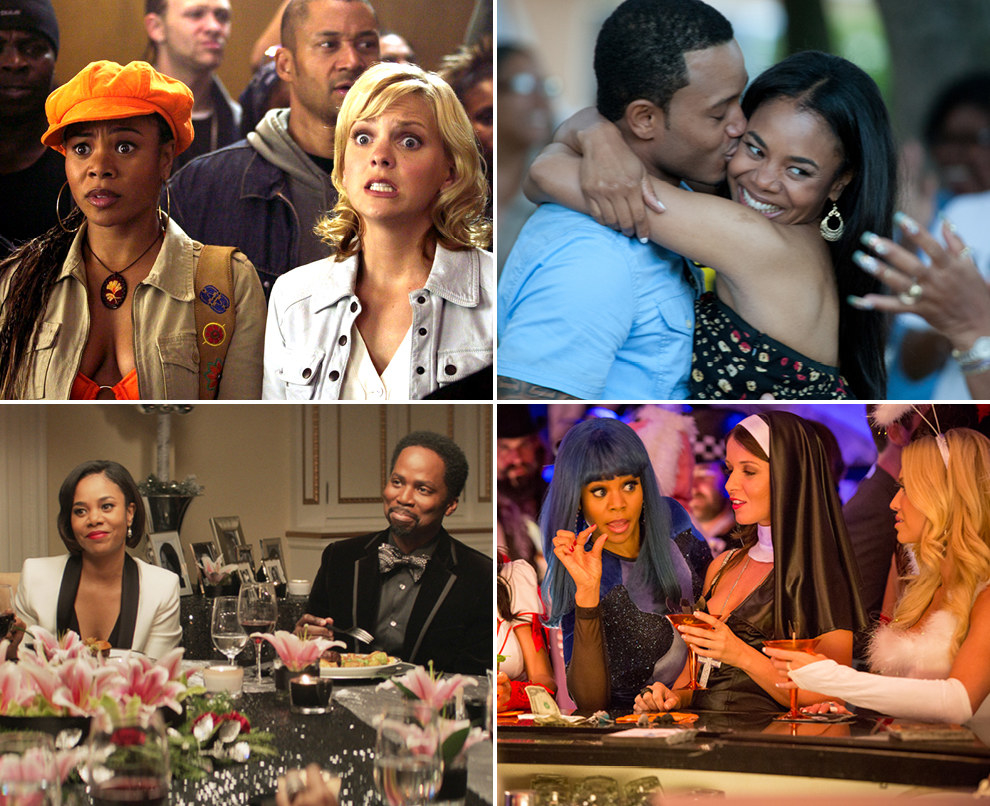 Which leads neatly to this "underrated" status she's unwittingly developed in the minds of many of her fans. She sighs patiently when I bring it up. "I mean, I've definitely heard that before, and it's wonderful. I think more than anything, I just always wanted a long career." For so long, her brand was broad comedy, specifically Scary Movie's Brenda Meeks, whom she's portrayed four times in six years. Though it was her first comedy, she says her portrayal of Brenda has followed her around, especially as the Scary Movie franchise finds new generations of fans on cable. She's also aware of how the character shaped the roles she was offered.
"When you do something and it's your biggest thing, what you get known for, it's kind of normal. But I don't know if they would think of me for some of the bigger films that weren't that. Probably it was harder on my agents than me, because they probably had to do a lot more pitching to convince people to see beyond that. But I guess that's just what happens." You can sense the equanimous shrug over the line.
"I knew that I was always gonna be trying to convince people. 'Is she subtle enough? Is she pretty enough? Can she be dramatic?'"

It's not like Regina Hall doesn't see how being the lead in even one project has changed some of her friends' careers, and people assumed Scary Movie might do that for her. Her voice is quiet but firm when she continues. "I kept working, and I think I just realized very early, Oh, that's just not going to be my journey. I was gonna always have to prove it. I knew that I was always gonna be trying to convince people.
"'Is she subtle enough? Is she pretty enough? Can she be dramatic?' And I always knew it was going to be based on what people saw, so I think for me, I just settled into that, and even was comfortable in it. Because then at least, I got to work and not have the responsibility of [carrying] a film."
That changed for her when she was offered the lead in the Lifetime romantic comedy With This Ring (2015). She took it, at the urging of Lathan, even amid her concerns about bearing the responsibility of the lead. Of course, she was fine — in fact, she thrived. As Bujalski put it in reference to her role in Support the Girls, "She certainly exceeded all expectations once we started working. It was a real delight to show up to work every day knowing that she was going to carry us all."

If her career looks like clusters of sideways maneuvers, she's OK with that, something she has in common with Lisa in Support the Girls. "It's one of things that I did love about [Lisa's] journey. When she finally does leave the restaurant, even though she makes a move, it's such a lateral move. And so many times in life, that's what the moves are. But I applaud that. It's still a step forward, every single day. It doesn't matter if it's a small one." She's similarly sanguine about her own career. "Honestly? I think it's been perfect. I think any sooner could have been too soon."
Hall's slate is, as ever, full. Next summer she will costar in Shaft (Samuel L. Jackson will return to the titular role), but before the end of this year, she will costar in the Black Lives Matter–themed The Hate U Give. "First of all, I love Angie Thomas for writing such an honest and thoughtful book, and then to watch it come to life onscreen and actually see those characters? It's extra powerful. I loved everyone in the cast."
She also has Showtime's 1980s-set Black Monday coming up. "I'm one of Don Cheadle's most gigantic fans and I'm so excited to be working with him." She plays trader Dawn Darcy, and she is excited it's not a supporting role. "She's a little out of her mind, and smart. I love that she is a trader on Wall Street and that her character is defined by not being a supportive wife. She's not helping him — and when I say 'him' I mean whatever guy is in the scene — she's out there in the action, and I love that they went black with that character. There weren't a lot of women period, but there were a few." After years of not getting the roles she knew she could play, she says she is "actively planning" on going after dramatic roles in the future.
She's got her producer cap on too, serving as co-executive producer on the upcoming comedy Little, which will star Issa Rae and Marsai Martin. Based on a 2014 BuzzFeed post, I ask her to look into playing legendary comedian Moms Mabley, and she replies: "Well, now that's on my agenda — top, front, and center. I'm always looking for projects!"
Her tone seems genuinely excited, the timbre of a person who has spent so much of her career trying to convince people of the breadth of her talents and finally getting to showcase them. She kept working. She proved herself. But of course, Regina Hall could just be acting. She's very, very good at that. ●