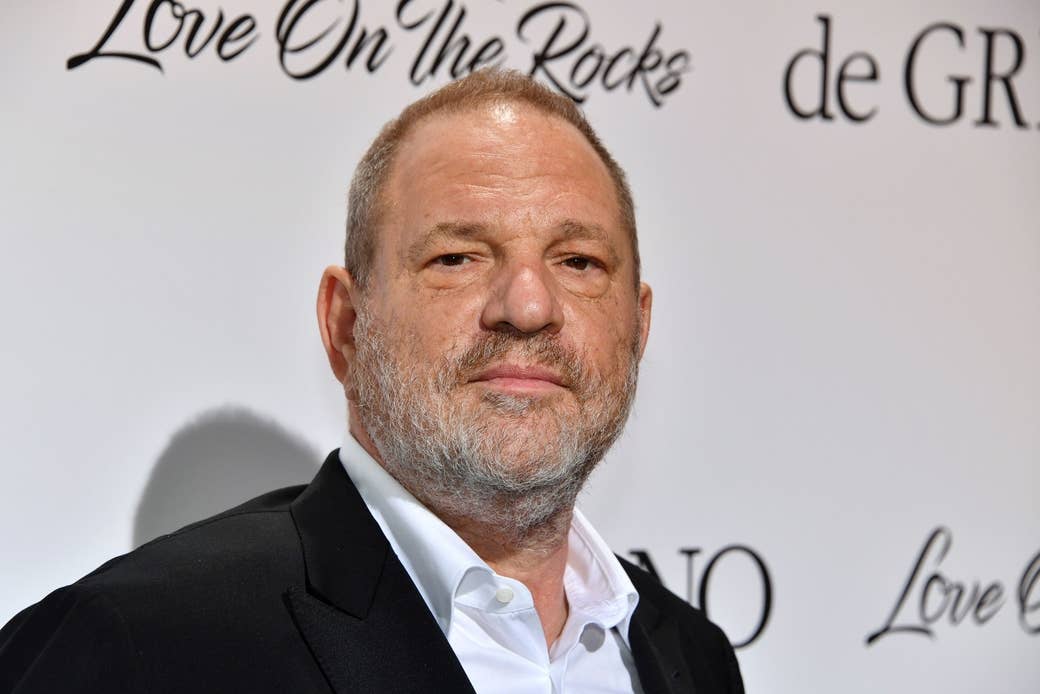 The elephant in the room in discussions about the alleged crimes and misdemeanors of Hollywood film producer Harvey Weinstein looks eerily similar to an elephant of the past. It is the Race elephant. And among the allegations, the question of race is one that we are not really looking to engage with, because it is knotty and gnarly. But it bears talking about, because there are black women in Hollywood, and not talking about it does us all a disservice.
In Hollywood, where both racism and sexism are rampant, what can look like a sort of mitigated blessing ends up highlighting another insidious problem in (the societal microcosm that is) Hollywood: Black women do not often come up for the kind of prestigious high-profile and award-winning roles that a producer with Weinstein's power could offer.
Consider, for example, what Scottish film director Michael Caton-Jones told BuzzFeed News this week about a casting dispute with Weinstein. In 1998, he was in line to direct the Miramax-produced crime drama B. Monkey, and his first choice for the lead was black British actor Sophie Okonedo. Recalling a meeting between himself and Weinstein, Caton-Jones said: "Harvey kept saying to me, 'Do you think she is fuckable?'" The frustrated director replied, "Don't screw up the casting of this film because you want to get laid," which apparently incensed Weinstein. After Caton-Jones was unceremoniously fired from the film following the conversation, Variety called him for a statement. He said he told the interviewer about harassment claims against Weinstein that he had heard about, ending the conversation with: "I don't cast films according to Harvey Weinstein's erection." According to Caton-Jones, the reporter laughed. (In the end, Asia Argento, an Italian actor, got the role, and last week she was among the many women who publicly accused Weinstein of assaulting them.)

If we are to discern a general message about black women (and other women of color) from the product churned out by Hollywood, it is that they are not seen as leading role material, and that is intertwined with the idea that they are not desirable "trophies." At the very least, their near-absence in starring roles suggests a deep disinterest. After all, dominating and "winning" a trophy depends on the idea that other people want to win it too. Repeatedly questioning Okonedo's "fuckability" was a clear view into Weinstein's mind, not just as a film producer but as a man. Looking at the list of women who have accused him of harassment and assault, it's clear he was going after not only culture-certified "trophies" but also those he felt he could suppress or control. Their fuckability was the currency he wanted, regardless of their consent. It's important to note whom Harvey Weinstein allegedly went after, and by extension, those he did not.

In an ideal world, it would also be required by law that everyone understand that sexual harassment and assault are first and foremost about power. That is to say, power needs to skew — sharply or even slightly — in one direction: the direction of the perpetrator. This imbalance operates on a number of levels and manifests in myriad ways: The men who sit in a pack on a stoop and yell about what they'd like to do to you is discomfiting, for example, because there is one of you and many of them. In the case of the date who is physically more imposing than you, well, he could literally overpower you by brute force. The boss on whom you rely for your daily bread, aka the person who could fire you, and perhaps see to it that you're never hired elsewhere? Well, the power imbalance is easy to see. A good number of us grasp that this dangerous use of leverage is the first prerequisite in this fucked-up power equation. Sexual harassment is often predicated on a power differential, but life's other isms complicate things further.

First of all, it is important to say that black women are victims every day of sexual harassment and assault in the workplace and beyond, same as any other ethnic demographic. The outcry about the allegations is coming from a wide pool: Most of us who have or will face sexual harassment and/or assault will not be famous, and we will not be attacked on yachts or in fancy hotels. But the narrative coming out of Hollywood right now is about the victims who have come forward with allegations specifically against Harvey Weinstein, and that list is largely made up of white women. This is worth remarking upon, not because it is odd, but because it is decidedly quotidian, considering who is permitted to be in the room at even the lowest levels of the industry.
In an industry as white as Hollywood, the racially problematic "attraction question" is part of what reduces the shelf life of black actresses.
Back in 2014, the New York Times' former TV critic, Alessandra Stanley, described Academy Award–winning actor Viola Davis's portrayal of Annalise Keating on How to Get Away With Murder as "sexual and even sexy, in a slightly menacing way." She went on to note that Davis is "older, darker-skinned and less classically beautiful than Ms. [Kerry] Washington, or for that matter Halle Berry, who played an astronaut on the summer miniseries Extant." "Classically beautiful" might mean any number of things, but based on the examples she presented, one could assume she meant "lighter-skinned" and "skinnier." That same year, a casting call was put out for the biopic Straight Outta Compton, requesting women it classified on tiers labeled A to D. "A girls" were described as "the hottest of the hottest. Models...very classy looking, great bodies. You can be black, white, asian, hispanic, mid eastern, or mixed race too." By contrast "C" and "D girls" were explicitly "African American girls" and specifically, "D girls" were "poor, not in good shape. Medium to dark skin tone. Character types." In 2016, another casting call, this time for a Nick Jonas music video, requested "mainly Caucasian or could have a bit of ethnic flare [sic], like Indian or South American."
In an industry as white as Hollywood, the racially problematic "attraction question" is part of what reduces the shelf life of black actresses as a matter of course, causing many of them to get half as far in twice the time it takes their white counterparts. To be deemed "fuckable" is not the honor a certain kind of man (and woman) believes it to be, but the ideas of fuckability are entrenched, and they serve to exclude black women very early on in the conversation — while dooming the women who do go on to get the roles to gross sexual harassment or assault. Of course looks don't matter, except when your job absolutely sort of definitely depends on it. And of course, women who aren't "pretty" get harassed, assaulted, and raped every day. But remember: It's a power thing. And this gruesome, growing story of decades-long abuse helps us to contextualize that power by identifying the people who abuse it as well as its trickle-down effect.
Actor Jessica Barth, who alleges she was sexually harassed by Harvey Weinstein back in 2011, told The New Yorker of how Weinstein lashed out when she declined to give him a massage, telling her she would need to lose weight in order "to compete with Mila Kunis." Italian model Ambra Battilana Gutierrez told The New Yorker that Weinstein commented on her resemblance to the That '70s Show actor "repeatedly." It seems clear that in a professional setting — which was often the umbrella under which Weinstein allegedly couched meetings with would-be and eventual actors in his films — he was optimizing his chances with less powerful women he found sexually attractive. In a column for The Hollywood Reporter highlighting the pervasiveness of this kind of behavior, Grey's Anatomy showrunner Krista Vernoff recalled a screen test involving two actors, after which a male executive wanted to cast the woman he personally found sexier despite what Vernoff described as a "radically better" performance from the other actor. (A female executive who was present and refused to bite her tongue was fired within the fortnight.)
Taking stock of the films produced and codistributed by both Miramax and The Weinstein Company over the last 20 years shows an industrywide trend: Few people in Hollywood are interested in telling stories about and starring black women. A cursory glance of both companies' slates suggests fewer than 10 films starring black women or other women of color, Jackie Brown (1997), Frida (2002), Bride and Prejudice (2004), and Southside With You (2016) being the most recognizable. Black women weren't even making it into Weinstein's predatory thought process except, probably, to be expressly excluded. The next time you ponder the relative lack of black women on your screens, consider that the casting process starts long before the casting call goes out and can be debated, even when talent alone should have secured the role, taking in factors like the preference of a producer's sexual desires.
The story here is absolutely about the women who have found a level of fortitude to come forward and call out a long and odious story of abuse of power. They are to be praised and, more importantly, supported and protected for doing so. But buried beneath this sickening story of one man's abuse lies another — the problem of judging women by their fuckability and accepting that as normal, shutting down certain career opportunities preemptively and leaving the actresses who are considered "fuckable" subject to sexual harassment and assault.
Sophie Okonedo did not have to be cornered in a hotel room by a powerful man, bearing down on her in nothing but a hotel bathrobe, lotion in hand. She was "lucky" enough (and "luck" is what it boils down to for most women) to merely have had her professional goals thwarted, rather than have to carry around a sexual harassment (or worse) story for more than a decade. She felt the effects of Harvey Weinstein's terrible actions nonetheless. It is a horribly double-edged sword, and there are absolutely no winners. ●
UPDATE
Since this piece was published, Lupita Nyong'o has come out with an op-ed about her experience with Harvey Weinstein.