Oprah Winfrey is like space, which is to say she is all around us: familiar enough that we can rattle off her greatest hits with ease (talk show! book club! a whole network!), yet for all that familiarity, she remains vastly unknowable. Being beamed directly into our homes via her eponymous show for 25 years means she should be quotidian, but seeing her onscreen as an actor uncurls a mild thrill in the belly. That's because there's still something exotic about Oprah Winfrey the actor. Every role she takes on – choices that reflect both her personal power and the very specific identity of black American womanhood – reveals a new layer and adds to our understanding of her as a person, a performer, and a cultural icon.
Never mind actual acting talent, Oprah's greatest gift has been the ability to sniff out the most interesting enterprises that are simultaneously the best possible exhibition of her own skills. Both as a behind-the-scenes producer and in her onscreen performances, there is a stunningly clear throughline in her projects, and what we know of her suggests this is by design rather than mere serendipity. One thing is for certain: Oprah appears to revel in highlighting the overlooked stories of black women. When viewed as a grand mosaic, her oeuvre is an exploration of the many facets of that identity, and over the last 30 years, she has crafted a surprisingly strong body of work: culturally important, critically acclaimed, and often hugely profitable. Perhaps cutting through the hundreds of projects that have been waved under nose over three decades of sustained bankability has honed her focus into something laserlike. And given the power she wields as a producer, the temptation to cast herself in vanity projects must be huge, but her choices have largely been unimpeachable.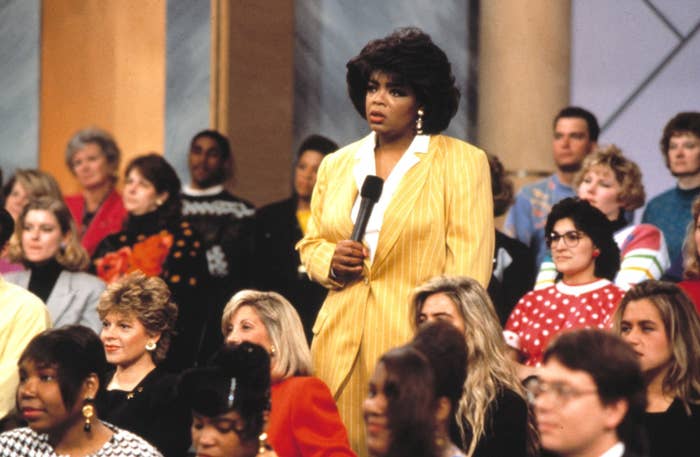 As a TV host, Oprah's job was a peculiar one. For many white Americans, she was a sort of remote "interesting black friend" – they could look to her to talk about weight loss, discuss the regular, petty (or serious) dramas of families, or have an impromptu book club meeting about the latest nationwide bestseller. Oprah was one of the cultural forces that introduced and helped normalise the language of therapy in the everyday lives of Americans in the 1990s: Her plush couch may as well have been situated in a posh therapist's office, her show your weekly appointment. Perhaps inevitably over the years, she morphed into something more than just a "friend" and became something more akin to a caretaker. A desexualisation, not uncommon for black women who are older, had occurred.
But to be clear, in the public's imagination, Oprah was almost never fully a mammy, rather, she was just a tad...magical. Her first few screen acting roles – most notably The Color Purple and The Women of Brewster Place – were specifically of wives and mothers for whom life was a slog, under the thumb of toxic patriarchy in some form or another. A viewer might find it hard to see beyond the pain of these women (whose survival was sometimes only barely eked out) in her early roles.
By contrast, starting with the 1998 adaptation of Toni Morrison's Pulitzer Prize-winning Beloved, Oprah's latter choices have been strikingly complex, a masterclass in leaning the fuck in to ever more knotty, often corrective iterations of black womanhood. In this period, Oprah may play downtrodden, or troubled, or angry. But the characters she has chosen to portray, on both big and small screen, are crucially fully rendered – acutely drawn and compassionately written human beings allowed to feel the full gamut of emotional life. Whether as an animated mother (The Princess and the Frog), a black-sheep truth-teller (Greenleaf), or a civil rights activist (Selma), Oprah has been quietly carving out a stellar acting career. And as she takes on the role of Deborah Lacks in a new HBO film based on Rebecca Skloot's The Immortal Life of Henrietta Lacks, she's making a point: Oprah Winfrey's second-wind acting career, like much of her work over the last three decades, is a quiet revolution.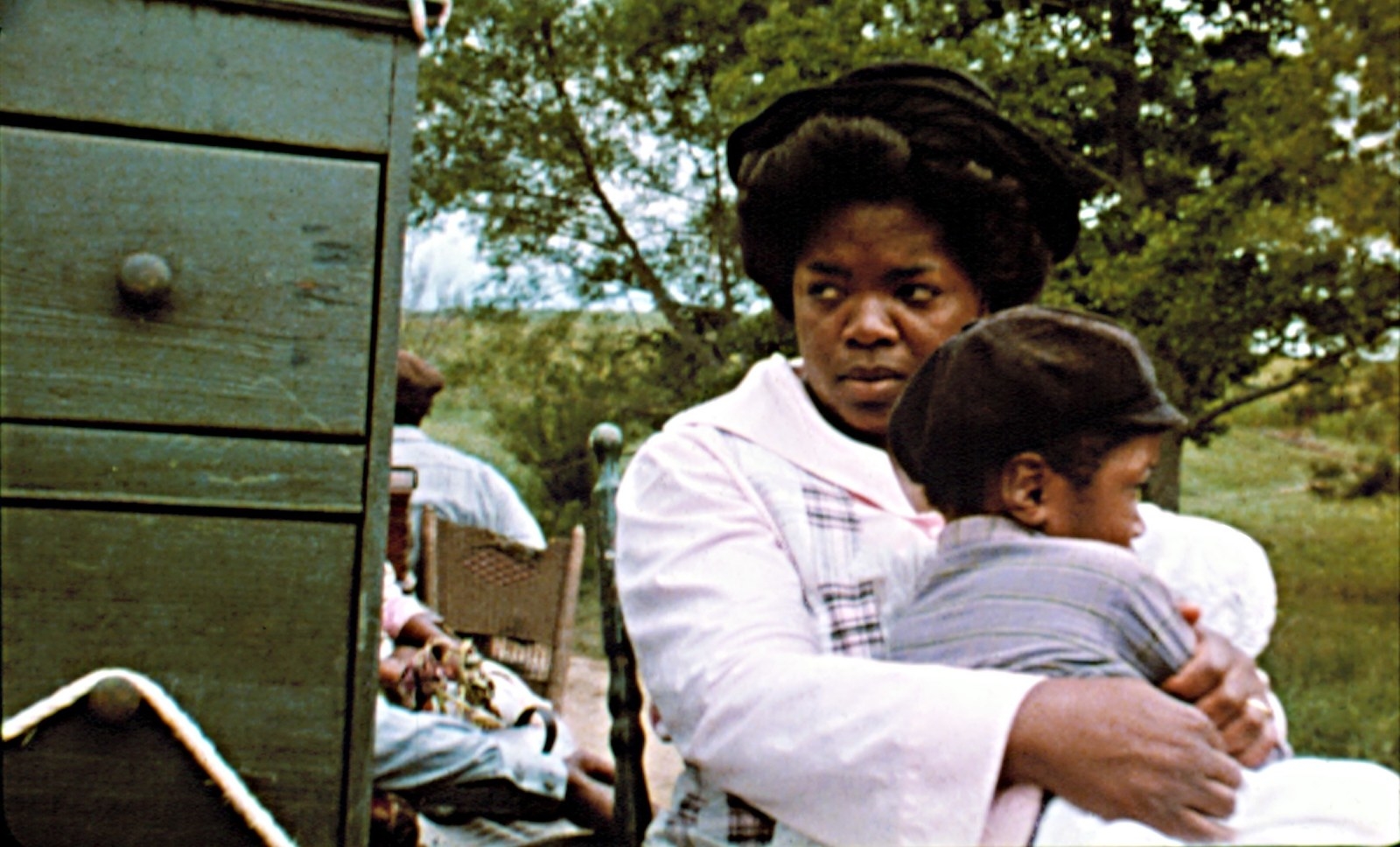 Oprah's acting career started with a bang. Her first big screen role at age 32 was uncommonly successful, as Sofia in the 1985 Steven Spielberg adaptation of Alice Walker's Pulitzer- and National Book Award-winning masterpiece The Color Purple. Oprah's first appearance onscreen was iconic: "All my life I had to fight," she tells Celie (Whoopi Goldberg) in a still-powerful scene in a film full of them, resisting the violence her husband visits on her. All the way through the movie, Sofia's broken spirit is manifested in her blank expression, Oprah's performance indelible. She was nominated for both a Golden Globe and an Academy Award for best supporting actress for this debut (she was not the only one snubbed; the film didn't win a single one of its 11 nominations).
That adaptation of Walker's novel would be the start of a fruitful relationship between Oprah and icons of African-American literature. In 1986, with an Oscar nomination already secured for her last role, Oprah took on the role of Bigger Thomas's mother in an adaptation of Richard Wright's (now much-maligned) novel Native Son. Despite some plaudits for her performance, the film got a mixed critical response. (Roger Ebert's review quoted a 1961 foreword to the book, written by Richard Sullivan, that essentially described it as "unbearable", and added: "So it was, so it remains.") Only a couple of months before the release of the film, in September 1986, The Oprah Winfrey Show had gone national. It would go on to become the highest-rated talk show in the history of American television – a feat that would be a distraction from a solid acting career, no matter how great the desire to pursue one.

Three years later, in 1989, Oprah made her first foray into producing a literary adaptation. Harpo Productions chose the 1983 National Book Award winner The Women of Brewster Place, by Gloria Naylor. She starred as Mattie in both the original miniseries and a spinoff sequel, the rapidly cancelled Brewster Place – two overwhelmingly black casts, and noticeably female with it, telling black stories without much of an inherent white gaze to pervert their course. Oprah followed up Brewster Place with voice acting, playing formerly enslaved woman Elizabeth Keckley, a confidante to Mary Todd Lincoln, in Lincoln (1992), before another book adaptation, this time about an inner-city black family living in Chicago's West Side, There Are No Children Here. Costarring alongside Maya Angelou (who played her mother) and Keith David, Oprah was praised for her performance, with the LA Times TV critic Ray Loynd describing it as "her most serious role since The Color Purple". But her acting career stalled at this point, a consequence, perhaps, of the astonishing growth and global reach of The Oprah Winfrey Show in the '90s. "I love the idea of acting [and] have always wanted to be an actress but got diverted with a little day job of a talk show," as she told Charlie Rose in 1998.
By the time we saw her play Ellen Degeneres' therapist on Ellen's iconic "The Puppy Episode" in 1997, the Oprah we were seeing was the one we'd come to know by that point: a talk show host with a pseudo-therapist facade. The Ellen producers could not have cast the role better. A supporting role in a TV movie, Before Women Had Wings (1997), followed the Ellen guest spot, before Oprah's movie role in 1998 marked a stark turning point in the kind of project that would define her ongoing acting career. Beloved, her most ambitious project, was based yet again on an era-defining work by an African-American author.
Oprah's second wind as an actor actually started more than a decade before it began. Even before Morrison was awarded the Pulitzer Prize for Beloved in 1987, Oprah had the foresight to purchase the rights. "I had no idea how you make a movie," she told Rose in the same 1998 interview, "but I felt that it should be a movie." The film adaptation, which was directed by Academy Award winner Jonathan Demme, was a coproduction of Harpo Films, a subsidiary of her Harpo Productions; no one can lock a property down quite like Oprah can. Her self-belief was unshakeable, even with her relative inexperience. In the same Rose interview, she said: "I didn't question what Jonathan (Demme) questioned, and what Toni (Morrison) questioned – whether I could lose the persona of 'Oprah Winfrey'."
The story of Sethe, a formerly enslaved woman who literally slits her child's throat to spare her a life of enslavement, is Morrison's masterwork. In telling Sethe's story, the film did a rare thing, centering the narrative of a black American woman and following her life through its various fault lines. Surrounded by a cast of veterans, including her previous costar Danny Glover and Thandie Newton along with newcomer Kimberly Elise, Oprah's Sethe was a quietly moving character, fierce and deeply human. While reviews were largely positive, the film underperformed at the box office, as she told Al Roker in a 2013 interview: "Beloved was not a successful box office hit – I went into a depression afterwards."
In The Princess and the Frog (2009), she played Eudora, a mother of a different sort of intensity, selling a version of the American Dream to Princess Tiana (Anika Noni Rose). It is somewhat easy to dismiss it as yet another "wife or mum" role but in a movie like Frog, with its focus on a black female character, the presence of a black mother – however fleeting – is worth noting. And when considered in the context of the Disneyverse, with its weird and enduring motherlessness, Oprah's small role in the film is something close to revolutionary.
Away from her voice work (she also played Coretta Scott King in Our Friend, Martin in 1999, which again falls into that therapeutic zone of warm and familiar), Oprah's gift is her look. She has a malleable face (you can see it showcased in the many reaction GIF memes she features in), and the feeling is that she has played women who seem far older than she herself is. Part of this is the physicality required of the roles she has taken on: If you're playing an exhausted mother of young children, or an assertive woman who, over the course of a life, is ultimately defeated by life's cruelties, then the movie is going to make sure your very mien matches that. But it's also worth noting audiences' propensity to perceive black womanhood (in real life and onscreen) through a splintered lens – associating older, plus-size, and desexualised "caring" roles with black women.
At 63, it is instructive to view Oprah's most recent choices alongside other Hollywood actors in the same age bracket. A consideration of the traditional trajectory of female actors of a certain age hardly reveals a post-'60s boom time – unless you're Meryl Streep or Jessica Lange, who are very much outliers. By the time you add in the fact that black Hollywood actresses are hit even worse than their white counterparts when it comes to their industry's sexism and ageism, it all makes a weird sort of sense.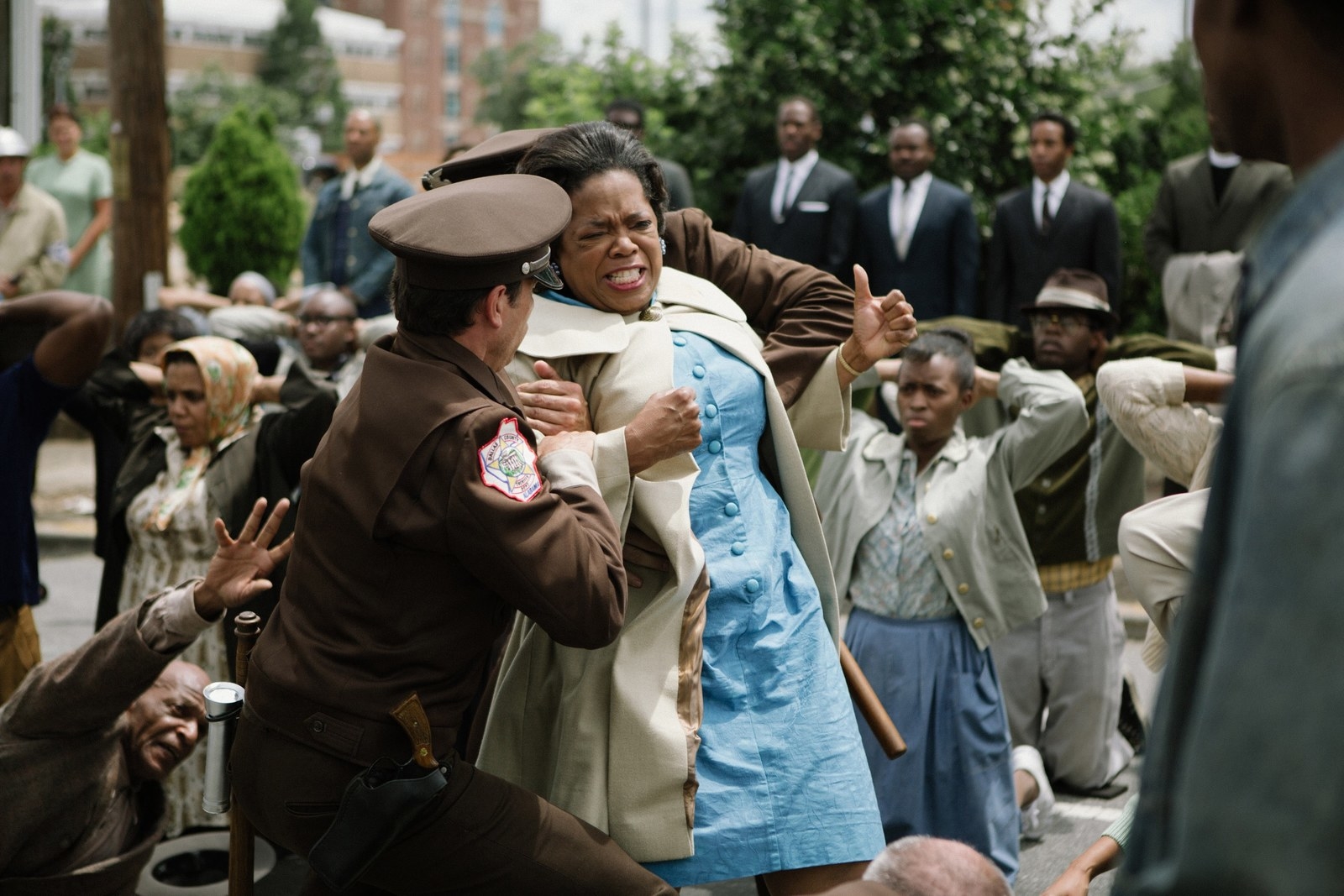 In Ava DuVernay's Selma (2014), the role of Annie Lee Cooper, the civil rights activist who famously punched back after being goaded by Alabama sheriff Jim Clark, was an obvious slam dunk for Oprah. Her decision to play Cooper is not hard to decipher – in choosing to tell her story, DuVernay reinserts the missing and overlooked women of the movement, and it aligns perfectly with Oprah's own unofficial interests, namely highlighting storied African-American history, and playing a character of substantial cultural heft while doing so. Her portrayal is a fine one – Oprah's Cooper comes across as a woman forced to bow to inhumane policy until she can no longer do so; exactly as Oprah intended. Unsurprisingly, she coproduced the film.
Oprah played another woman with a front seat to the unfolding of history in Lee Daniels' The Butler just the year before. Gloria Gaines is a rare Oprah performance, in that she finally gets to play sexy – her nails tapered and painted red, her brows sharply drawn, her lashes thick with falsies – and sexual: When we first see Gloria, she is enabling the shooing away of her son so she can kiss up on her husband Cecil (Forest Whitaker), and it is implied throughout that the fires burned all the way to the line. Gloria's hair and fashions change, as the movie moves over the decades – a sleek bob becomes a beehive, which turns into an afro before morphing into the big waves of the '80s. Inevitably, all that buoyancy is later weighed down by family discord, sharp fragments of American life, and drink, and Oprah delivers a fluent performance. In a role that requires a lot of heavy lifting, she bends at the knees admirably, earning herself supporting actress nominations at both the BAFTAs and SAG Awards.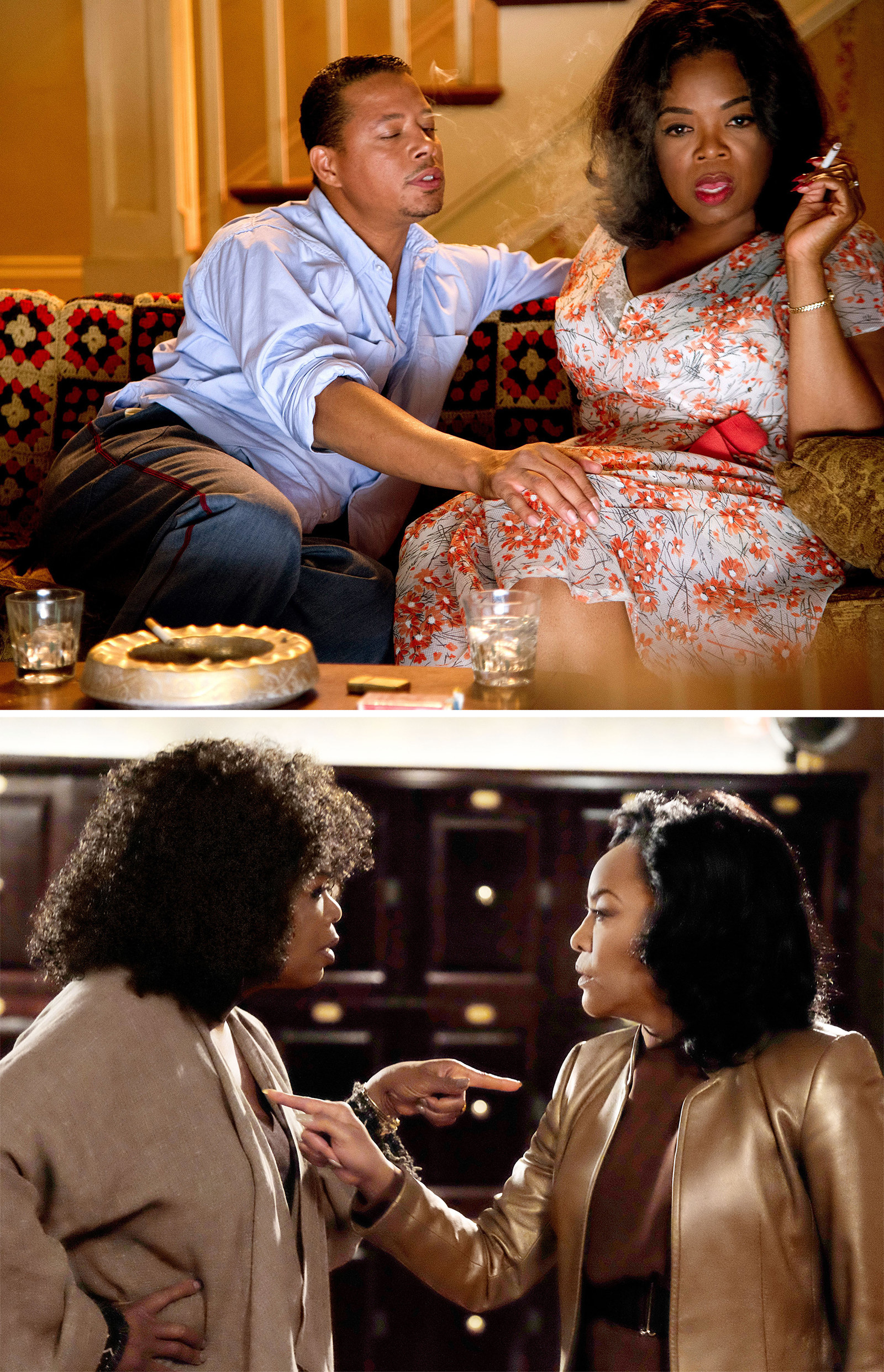 Her role in the Oprah Winfrey Network drama Greenleaf, about an African-American Southern church-rooted family and its many secrets, could be a sort of parallel existence to Gloria's. As Mavis McCready, a bar owner and relative wild child compared to her sister, bishop's wife Lady Mae, she is worldly in a way that sits well on Oprah. She is tough, soft, and warm as required, and in appearing alongside fellow Brewster Place alum Lynn Whitfield (also aged 63, Whitfield's career offers a useful companion comparison to her costar's), provides a thrilling retort to the pat narrative of the "revolution" in women's roles on television – when was the last time you saw two black women over 60 share screen time?
The inherent glamour and wealth of Mavis and the Greenleaf family is totally absent in HBO's upcoming The Immortal Life of Henrietta Lacks, the true story of an African-American woman whose cancer cells were taken during a biopsy at Johns Hopkins Hospital in 1951 and have been at the forefront of medical breakthroughs ever since. As Deborah, the youngest daughter of Henrietta, Oprah gives a nervy, often emotive performance, as she is forced to reckon with her (justified) paranoia while trying to let go just enough to learn the truth about her family. With a cane to assist her walking, an ever-present "W.W.J.D." lanyard, and a "Ghana Must Go" bag stuffed with her mother's closely guarded medical records, Oprah's Deborah is a regular African-American woman, forced to take a losing role in a symbolic narrative wider and far older than she is. At one point, Deborah cheekily encourages reporter Rebecca Skloot, who is getting answers where she herself had previously stumbled. "Go 'head on, girl. Keep on being white," she says with a knowing smile, and you smile back at her, aware of the historical significance behind her joke.
It's uncanny how a literal billionaire can so easily embody "one of us" but Oprah does it again and again; she's playing only slightly younger than her years this time (Deborah Lacks was 60 when she died suddenly, of a heart attack), and her hair and makeup is reflective of a life Oprah has not had to live in decades.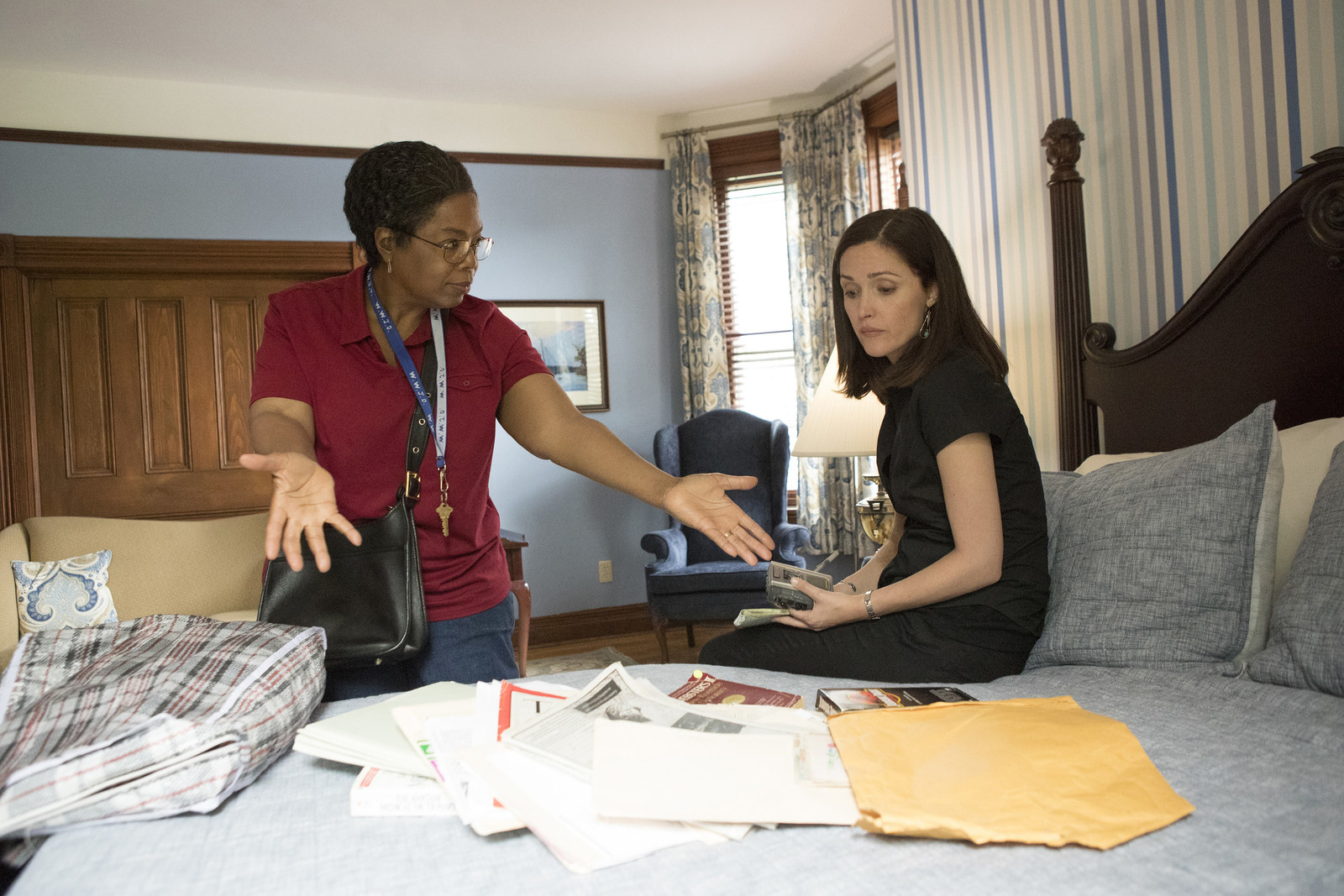 Here is the considered, cold oatmeal take: Oprah Winfrey is a good actor. The intention in that statement is not to damn with faint praise but to highlight a fact that is sometimes too easy forget, given her outsize influence and image in the popular consciousness. Her acting debut at 32 was Oscar-nominated, and she has been turning in solid work, on and off, for literally decades. Oprah herself is straight on her ability, as she told Rose: "I know inside myself I'm an actor. I always wanted to be an actress and I know that I can do that."
She appears refreshingly without vanity, and the very thing that made her famous – that empathy, that ability to tap into the universal human frequency – is also what makes her so effective as an actor. That you feel compelled to watch her when she's onscreen may have to do with the ease of familiarity. But it's also more than that. Her face, already interesting in its composition, has become something more at this stage of life – more open, capable of telling entire stories in a few muscle movements. She engaged the services of an acting coach (who'd previously worked with Tom Cruise, Diddy, and Nicole Kidman) at the suggestion of Lee Daniels, her Butler director – "It's an instrument," he told her, "and you haven't picked up the instrument in what, 17 years?"
But even before this, she has been using her body like her pro, yet another tool to tell stories, and it is the body of a middle-aged black woman, a body that viewers are perhaps not used to seeing all that often. So you look, and you keep looking.
That Oprah is buttressed by institutional power is a welcome plus, and arguably necessary, even in 2017. She takes full advantage of the behind-the-scenes power in her Harpo Films and OWN-running hands – power that just isn't the norm in Hollywood, where even bankable actors are sometimes treated like barely sentient props. The Immortal Life is a Harpo Films coproduction, and there was evidence of Oprah's own personal hiring power on Greenleaf: On a first-season episode, I was thrilled to note the name of director Donna Deitch in the opening credits, 30 years after she and Oprah worked together on The Women of Brewster Place. In an industry where women are still playing catch-up, it really does help to have a producer with institutional memory on your side.
But while it may be difficult to divorce her acting career from her other interests, the core of Oprah Winfrey: Actor is not just about her producing power. In Sofia and Sethe and Gloria and Annie and Mavis and now Deborah, Oprah is telling specific stories, over and over. These are people we rarely get to see onscreen, and so they do not feel like arbitrary choices. More than ever, Oprah appears to be settling fully into her acting career.
The second stage of her career is calculated and precise, and at least from the outside, seems to represent a woman keen to break free of the still-too-narrow strictures placed on black women in and out of Hollywood. She is no longer just America's therapist – instead she is (almost) just another citizen, only one with uncommon power and reach, as well as a good deal of cultural discernment. In this half of her acting career, these roles – in Selma, in Greenleaf, in her turns in the upcoming A Wrinkle in Time adaptation and Daniels' Terms of Endearment remake – seem less about appeasing mainstream America and far more about a performer flexing her wings, and seeing what she can do to claim cultural and ideological space for herself but also, by extension, for black women in America and beyond. ●