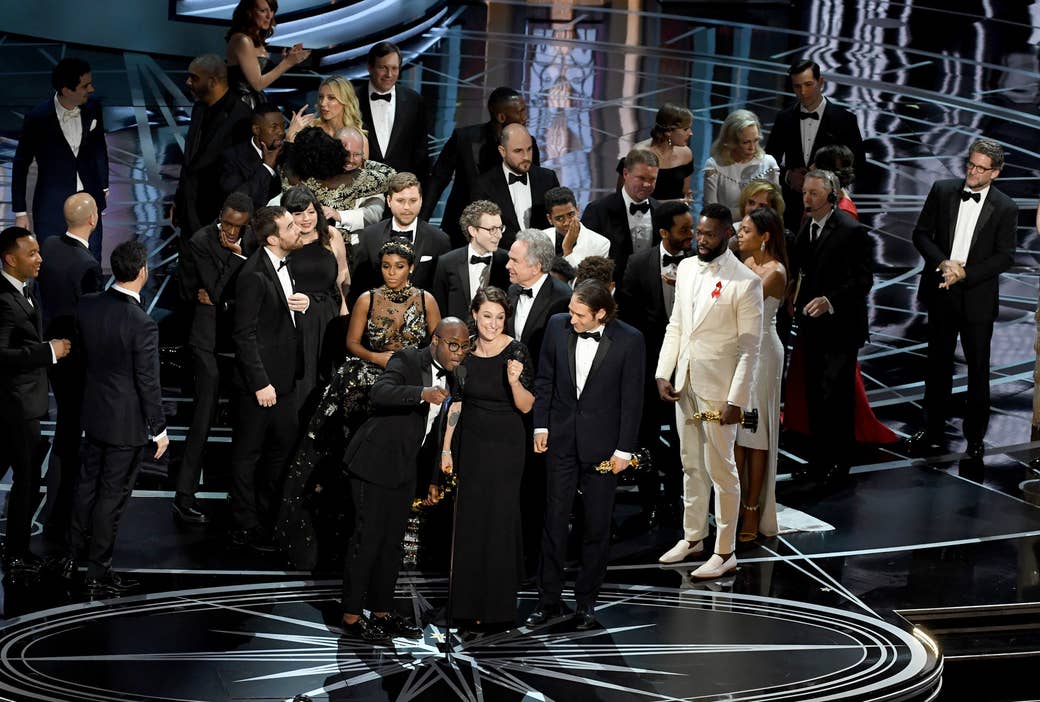 Grace, we are told — specifically God's grace — comes free of charge. It is available to all, with only a few entirely reasonable terms and conditions. This kind of grace elevates us, and allows us to go about our days being productive members of the human family. And we get to extend that grace to the next person we meet, by being gracious in turn.
But grace and graciousness can also be a burden.
On Sunday night at the Academy Awards ceremony, an envelope flub created one of the most memorable fuckups in Oscars history, in which the Best Picture award was wrongly announced as belonging to La La Land, before being given to its rightful owner, Moonlight. Barry Jenkins, Moonlight's director, came up to that stage with the rest of his Moonlight family and delivered a speech from his gut — a reaction to an absurd turn of events, a moment that if not stolen was slightly marred (a win's a win even if your face is streaked in mud and your muscles ache, but wouldn't it have been nice to arrive at the finish line drenched in nothing but honest sweat?). Jenkins had prepared a speech, but on live television, he said: "Very clearly, even in my dreams this could not be true. But to hell with dreams!" Later, tweets and editorial copy declared producer Jordan Horowitz a heroic "truth-teller" because he did the correct thing and ended La La Land's borrowed time on the stage, and thus the story centered on his perceived grace, rather than Moonlight's historic win.
There is almost nothing pedestrian we will not assign as a superhuman sacrifice if it is embodied by a white person.
And Variety's post-Oscars issue, traditionally with a cover star from the night's big winner (over the last few years directors and a cinematographer have been the chosen ones), featured Best Director winner Damien Chazelle alongside Barry Jenkins, the director of the year's Best Picture. Seeing the cover line — "Amazing Grace" — I wonder to whom it is referring: Jenkins or Chazelle? Its purpose was seemingly to convey a narrative of solidarity, in an industry in which that value seems like a rare commodity, but who is the default beneficiary of that solidarity? Co–editor-in-chief Claudia Eller's letter introducing the issue says the shared cover idea came from Chazelle's camp "in the eleventh hour." Her letter went on to note "the humility and humanity displayed by the film's producers" after the envelope mix-up was revealed.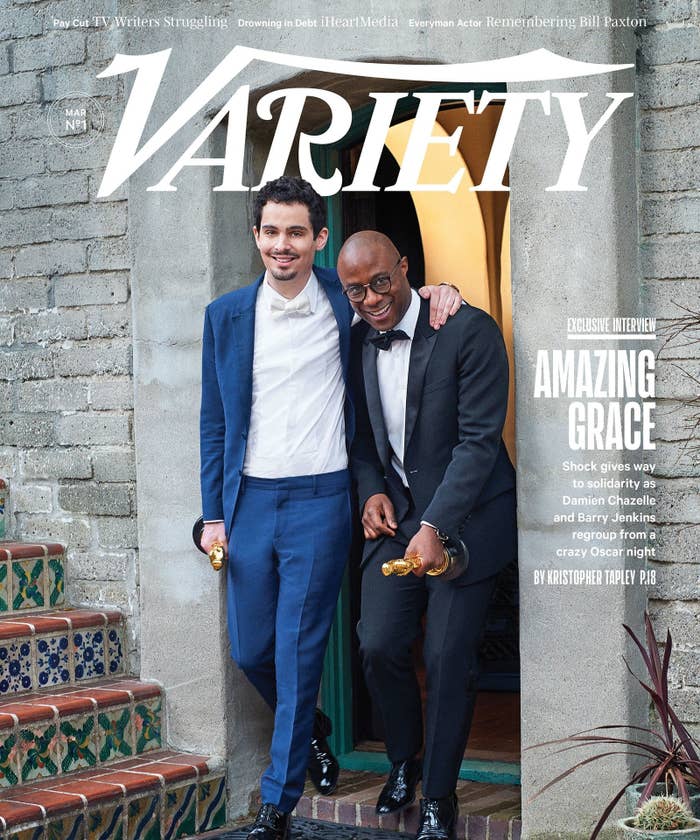 On Tuesday, after the cover image was released, Jenkins replied to an exasperated tweet from MTV News writer Ira Madison III, saying that he was "the guest" here, and while I would never presume to speak for him regarding his thought process in writing that tweet, I can't help but consider what the word "guest" means in general, and also in this specific context, and how gracious Barry Jenkins is being. Many of us are unfailingly gracious, all the time, and to be fair, this is sometimes unsolicited (but somehow still expected). In thinking about all of this, I feel a little tired. It's nice to be nice. But it is also a burden, this grace and graciousness. And some days it weighs heavier than others.
Michelle Obama's incredibly succinct and quotable election season sound bite "when they go low, we go high" is something of a double-edged sword. On the one hand, we have that grace, the kind that elevates us to a relatively higher plane of existence, where transgressions are borne and shaken off so we can continue to glide through life. But in reality, the most apt retort to that well-meaning and almost superhuman exhortation came from writer Kashana Cauley: "When they go low, we lower the bar."
Which is not to say that La La Land was somehow "going low" as a side effect of its mere existence. The narrative around mediocrity and white supremacy in the larger culture was sometimes clumsily foisted upon the film, in the same way Moonlight's explicit blackness and queerness placed it in a specific location within the viewing public's minds. The two films duked it out during awards season, picking up various accolades — the American Film Institute, Critics Choice Awards, the Golden Globes, the London Film Critics' Circle Awards, and so on — and in doing so, took on far more symbolism than either needed to carry.
I loved both films. Their accomplishments, both in the actual delivery of movie magic and prowess in hoovering up awards, has only made me love them more. But they were placed into an oddly pat narrative, in which to love one was to despise the other. It was a burden added to the already weighty load atop Moonlight's shoulders: In addition to being a story about a black boy and his coming of age and sexuality, Moonlight became a needed underdog in a new cultural narrative. It's a good thing it's a stunning, genuinely beautiful film in its own right, otherwise it would've completely disappeared under the various new mantles it was suddenly forced to bear.
The destinies of Moonlight and La La Land will forever be intertwined; expect every lazy trivia quizmaster to chuck this twosome into pub quizzes until the end of parlor games. And because history's first pressing happens directly in the moments after the event, many of us will see a graciousness where we should have seen a clear case of honest responsibility.
Calling a halt to the celebratory speeches the producers of La La Land had begun making and ceding the floor to the Moonlight cast and crew was simply the right thing to do. No more, no less. It required very little beyond an understanding of right and wrong, a lesson many of us learn very early on in life. There was no need to hand out rewards for grace, celestial or earthbound. And none were required from those involved with Moonlight.
Facts matter. On Oscar night, Moonlight was judged to be the better film. Barry Jenkins is a brilliant director who made a masterpiece. His place on the cover of Variety in any context is earned for sure, and never just as a "guest." Graciousness is appreciated (it is a "want," not a "need"), but it was not necessary. That the incredible win for Moonlight — a film about black gay love, black masculinity, blackness in microcosm and writ large, co-written and directed by a black man — will forever be linked to La La Land and misplaced graciousness is a damn shame.