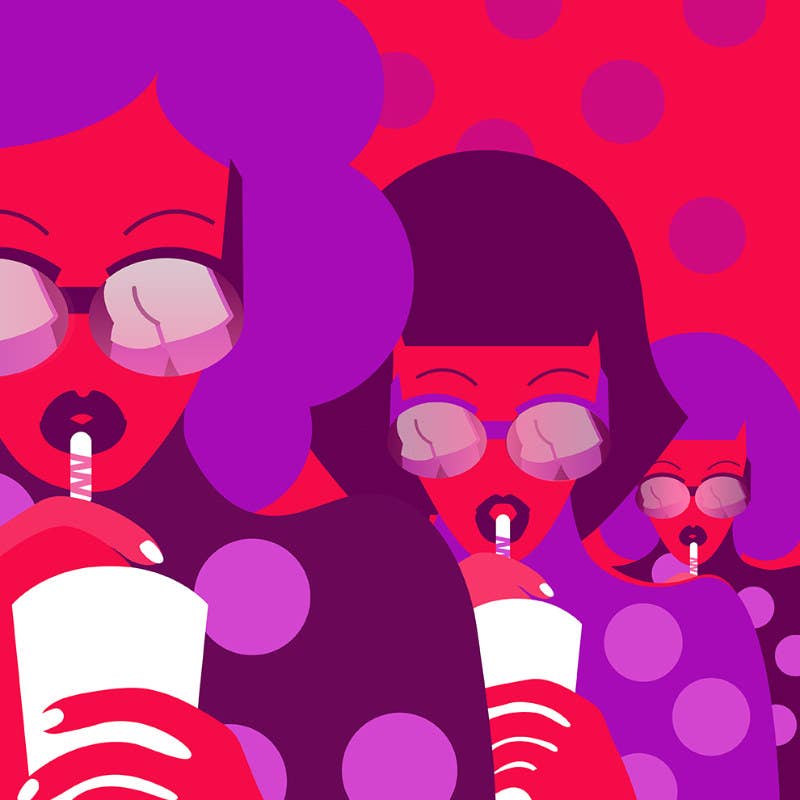 There's a scene in John Wick 2, where Keanu Reeves puts on a shirt. Watching the movie together some months ago, the two authors of this piece found each other's gaze in the dark of the theater, eyes shining. We both love Keanu Reeves, and have done so for years. In the looks we shared that day at the cinema was something kind of beautiful: Our lust for him is not new, but the joy came in thirsting for him together. We didn't need words. We were performing our lust for this mutual thirst object, and there was no one to judge us, or question us. We could revel in this moment (honestly, the whole film), free of interruption. Thirst is life-enriching, especially when it is shared.
So — what is thirst?
In scholarly fashion it is unabashed, guilt-free desire for a person. It is also disgustingly specific, deeply recognizable, and a lot of fun!
We are writers who met on the internet, dissecting popular culture and finding kinship in obvious and unexpected ways, by bonding over our thirst for various famous people, via pithy tweets. (Bless the career and face of Keanu Reeves — he came up early and often.) A Southerner from the United States and a black Brit, our backgrounds could not have been more opposite, yet we connected through the performance of desire, silly and serious all at once.
Talking about who we fancy is obviously a very shallow pursuit, but it is also a deeply human one. Thirsting is revelatory on a cultural level, and when it comes to lust, we must remember that it is all learned — taught and reinforced from the time we are first able to process texts. It's about so much more than a square jaw or the shape of a curl. To talk about who we fancy is to talk about politics, art, economics, migration patterns, history, and of course, our loins. Sure, we traded Tumblr links and gifs about our thirst objects, but we also spoke openly about how we came to arrive at this place. How our histories — which inevitably intersect with pop culture — allowed us to arrive on a social media platform, sweating and giggling over people who will probably never know we exist. Our thirst journeys are just as important as the objects themselves, which brings us to our brand new podcast, Thirst Aid Kit.
---
First of all, thank you: We know it's a great name (shoutout to Tyler, who came up with it).

Secondly, you should listen and subscribe to it! We will be tackling the very important issue of dudes we fancy. (The two of us are straight, cis, black women, so we're largely talking about desire as viewed through that very specific lens). Thirst Aid Kit will be like a vacation, but a working holiday, because amid the lols (and there will be so many!) we aim to unpack the politics of desire — the hows and whys, the ins and outs, the birds and bees, whatever — while laughing at every mildly dirty innuendo that crosses our paths. We happen to think no one has a handle on thirst quite like women, and as a group, lusting out loud — explicitly, with joy and humor— is still relatively new. Expressing lust is wildly cathartic and normalizing, and we think it should be celebrated.
We will be tracing our history of crushes and fancies from childhood cartoons all the way to contemporary superhero films. Who did we outgrow? Who remains an enduring entry on our List of Hot Dudes? What happens when Forever Bae becomes a Problematic Fave? We tackle all these questions and more with humor and expertise.
Here's what we want Thirst Aid Kit to be:
(Largely) no-guilt. This is fun! And funny!
But more than that, TAK will be a chance to delve a little deeper, and that might be uncomfortable at times, and it may reveal some shit that makes you question your "preferences." This is a good thing! We'll be looking at internalized biases and how they affect us — all the while being fun! Or not, sometimes!
We have some amazing guests lined up. And the conversations that we have with them will serve to highlight, educate, elucidate, (hopefully) scandalize, and definitely amuse you.

There. Will. Be. Fanfiction.
Of course, thirst is literally not exhaustive. It is a renewable source, able to transmogrify into whatever it needs to become. TAK is a judgment-free zone. There's no room in our hearts to disparage anyone for their childhood crushes or current-day fantasies. Thirst is fluid. As our thinking and maturity changes, so does who we desire. Thirst Aid Kit will be an ongoing conversation, between the two of us, and of course, our listeners, in which we note, recognize, and analyze patterns of desire, and asking what that means i.e. interrogate our choices. And those choices will absolutely look at race, nationality, accents, voices, height, talent, and body of work. All these things affect how and who we fancy. We aren't born liking who we like, and it's important to acknowledge all the factors that create desire, from the obvious to the overlooked, while having a good time.
Ultimately, we are excited by the chances this podcast will be giving us: a platform to be a little frivolous, the chance to explore the things that seems fixed in place and perhaps shift them a little, the opportunity to bring to your attention the talented hotties we love, all that good stuff. We'll help you find new crushes and validate your old ones. You'll never feel so seen as when you tune in to Thirst Aid Kit. Join us on a (lightly smutty) magic school bus as we learn about ourselves along the way. Let your lust live out loud.
Listen and subscribe to Thirst Aid Kit on Apple Podcasts, Stitcher, Google Play, iHeartRadio, Spotify, or wherever you get your podcasts.