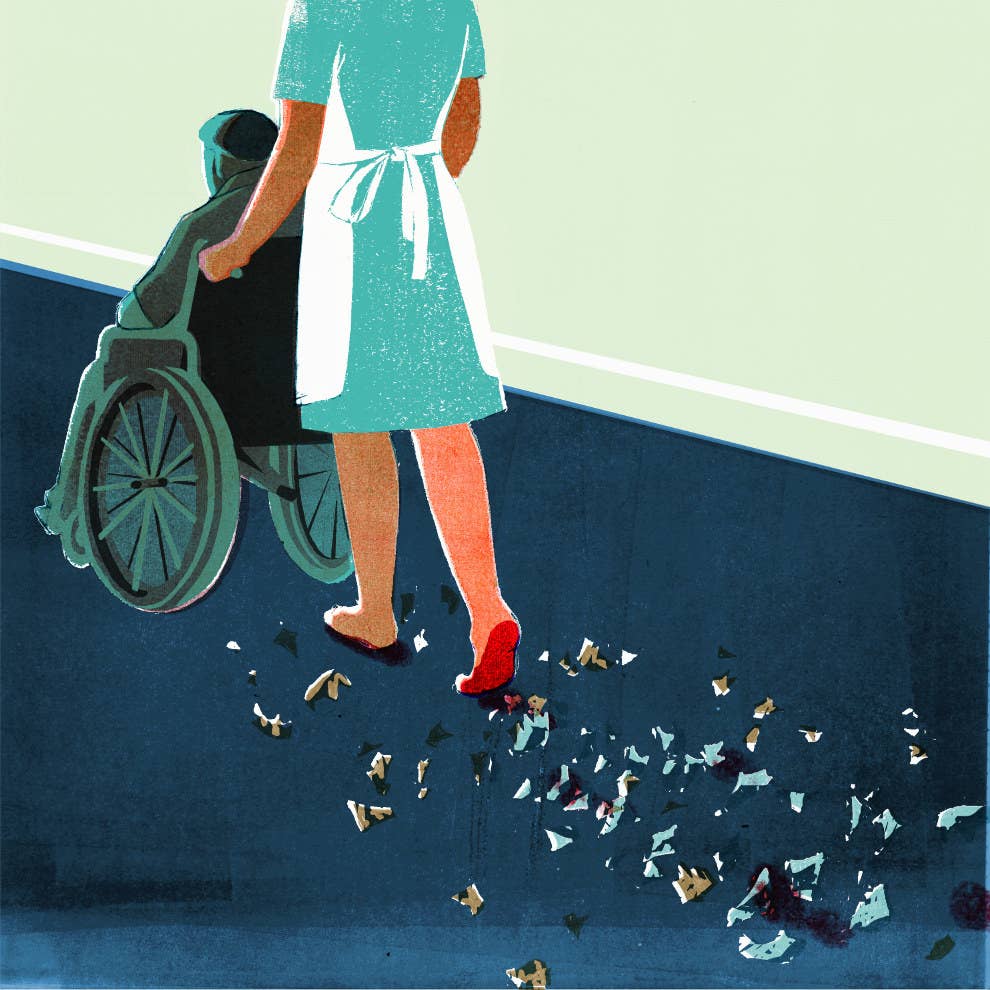 Most afternoons, June Barrett leaves the Miami apartment that she shares with her twin sister to take a ten-minute cab ride to the wealthy suburb of Pinecrest, Florida. By about five in the afternoon, she arrives at the home of Raymond and Marjorie, a one-story structure as long as a football field decorated with mementos from the couple's world travels.
Raymond and Marjorie are in their nineties, and in this house, they have raised five children, celebrated anniversaries and birthdays, and grown old together. It is here, in their home, that June Barrett does her work.
A woman of boisterous good humor, Barrett is one in a rotation of six household workers who help Raymond and Marjorie with their most fundamental needs. Barrett typically begins her sixteen-hour overnight shift by preparing and serving the couple a three- course evening meal. By request, shrimp appetizers and salad are on heavy rotation.
After dinner, Barrett helps Marjorie through the standard bedtime rituals of brushing her teeth and changing her clothes. She also makes sure Raymond takes his medication and then helps him in the bathroom. Once the couple is asleep, Barrett cleans the kitchen, the dining room, and whatever else needs tidying. On some nights, she's able to take a power nap during her shift, though just as often, Barrett is tending to Marjorie throughout the night because the elderly woman, who suffers from dementia, can't manage to fall asleep.
By about five in the morning, Barrett is giving Marjorie a sponge bath, and an hour later, she helps Raymond take a shower. Then she makes breakfast and gets Raymond set up in his office so he can send some e-mails. By nine, she is headed home.
The risk of exploitation is real in domestic work—especially because it has been purposely excluded from various federal labor laws meant to protect workers from abuse.
Barrett's job—domestic work—is the crucial but unseen labor done behind the closed doors of private homes. It is the intimate and invisible work that happens in someone else's bedroom, bathroom, and kitchen. As a profession, it takes on many forms, from tending to disabled or elderly clients to cooking and cleaning and watching an employer's kids. Some workers live in their clients' homes, and some, like Barrett, go home at the end of a set number of hours. But there are few fixed hours or norms in domestic work, and a caregiver can perform a multitude of tasks since the way that people run their households or realize their daily rituals is personal and particular. Its broad range of conditions collides with a lack of industry regulations, so the risk of exploitation is real in domestic work—especially because it has been purposely excluded from various federal labor laws meant to protect workers from abuse.
Barrett's current job has become one of the best she's ever had in her thirty-plus-year career. She says her employer, Judy Aberman, Raymond and Marjorie's daughter, treats her with respect and pays her fairly. Though there's little uniformity in the industry when it comes to wages, paid time off, and even the type of work that is required of domestic workers, Barrett says that Aberman pays her and her colleagues a good wage and has realistic expectations for what can be accomplished in a shift. Her boss also provides Barrett and her co-workers with paid sick days and a week of vacation each year, which employers are not required to do under federal law. Another perquisite of her job: Aberman hands out a holiday bonus at the end of the year. "They are critical to the quality of life of my parents' lives," Aberman says. "How could you not take care of the people who are taking care of your family?"
Not all employers operate with the same philosophy, and Barrett, who is originally from Jamaica, hasn't been spared the abuses that can come with her job. She took her first job as a domestic worker at sixteen in Kingston after falling into the line of work out of necessity.
Barrett and her twin sister had been orphaned when they were two, and the girls were split up between family members a few years later. Barrett was sent to live in the rural outskirts of Montego Bay with an aunt who she says grudgingly took her in and never let Barrett forget that she was not only a burden but also "too dark." When Barrett finished public school at fifteen, she says her aunt made it clear that she was no longer welcome in her home.
Gutsy and self-possessed, Barrett talked her way into a domestic worker training school run by the Methodist church, where she learned to iron, clean, and cook. After four months, the church placed her in her first job with the family of a government official who lived in a large house in Kingston. Still a teenager, she found herself in charge of running a busy household, but the family she worked for didn't think Barrett moved fast enough. After what they deemed to be slow service during a social event, they told her to pack up her things.
When she was eight months pregnant, her employer made a violent sexual advance toward her.
Going back to her aunt's house in the countryside wasn't an option, so Barrett hustled to find another job as a live-in domestic worker. Things become more complicated when she found out that she'd gotten pregnant by a man she was dating. He denied that he was the child's father, so she had to fend for herself, but without a job, she was also homeless. The pregnancy made her too sick to work, so she spent her days resting at the house where her twin sister worked as a domestic worker. In the evening, she stayed with a friend. The rest of the time, she wandered the streets of Kingston.
After a few months, she found a temporary job as a live-in domestic worker but it was not the solution she had hoped for. When she was eight months pregnant, her employer made a violent sexual advance toward her. Barrett didn't say anything because she thought she would be blamed for it, though staying silent didn't help her either. She took out her outrage on the women in the family, and she was fired.
Barrett found herself homeless again and she had nowhere else to go but back to her family in the countryside. She knew her aunt most certainly wouldn't take her in, but it turned out that her older sister couldn't accommodate her either. The only option was to stay in a room in their small village with her ailing and bedridden grandmother.
A couple weeks after she arrived, with the help of a midwife, she delivered her baby in the room she shared with her grandmother. Two months later, the baby died of meningitis. Barrett was devastated. She tried to cope with her loss by immediately heading back to Kingston to lose herself in work.
The first job she found was with a couple who needed help around the house and childcare for their two-year-old boy. The husband of the household was a loan officer at a nearby bank, and his wife had a long commute to a job at a phone company.
Fairly quickly, Barrett began to feel uncomfortable around her male boss because he brought lovers home with him during his lunch hour. Before long, he graduated to fondling and touching Barrett whenever his wife wasn't around. Then, a few months into the job, he became more aggressive and raped Barrett while his toddler slept in another room.
It happened more than once. "When he came back and did not have a woman with him, I knew I would be sexually abused that day," Barrett says.
This was Barrett's most extreme experience with on-the-job sexual violence, though it wasn't her last. The ordeal served to reinforce how difficult it could be to extricate herself from a bad live-in job. What am I going to do? Barrett remembers thinking at the time. I'm not allowed to go back home. Am I going to be in the streets, homeless?
After six months, she took another job while trying to find other types of work. She enrolled in night classes at the local high school focused on teaching technical skills, which led to a series of office jobs. She liked the work, but at her second job as an office administrator, a co-worker outed her as a lesbian and the word got out. She started receiving threats outside of the office—one man told her that he would rape her straight.
The United States beckoned. Barrett was inspired by what she saw in the movies and in the news. She loved what America represented—a land of freedom and human rights—and she imagined feeling safe there.
Barrett's twin sister, Judy, was living and working in Florida as a domestic worker, and she helped Barrett find a temporary live-in gig in Miami. The job would give her room and board for a few months, but it didn't pay. While this type of arrangement is not uncommon in domestic work, it flouts minimum wage laws.
Nevertheless, the job bought Barrett some time to figure out her next move. It also forced her to confront a discordant reality: as a domestic worker in search of the American Dream, she had taken one in only a handful of jobs in the United States that has been excluded from laws meant to shield workers from abuse.
Laws that protect workers in the United States from exploitation date back to the federal programs launched in the 1930s under the New Deal. Among the key legislative reforms were the National Labor Relations Act of 1935, which gave workers the right to form unions and to bargain collectively for improved working conditions. Then came the Federal Labor Standards Act of 1938, which established requirements for minimum wage and overtime.
As these laws were being drafted, domestic workers and farmworkers were purposely excluded, a development that scholars attribute to the fact that they were jobs primarily done by African Americans.
As the country's most fundamental labor laws were crafted, white Southern legislators steeped in the legacy of slavery sought to maintain the racial hierarchies of the Jim Crow South and resisted extending worker protections to African American laborers. Knowing that Northern legislators would not approve—and federal law would prohibit—overt racial exclusions from these laws, excluding specific categories of work served as the next best option. "Since most southern blacks were employed as agricultural and domestic laborers, that occupational classification became an ostensibly race-neutral way to exclude blacks by proxy," Juan F. Perea, a law professor with Loyola University School of Law in Chicago, wrote in a paper about worker-related New Deal legislation.
As federal protections for American workers have expanded, domestic workers have continued to be excluded.
As labor done disproportionately by African American women, domestic work was further devalued and marginalized on the bases of both race and gender. Legal scholars Hina Shah and Marci Seville have argued that "the racial disdain for the black servant—'a despised race to a despised calling'—justified labeling the work as 'nigger's work.' As such, society easily disregarded domestic labor as not being real work, worthy of fair and equal treatment."
As federal protections for American workers have expanded, domestic workers have continued to be excluded. Today the vast majority of American workers receive paid family or medical leave, but these benefits are not extended to domestic workers. Caregivers, for the most part, still have no legal recourse from the federal government if they are discriminated against because of their age, disability, race, religion, or sex—which some enforcement agencies have recently interpreted to include gender identity and sexual orientation.
There have been some improvements, however. Federal laws now include domestic workers when it comes to paying minimum wage and overtime, a reform that emerged out of overlooked but critical activism by African American domestic workers in the mid-1970s, the first movement to "put the issue of domestic workers' labor rights on the national political agenda," according to Nadasen. In 1974, domestic workers were formally provided with federal minimum-wage benefits. More recently, in 2015, the U.S. Department of Labor extended federal minimum-wage and overtime protections to home-care workers.
Loopholes remain. Live-in domestic workers are not entitled to overtime, and those who provide companion care by providing nonmedical emotional and logistical help to disabled or elderly clients are exempted from both minimum-wage and overtime requirements.
Studies and surveys have found that domestic workers experience a range of job abuses related to pay, workload, and treatment. There's no limit, for example, to what an employer can put on a domestic worker's to-do list, because the day-to-day of living is messy and variable. And because there isn't widespread agreement about how much a domestic worker ought to be paid, some employers exploit the lack of uniformity by illegally failing to provide the federal minimum wage.
With the majority of the country's more than 2 million domestic workers migrating from regions such as Latin America, the Caribbean, and Asia, exploitative employers sometimes use workers' tenuous immigration status to facilitate abuse. At its most extreme, domestic workers are being trafficked to the United States and coerced to work for physically and sexually abusive employers for little or no pay.
Live-in domestic workers are the most susceptible to abuses. As documented in various academic studies and industry reports, these workers report feeling that they are on the clock twenty-four hours a day because they can't ignore the early-morning cries of a child or refuse to assist an elderly client in the middle of the night. Some have reported being forced to sleep in closets or on the floor in bedrooms of children they were caring for. Caregivers also say they are not given time to eat or even personal access to the kitchen where they prepare their employers' meals.
For domestic worker advocates, physical abuse like sexual harassment and assault has been difficult to bring up and address. "We're silent because of the mentality of servitude," says Allison Julien, a domestic worker organizer and a New York City nanny. "Your role is to be of service. Very few of us are taught to share our stories. That's why workers don't come forward even though we know there is sexual violence in the workplace."
Julien is a worker-leader who has organized domestic workers for more than a decade, and she says sexual abuse on the job is one of the hardest topics to broach. "We'll talk about overtime, but physical violence and sexual violence we find are hard topics to raise up because of the shame and judgment," she says. "There's such silence, and employers know that."
Sexual harassment is especially hard to pinpoint because domestic work is intimate work done in someone else's home, where uncomfortable and offensive moments can be hard to parse and define. To deal with the situation, some workers actively nor malize sexual harassment. "There is a numbing-out aspect to this in order to survive," Julien says. "So the thinking is, 'It's not that bad.' That's why they keep going back to work."
Before Barrett landed her current job with Raymond and Marjorie, she passed through a number of households that showed her just how many ways she could be dehumanized at work. After the stopgap job in Miami that didn't pay, Barrett took a live-in job that involved taking care of a woman's aging parents.
The job was a lifesaver, but she was on call around the clock. She rarely had time for uninterrupted sleep, and when she was given a day off—which usually required a bit of cajoling and begging—she would check herself into a hotel so she could get some rest.
The elderly couple she cared for were verbally abusive. The husband shouted at her to work faster. The wife made racist remarks like, "Make sure you don't touch me, you cotton-pickin' nigger."
"I had anxiety attacks because, where am I going to go? " she said. "I would be homeless in Miami. So you have to stick it out and you go to your room and cry."
But quitting suddenly wasn't a real option. "I had anxiety attacks because, where am I going to go? " she said. "I would be homeless in Miami. So you have to stick it out and you go to your room and cry." In search of a way out, Barrett went to a placement agency, which are largely unregulated and have a reputation among workers for turning a blind eye to complaints and concerns. Nevertheless, they offer a convenient way for employers and workers to find each other, and Barrett was sick from stress and desperate to escape the couple she was working for.
It was a relief when the agency finally placed her in a new live-in job caring for an elderly man with vision problems. The workload was more reasonable, but in the end, the job was no improvement. The warning signs came immediately, on her first night on the job. Barrett was helping her employer into bed when he ordered her to lie down with him. She declined and told him that he was being unprofessional. Unrepentant, he told Barrett that other caregivers had done it and she would be no different. Barrett walked out and went to her room, confused and unnerved.
The exchange turned out to be a prelude to a pattern of sexual harassment and assault. The next morning, as Barrett helped her new client in the bathroom, he grabbed her crotch. She protested and tried to shame him into stopping, but he didn't mind. Over the next few months, he took every opportunity to grab, grope, and kiss her.
Her employer's daughter witnessed the harassment but didn't take the problem seriously. Watching her father grab Barrett's breast, she treated it like a joke. "I couldn't believe it," Barrett says. "She was laughing. Because I was just a piece of meat, just the caregiver, I was nothing."
The job was stable and it paid well, but Barrett didn't know how long she could put up with her boss. She was confident that she could overpower his physical advances if necessary, but their interactions filled her with disgust. She called her sister Judy frequently for moral support, and they agreed that Barrett had to be practical about resolving the problem. For a time at least, she would just have to find a way to manage.
Barrett purposely didn't tell the agency what was happening because they were her lifeline to future work. "I didn't want them to think I was a whiner," she says.
Her strategy of saying nothing worked. By keeping her mouth shut about the sexual abuse for a few months, Barrett was able to secure fill-in domestic work through the agency, which was enough to keep her afloat until she found a job with regular hours.
As she searched for better work, Barrett found solace at the Miami Workers Center, an advocacy organization that promotes economic, gender, and racial equality. She had become a regular at workshops on topics such as women's empowerment, self-care, and dealing with racism. In 2012, she stepped up her commitment to the organization after the murder of seventeen-year-old Trayvon Martin in a neighborhood just a few hours from where she lived. The center had taken a vocal role in demanding justice for the teen, which the group ultimately saw as a matter of racial and economic justice. "I saw the power of organizing," Barrett says. "I was impressed."
Barrett purposely didn't tell the agency what was happening because they were her lifeline to future work.
Her work situation finally improved in December 2013, when her sister connected Barrett with her current job caring for Raymond and Marjorie. The family not only offered a job on fair terms; they also encouraged her activism.
The year before, the Miami Workers Center had become the permanent home for the Workplace Justice Project, a collaboration launched at the Florida Immigrant Advocacy Center with support from organizations like the Service Employees International Union (SEIU). They were pushing to improve the working conditions for domestic workers, and the project was receiving guidance from the National Domestic Workers Alliance. Barrett had jumped at the chance to get involved.
She began putting the paid vacation days she received from her job with Raymond and Marjorie toward events related to improving conditions for domestic workers. Her conviction inspired her boss, Judy Aberman, to support her activism with financial donations and by attending events where the employer gave impromptu speeches about the importance of treating workers fairly.
In the summer of 2016, the center hosted South Florida's inaugural Domestic Workers Assembly, which was attended by politicians, journalists, and two hundred domestic workers. The conference organizer, Marcia Olivo, says she wanted government officials and the public to become aware of the full range of problems domestic workers face so that they could begin to seek public policy responses.
"People don't see domestic work as real work and they don't recognize the things that happen in the industry," says Olivo, the center's executive director, "and part of what is going to help win more protections for them is to make people more respectful of the work." Olivo asked Barrett to speak about sexual harassment in domestic work, but the caregiver was not initially inclined to do it. She gave it some thought and decided to set aside her trepidations after thinking of all of her friends in the industry who had been sexually harassed or worse—especially one friend who had felt pressured into sleeping with her boss. "I wanted to talk about it so that other people would talk about it," Barrett says.
On the day of the event, Barrett remembers walking to the microphone at the front of the room without notes because she intended to speak from the most honest place she could muster. She was nervous, but she began by expressing what she was feeling: "I'm so happy to be here," she said. "When women come together to organize for change, there is something very powerful about that."
The audience applauded, giving Barrett the confidence to continue. She launched into the story about the employer who had asked her to lie down with him and then embarked on a relentless campaign to touch her crotch and her breasts. She described how demeaning it had felt and said it shouldn't be tolerated as just part of the job. When she finished, the crowd applauded again, and Barrett says she could feel that the audience appreciated how much it had taken to share her story.
The feeling that came to Barrett in that moment surprised her. "I felt liberated," she says. "I had carried that shame that I had allowed this to happen. I felt I had allowed it to happen to earn money."
Saying it all aloud had excised that shame. "It's completely gone," she says. ●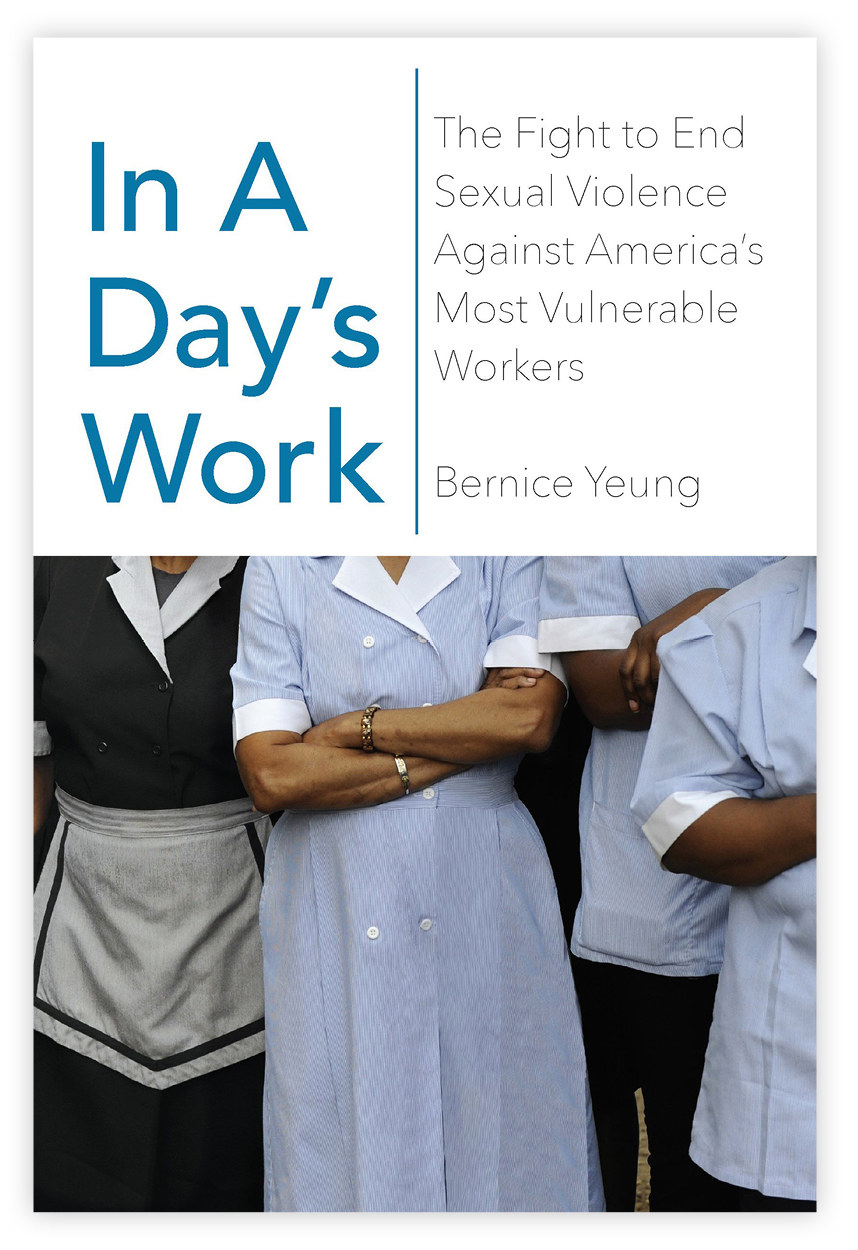 Bernice Yeung is a reporter for Reveal, covering race and gender. Her work examines issues related to violence against women, labor and employment, immigration and environmental health. In 2014, Yeung was part of the national Emmy-nominated Rape in the Fields reporting team, which investigated the sexual assault of immigrant farmworkers. The project won an Alfred I. duPont-Columbia University Award and a Robert F. Kennedy Journalism Award and was a finalist for the Goldsmith Prize for Investigative Reporting. A former staff writer for SF Weekly and editor at California Lawyer magazine, Yeung has had her work appear in a variety of media outlets, including The New York Times, The Seattle Times, the Guardian US and KQED-FM. She has a bachelor's degree in journalism from Northwestern University and a master's degree from Fordham University, where she studied sociology with a focus on crime and justice. Yeung is based in Reveal's Emeryville, California, office.
Copyright © 2018 by Bernice Yeung. This excerpt originally appeared in In a Day's Work: The Fight to End Sexual Violence Against America's Most Vulnerable Workers, published by The New Press and reprinted here with permission. Here is more information about In a Day's Work.