Why The Republican War On Susan Rice Is A Terrible Idea
Will the new Congress' first battle be a war over a qualified black woman? The prize for winning: Chuck Hagel.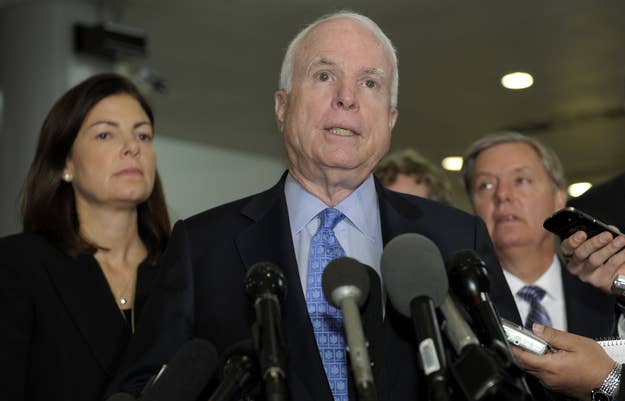 The Republican Party, six weeks into its hand-wringing and self-examination over an inability to attract women and people of color, appears ready to define itself in January with bitter public opposition to the appointment of an obviously qualified black woman to be Secretary of State.
The early and intense attacks on Ambassador Susan Rice — which appear to be geared toward pre-empting her nomination — have centered on a side issue in her career that made marginal sense during the election and little in its wake. There are many reasonable criticisms of Rice, an ambitious and sometimes abrasive career Washington figure, but she is, by her résumé and relationships, an utterly classic candidate for the job. And the prospect of a contested confirmation means the GOP scrambling to throw the kitchen sink at a nominee who faces no obvious bar to confirmation. And that downside has another downside: If Republicans win, they may well be handed a replacement nominee who is broadly opposed to their hawkish worldview and more narrowly skeptical of their support for Israel.
"They're engaged in an unprecedented fight before the nomination gets made because they know a nomination fight would be a disaster on the merits and on the politics," said Jonathan Prince, a former State Department official and Rice ally.
Responded a Senate Republican aide: "The American people firmly believe in the principle that every nominee ought to be judged equally on their merits, no matter who they are."
But politics has never been fair, and never entirely about the merits. And the merits of the case against Susan Rice for the post are pretty thin.
The core of the attacks on Rice has already begun to fade. She made early, inaccurate comments blaming the murder of the U.S. Ambassador to Libya on spontaneous riots, rather than a deliberate terrorist attack. Critics theorized that the Obama administration was covering up the terror angle to avoid Americans' thinking terrorism endures; but it's unclear how such a cover-up would actually endure, and in any event, Rice was not in a position to mastermind it: The U.N. ambassador, who had no line authority over the embassy, was reading CIA talking points. Republicans argue, as a fallback point, that she should have been more aggressive in getting all the information before going on television, but she's hardly the first official to pass on bad intelligence. (The last Rice to serve in her position warned, inaccurately, of a nuclear-armed Iraq when the stakes were far higher.)
There is a kitchen sink full of other lines of criticism. Rice was among the American officials blamed by Samantha Power, now also a White House
official, for putting caution and bureaucracy over stopping genocide in Rwanda, something she denies. Rice has — State Department–approved and fully disclosed — investments and friendly diplomatic contacts with dictators in Africa and elsewhere. Rice has already been confirmed by the Senate once, however, and these aren't new.
The real criticism from people who know and dislike her is that Rice is not as subtle or diplomatic as the nation's top diplomat should be. She has been criticized for being too blunt at the U.N. — hardly something you'd expect Republicans to object to. She raised some eyebrows early in her tenure, when she told me during an interview at the Ambassador's drab office (the glamour is saved for her Waldorf residence) that she planned to battle the "anti-Israel crap" that pervades the body.
This poses another challenge for Republicans. Israel plays a vastly outsized role in America's partisan politics, and in the Republican criticism of Obama. It's also a place where some Democratic members of Congress and Democratic-leaning public figures will break from the party to criticize Obama. And Rice shares Obama's internationalist impulses — she led the charge, for instance, to rejoin the U.N.'s controversial Human Rights Council. Like Obama, she opposed the Iraq War, which many backers of Israel favored.
But Republicans will find Rice hard to attack on the subject. She has spent the last four years fighting with the vast majority of her U.N. peers over Israel, giving little ground. She cast her first veto to block a condemnation of Israel's settlement policy, even though the resolution was in sync with U.S. policy. And the slice of the
pro-Israel elite that can be a swing vote when it comes to opinion-making has largely swung behind her.
"There's understanding, there's sensitivity, there's been frequent consultations with the Jewish community, and she has established a record of a fierce advocate on behalf of Israel — in a very unfriendly forum," Anti-Defamation League director Abe Foxman told BuzzFeed.
"I don't know who else is out there," Foxman added, hinting at another inconvenient truth: If the Senate torpedoes Rice, they could well find the next confirmation fight over former Senator Chuck Hagel, a Republican long alienated from his party's hawkishness in general and from its reflexive support for the Israeli government in particular.
As for Rice, she has been on track for this job for a long time, with a career in Washington's elite that began in her teens. To her genuine critics, she's always been too careerist, too careful, too much the apparatchik. She's the most inside-the-box choice imaginable. But this is another way to say that she is formally qualified for the job.
Republicans are already aware that a month spent by old white men attacking a qualified black woman will be bad politics; the faces of the opposition have shifted to those of Senators Marco Rubio and Kelly Ayotte and Susan Collins. Republicans are even circulating a critical Maureen Dowd column.
"It's not just some 'old white guys' behind this," a Senate Republican aide stressed to BuzzFeed.
But it's likely too late now for anyone other than Senator John McCain — who drove the first wave of Libya criticism — to define that fight. And McCain vs. Rice is a fight many Democrats would be glad to have every month next year, and which could be a disaster month for the Republican Party's newborn push to convince women and minorities that it's their party.