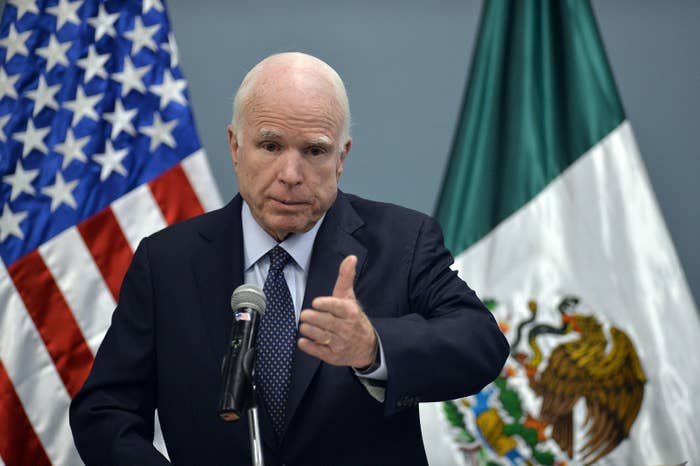 If Donald Trump's tweets about Julian Assange this morning had a particularly gleeful quality, perhaps it's because he has reason to celebrate: Senate Majority Leader Mitch McConnell yesterday succeeded in blocking one of the most serious threats to Trump's nascent presidency.

There had been two options. One is a Senate investigation primarily behind the closed doors of the Senate Select Committee on Intelligence, overseen by North Carolina's Richard Burr, who endorsed Trump in May and served on his campaign's national security advisory council. The other is a select committee led Senator John McCain along the lines of the legendary 1970s investigations into Watergate and the CIA, and of the less legendary House investigation of Benghazi.
Tuesday, McCain and Lindsey Graham told Politico they didn't think the Republican leader would support the higher-profile investigation.
"He said he doesn't think we need it," McCain said.
McCain and Graham played down the setback, and said they'll give the existing committee structure a go. McCain has an Armed Services hearing on hacking planned tomorrow.
But while McCain has kept a level tone, a former top adviser of his offered a glimpse at the urgency some Republicans felt in convening the select committee.
"The American people are owed the information on what happened fully and completely," John Weaver, a longtime McCain confidant, said in an interview just before the news that the select committee push had failed. "It's really irresponsible that Leader McConnell and to a lesser degree [Speaker Paul Ryan] have not embraced a full select committee."
Weaver has spent two decades in a prominent, if off-center, role in Republican presidential politics. He was the garrulous political adviser to McCain's 2000 bid for the presidency and advised McCain again in 2008 before shaping two other center-right campaigns for the White House: Jon Huntsman's and John Kasich's. A lanky, looming background figure who still speaks to McCain, he emerged unexpectedly this summer on Twitter as a scathing #NeverTrump voice, and his warnings about the new president-elect have intensified even as some Republicans have come around to the idea.
But he says his old boss doesn't carry an anti-Trump agenda.
McCain was "trying to do the right thing," he said. "I think in these dark days he is willing and able to be a strong voice — a beacon of righteousness, a beacon of freedom, and I think he wants to look at this and let it lead to wherever it leads to. I think he's outraged that a murderous thug KGB man was able to attack our democracy and so far be able to sit back in Moscow, very smug."
Now, Weaver says, the question of who handles Russia investigation should be a central issue.
A select committee "puts it on a higher stage and gives it more importance," Weaver said. "If it's in an individual committee, even if you have an aggressive chairman like you have with McCain, the scope is still limited. And the intelligence committee — much of their work is done behind closed doors."
Weaver says Trump and his entourage should be the ones demanding a real investigation.
"If I were Kellyanne Conway or Steve Bannon or [Reince] Priebus or anyone else, and I thought a foreign power had intervened in an election I was part of and tried to benefit my candidate, I would be the first one calling for an investigation," he said. "They're certainly acting like there's something to hide."
Weaver said he was surprised that the shocked, disorganized political opposition doesn't see what's at stake in this choice. Though Democratic leader Chuck Schumer signed on to a letter last month calling for a select committee, the issue has faded in the face of battles over health care and ethics, and now former defense and intelligence figures of both parties are focusing on calls for a bipartisan commission — something McConnell will presumably also block.
"What's there to hide? What's the problem here?" Weaver asked. "I don't understand why the Democrats aren't screaming bloody murder."