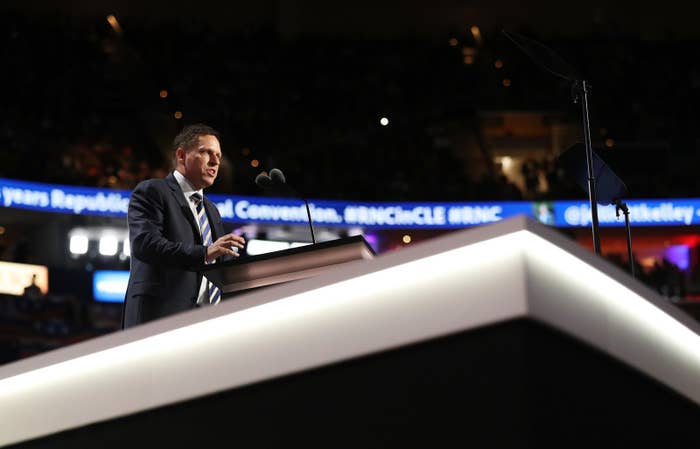 If you want to understand what Peter Thiel was doing in Cleveland, you won't get much from reading his brief and quickly delivered convention speech, which was focused in surprisingly large part on the sort of thing political hacks expect technologists to talk about: the sad state of federal government IT.
The tame speech left everyone who has been reading and listening to the creative, iconoclastic Thiel for years scratching their heads and wondering why he really endorsed Trump. And Thiel didn't just fly in and out of Cleveland. He arrived early and held court in the ritzy Cleveland neighborhood of Shaker Heights. There, his guests included, among others who declined to be identified, the longtime conservative columnist Michael Barone. And Barone emerged from Cleveland with a column asking, "Is America Ready for a Disruptive President?"
You can always tell when East Coast media types — Barone is a veteran observer of American electoral politics and longtime editor of The Almanac of American Politics— have been hanging out with Silicon Valley seers, because they start throwing around the word "disruption." (I wish I was immune from this habit.) I emailed Barone about my suspicion that he was channeling Thiel in his column. He replied that indeed, "It's based on a number of interactions with him, and on reading his book and other writings and watching his conversation with Tyler Cowen."
And his column, needless to say, is not about fixing government IT. It's about blowing the whole thing up.
The case for Trump, he argues rather loosely, is that "America has mostly been built by disruption." The instances he cites are the American Revolution, industrialization, and the New Deal. (OK.)
"As tech billionaire Peter Thiel argued Thursday, disruption is a good thing when old ways -- and especially government -- aren't working well," Barone concludes.
Here's the thing: Thiel actually didn't really say that in his speech. In fact, he didn't use the word "disruption" — and it seems unlikely he'd use it that way. It's drawn from a Harvard Business School theory about how incumbent companies respond to upstart challengers, a theory that Thiel no doubt knows well, and about which he's written dismissively. I first noticed Barone's column, in fact, when another Silicon Valley luminary started making fun of it.
Andreessen (an old Thiel friend whose firm is an investor in BuzzFeed) didn't respond to my request for comment.

But Barone is a lucid writer when he stays away from the Silicon Valley jargon, and so it's worth taking his case for Trump on its face, and as the best explanation we've got for what Peter Thiel was doing in Cleveland, sandwiched between Reince Priebus and Donald Trump's smooth old friend Tom Barrack.
By Barone's interpretation, Thiel — anti-college activist and pioneer of stateless seabound colonies — sees in Trumpism not any particularly appealing feature, but just the prospect of destruction, which might turn out to be creative.
Now Donald Trump is an actual conservative, in the literal sense of the word. He's looking backward, trying to "make America great again."
Peter Thiel is a conservative only in a newer American sense; his views are, in fact, quite radical. And the political approach Barone seems to be translating here is basically revolutionary. It's the style of argument you more usually see on the Marxist fringes about refusing to palliate the masses. The only other public figure to make that line of argument this cycle is Susan Sarandon, who suggested to Chris Hayes that "Donald Trump will bring the revolution immediately if he gets in, things will really explode."
A spokesman for Thiel, Jeremiah Hall, did not respond to a request for an interview with Thiel, or for a clearer explanation of what he was doing in Cleveland. So Barone's explanation — and Sarandon's — may be the best we've got.