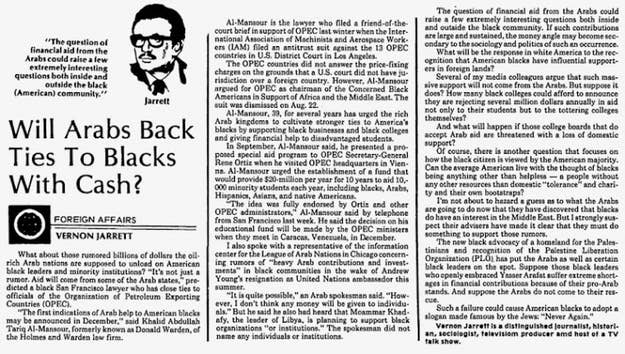 One of the strangest stories of 2008 was the claim, by veteran Harlem political figure Percy Sutton, that a lawyer and activist named Khalid al-Mansour had financed Barack Obama's education.
There was never any other evidence for the claim, which Sutton made in a television interview. Sutton's family, sensitive to his reputation, told reporters at the time that he had "misspoken"; after his death it was reported that he suffered from dementia. Obama's aides flatly denied all aspects of the story, and no other evidence has emerged to support it.
But over the weekend, a conservative blogger unearthed a 1979 column by Vernon Jarrett, a distinguished black columnist of the era at the Chicago Sun-Times — details Mansour denied Monday in an interview with BuzzFeed.
Jarrett's 1979 article quoted al-Mansour saying that he had approached the secretary general of OPEC about starting a scholarship fund for minority students in America.
According to the Mansour quotes in the column, Secretary General Rene Ortiz was enthusiastic. We were unable to find any other mention of the fund.
But in a phone conversation with Monday, Mansour told BuzzFeed's Rosie Gray he had never had a conversation with Ortiz about that subject and hadn't given quotes to Jarrett. (Jarrett, who died in 2004, was also the father-in-law of Obama confidante Valerie Jarrett.)
The syndicated column titled "Will Arabs Back Ties to Blacks With Cash" ran in the St. Petersburg Independent, which was folded into the St. Petersburg Times in the mid 1980s.
In the column, Jarrett wrote that Mansour, an African-American Muslim whose birth name was Donald Warden, "for several years has urged the rich Arab kingdoms to cultivate stronger ties to America's blacks by supporting black businesses and black colleges and giving financial help to disadvantaged students."
Jarrett writes that Mansour approached Ortiz with "a proposed special aid program." Mansour is quoted saying, "The idea was fully endorsed by Ortiz and other OPEC administrators."
Mansour, who lives in San Antonio, said the story was "definitely not true."
"It's not true, it's not accurate," Mansour said. He said that he had represented OPEC in a lawsuit in Los Angeles, but that this was the extent of his involvement with the organization.
As for the column, "I've never heard of it. I have no idea what the motivation of Mr. Jarrett was."
Mansour said that he "absolutely not" had had anything to do with Obama's education.
"I have the greatest respect for him but never met him," Mansour said.
As for why Sutton, who died last year, would have claimed that that was the case: "Mr. Sutton's dead, I would have no idea. I can't ask him."
Spokespeople for OPEC did not return a request for comment, and an attempt to reach Ortiz was unsuccessful.
There is no other public record of the reported scholarship program and still no suggestion aside from Sutton's remark that Obama had help paying for law school. Obama has written of paying off his student loans for years.
Frank Miele, the editor of Montana's Flathead Daily Interlake, who has written in defense of birtherism in the past, unearthed the column.
Miele told BuzzFeed in an email that "I was lucky enough to find the 1979 column, and recognized that because it had been written by Vernon Jarrett, it might have a greater significance than it would otherwise."
"I found the 2008 campaign story about Percy Sutton of enough interest that I searched the Internet for any background on Khalid al-Mansour that would provide insight about his role in funding scholarships for President Obama or anyone else," Miele said.