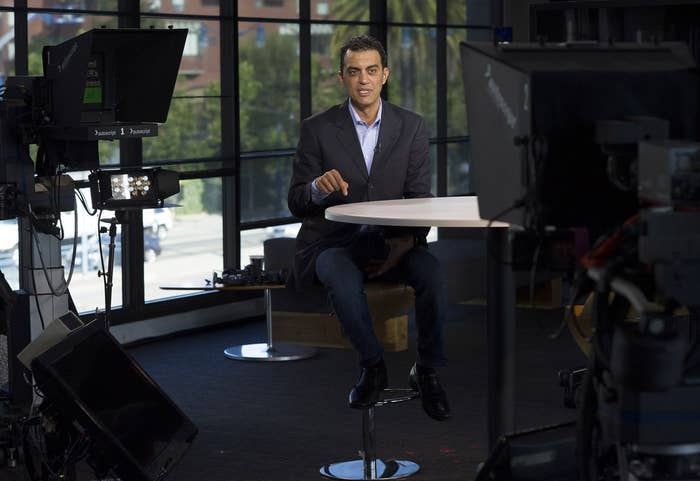 A senior executive at Uber suggested that the company should consider hiring a team of opposition researchers to dig up dirt on its critics in the media — and specifically to spread details of the personal life of a female journalist who has criticized the company.
The executive, Emil Michael, made the comments in a conversation he later said he believed was off the record. In a statement through Uber Monday evening, he said he regretted them and that they didn't reflect his or the company's views.
His remarks came as Uber seeks to improve its relationship with the media and the image of its management team, who have been cast as insensitive and hyper-aggressive even as the company's business and cultural reach have boomed.
Michael, who has been at Uber for more than a year as its senior vice president of business, floated the idea at a dinner Friday at Manhattan's Waverly Inn attended by an influential New York crowd including actor Ed Norton and publisher Arianna Huffington. The dinner was hosted by Ian Osborne, a former adviser to British Prime Minister David Cameron and consultant to the company.
At the dinner, Uber CEO and founder Travis Kalanick, boyish with tousled graying hair and a sweater, made the case that he has been miscast as an ideologue and as insensitive to driver and rider complaints, while in fact he has largely had his head down building a transformative company that has beat his own and others' wildest expectations.
A BuzzFeed editor was invited to the dinner by the journalist Michael Wolff, who later said that he had failed to communicate that the gathering would be off the record; neither Kalanick, his communications director, nor any other Uber official suggested to BuzzFeed News that the event was off the record.
Michael, who Kalanick described as "one of the top deal guys in the Valley" when he joined the company, is a charismatic and well-regarded figure who came to Uber from Klout. He also sits on a board that advises the Department of Defense.
Over dinner, he outlined the notion of spending "a million dollars" to hire four top opposition researchers and four journalists. That team could, he said, help Uber fight back against the press — they'd look into "your personal lives, your families," and give the media a taste of its own medicine.
Michael was particularly focused on one journalist, Sarah Lacy, the editor of the Silicon Valley website PandoDaily, a sometimes combative voice inside the industry. Lacy recently accused Uber of "sexism and misogyny." She wrote that she was deleting her Uber app after BuzzFeed News reported that Uber appeared to be working with a French escort service. "I don't know how many more signals we need that the company simply doesn't respect us or prioritize our safety," she wrote.
At the dinner, Michael expressed outrage at Lacy's column and said that women are far more likely to get assaulted by taxi drivers than Uber drivers. He said that he thought Lacy should be held "personally responsible" for any woman who followed her lead in deleting Uber and was then sexually assaulted.
Then he returned to the opposition research plan. Uber's dirt-diggers, Michael said, could expose Lacy. They could, in particular, prove a particular and very specific claim about her personal life.
Michael at no point suggested that Uber has actually hired opposition researchers, or that it plans to. He cast it as something that would make sense, that the company would be justified in doing.
In a statement through an Uber spokeswoman, Michael said: "The remarks attributed to me at a private dinner — borne out of frustration during an informal debate over what I feel is sensationalistic media coverage of the company I am proud to work for — do not reflect my actual views and have no relation to the company's views or approach. They were wrong no matter the circumstance and I regret them."
The spokeswoman, Nairi Hourdajian, said the company does not do "oppo research" of any sort on journalists, and has never considered doing it. She also said Uber does not consider Lacy's personal life fair game, or believe that she is responsible for women being sexually assaulted. (Lacy initially declined to comment on Michael's remarks; she denounced them in a column after this story was published.)
Hourdajian also said that Uber has clear policies against executives looking at journalists' travel logs, a rich source of personal information in Uber's posession.
"Any such activity would be clear violations of our privacy and data access policies," Hourdajian said in an email. "Access to and use of data is permitted only for legitimate business purposes. These policies apply to all employees. We regularly monitor and audit that access."
In fact, the general manager of Uber NYC accessed the profile of a BuzzFeed News reporter, Johana Bhuiyan, to make points in the course of a discussion of Uber policies. At no point in the email exchanges did she give him permission to do so.
At the Waverly Inn dinner, it was suggested that a plan like the one Michael floated could become a problem for Uber.
Michael responded: "Nobody would know it was us."