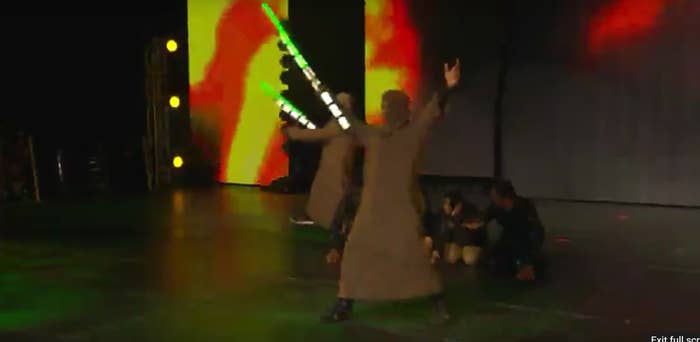 EDISON, New Jersey — This was the lightest, most normal, political event Donald Trump has led in days: a cheerful, policy-focused, speech full of garden-variety pandering ("I am a big fan of Hindu and I am a big fan of India. Big big fan"), and cheers from a friendly crowd mostly here for the Bollywood music and dance.

Trump appealed to Indian-Americans first on the basis of what he described as shared enemies.

"We will stand shoulder to shoulder with India in sharing intelligence and keeping our people safe mutually," he said, before blaming his opponent for some of it. "This is so important in the age of ISIS, the barbaric threat Hillary Clinton has unleashed on the entire world."
The host of the event, Republican Hindu Coalition chairman Shalli Kumar, had introduced Trump with the promise that he would "help Indians obtain green cards faster."
Trump then stuck to a prepared speech mixing his standard promises to cut regulation and clamp down on trade and immigration with praise for India's nationalist prime minister, Narendra Modi, and to their shared promise to cut bureaucracy.
The event, titled Hindus United Against Terror, was a benefit for victims of Muslim terrorism in Kashmir and elsewhere in the subcontinent, and anti-Muslim sentiment wasn't hard to find. As the event warmed up, a man who said he was a convert to Hinduism was screaming at anti-Trump protesters: "If you support Muslims, you support rape culture."
And while the crowd was largely there for the spectacle of Bollywood and other Indian stars singing and dancing — which the substantial contingent of white Trump supporters in the front rows also appeared to enjoy — terrorism was also a subtext. One dance featured masked terrorists seizing two dancing couples before they were themselves gunned down by dancing police.
The event was, however, a normal political stop in another way as well: Kumar is one of Trump's relatively few major fundraisers, and his short appearance had the feel of a favor returned.
Trump's connection to the Hindu nationalists fits neatly into a top aide's vision of Trump is part of a global nationalist movement.
"Modi's great victory was very much based on these kind of Reaganesque principles," campaign chairman Steve Bannon said in a 2014 speech. "So I think this is a global revolt."

But not even many of the Indian-Americans who plan to vote for Trump were quite ready to buy into the thesis, suggested by the New York Times this week, that Trump and Modi have a lot in common.

"Modi is more composed. He has good policies he doesn't brag about," said Lakshmi Bharbwaj, who said he would compare Trump, who he supports, more to the increasingly isolated Philippines President Rodrigo Duterte.
"Modi is probably cleaner than Trump and he has a history of good character and ingenuity," said Ankur Dyagi, a bank worker from Pennsylvania who said he'd also vote for Trump because he's "against the establishment."
"Modi was selling tea. Trump is a super-rich guy who doesn't know what a poor man is about," said a programmer who would only give his first name, Kiran, and said he was still making up his mind about who to vote for.
But Modi sets a high bar for Indian-American Republicans, and for many of the attendees, Trump is heading in the right direction.
"Trump is 100% nationalist," said Brijash Agarwal, a New Jersey accountant. "They're both nationalists, that's enough."