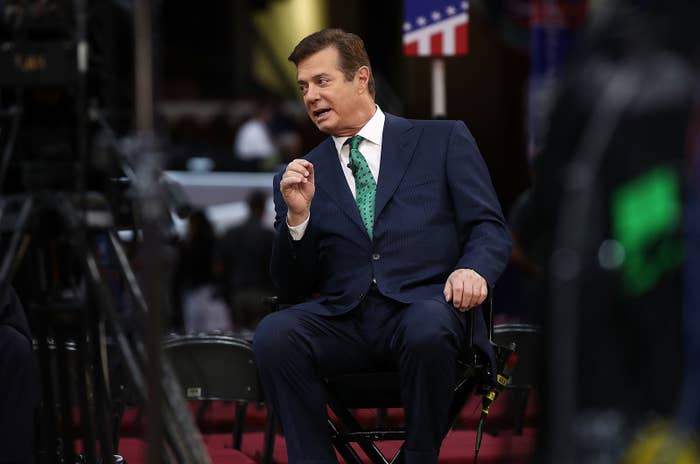 The indictment Monday of Paul Manafort is, among other things, a spectacular exercise in prosecutorial discretion, a marker that Donald Trump almost inexplicably hired a man trailed by a dark, but widely known history and then fired him — less over what he'd done as campaign chairman than what he'd done in the last decade of his career.
Our Jason Leopold and Anthony Cormier reported Sunday — in a story that is a blueprint for today's indictments — that the FBI was on Manafort's case as early as 2012, an investigation that "lay dormant" for a long time:
Manafort's suspicious financial transactions were first flagged by Treasury officials as far back as 2012 and forwarded to the FBI's International Corruption Unit and the Department of Justice for further investigation in 2013 and 2014, a former Treasury official who worked on the matter told BuzzFeed News. The extent of Manafort's suspicious transactions was so vast, said this former official, that law enforcement agents drafted a series of "intelligence reports" about Manafort's financial dealings. Two law enforcement officials who worked on the case say that they found red flags in his banking records going back as far as 2004, and that the transactions in question totaled many millions of dollars.
But the FBI wasn't alone in looking at Manafort and his associate Rick Gates, also indicted on Monday, long before they ever joined the Trump campaign. Way back in 2013, BuzzFeed News' Rosie Gray reported in detail on the covert propaganda campaign being run by the European Centre for Modern Ukraine, the front group tied to Manafort and Gates's operation. Their long-overdue Foreign Agents Registration Act (FARA) paperwork was — even if filled out truthfully, which it allegedly was not — an acknowledgment they'd failed to disclose what work they were legally required to disclose.
Other reporters were all over the story, as well. Politico's Alex Burns and Maggie Haberman documented Manafort's strange career in 2014. That year, Roger Stone, another member of Trump's feuding inner circle, blasted out an email with the question "Where is Paul Manafort?" and answers including, "Was seen chauffeuring Yanukovych around Moscow," and "Was seen loading gold bullion on an Army Transport plane from a remote airstrip outside Kiev and taking off seconds before a mob arrived at the site."
When Manafort joined the campaign in 2016, Russia watchers were immediately alarmed: "With Donald Trump on the brink of receiving classified security briefings from the Central Intelligence Agency, US foreign policy figures of both parties are raising concerns about a close Trump aide's ties to allies of Russian President Vladimir Putin," we reported at the time. Slate published a 5,000-word piece detailing Manafort's work abroad.
The drumbeat continued: The New York Times last year reported that Manafort's name appeared in a secret ledger of questionable Ukrainian payouts. The AP early this year tied him more closely to Russia. The Atlantic reported that emails show Manafort writing a Ukrainian contact in April, asking him to make sure that a Russian oligarch with ties to Putin was aware of the work he was doing on the Trump campaign.
So what does this all mean? It doesn't mean Manafort colluded with Russians on Trump's campaign; it does mean that Trump knowingly brought aboard a boatload of Russian baggage. It doesn't say much about Jared Kushner or Steve Bannon; but it does suggest that if Gates or Manafort know more, they're likely to cough it up, faced with the prospect of growing old in federal prison.
The moves against Manafort and Gates stand in contrast to the other indictment unsealed today. George Papadopoulos was arrested in July; according to the filings on Monday, he lied to the FBI about the timing of meetings he took just weeks and months into his stint as a foreign policy adviser to then-candidate Trump. He has since been cooperating with Mueller, detailing contacts with sources he thought were close to the Russian foreign ministry and alleged attempts by Russian officials to reach the Trump campaign.
There's a lot that we don't know about the Russia story, but there's also a lot that we've always known, and the scramble for new information can obscure the obvious. We know that Russian state media openly attacked Clinton and boosted Trump, the overt arm of a media campaign that copious evidence suggests was also covert. We know that Trump hired men deeply connected to Russia's allies to run his campaign; we don't know much of what they did behind the scenes, if anything.
We still don't know everything about what took place in a closed-door meeting last summer between Trump campaign officials and a Russian lawyer, or if Trump allies ever were successful in their hunt for Hillary Clinton's deleted emails.
But we do know what the candidate said on stage in Florida last July: "Russia, if you're listening, I hope you're able to find the 30,000 emails that are missing."
Manafort's alleged crimes have been in plain sight for years. So much of this story is.