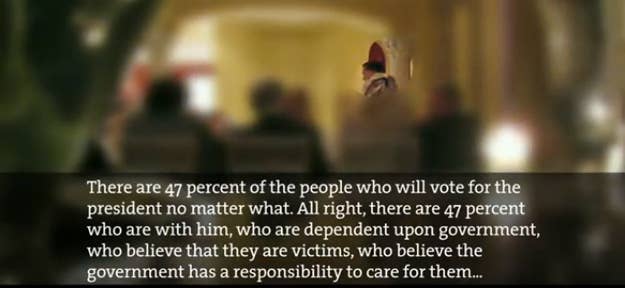 On May 17, Mitt Romney spoke bluntly at a fundraiser at the home of a private equity executive in Boca Raton. Someone recorded him speaking, and that unexploded digital ordnance lay around the 2012 campaign until Monday, when it erupted under Romney's campaign. Its emergence offers a glimpse at the workings of the contemporary media: Chaotically driven by an anonymous leaker; empowered by ubiquitous recording devices; and competing not just with other media outlets, but with the source him or herself.
On May 31, someone posting under the handle "Romney Exposed" began putting audio clips on YouTube.
A little over a week later, on June 10, the apparent leaker took a shot at promoting the video, with a series of comments on Huffington Post pointing to the video.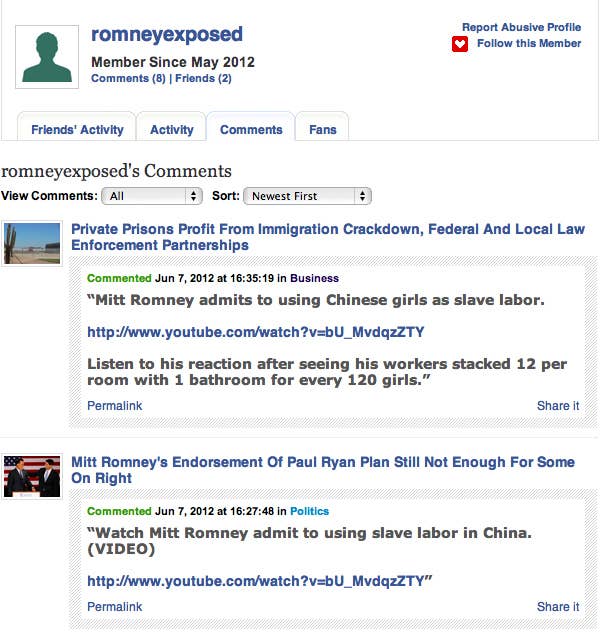 On August 24, one of the recordings — of Romney talking about appalling conditions at a Chinese factory he visited — popped back into the political chatter. It caught the eye of a BuzzFeed contributor who writes and tweets as NYCSouthpaw as well as of BuzzFeed reporter Chris Geidner, and they posted about the "mysterious" video. Romney's campaign didn't comment, or confirm the video's authenticity. (Background sources said Monday that his company did not in fact invest in the factory.)
Huffington Post wasn't the only outlet talking to the leaker. James Carter, a Democratic video researcher, who has worked with Mother Jones's David Corn, among others, had also made contact via Twitter after the first videos surfaced.
Corn "was chasing the source after appearance of [the] orig[inal] clip in may just as hard as HuffPo," Mother Jones co-editor Clara Jeffery tweeted.
The leaker also flirted with releasing the full payload him or herself.
On August 27, another YouTube account — "Anne Onymous" — uploaded an overlapping set of videos, apparently from the same event. One was deceptively edited to make Romney appear to be saying he'd been born with a silver spoon. Others included the comments that sent Romney's campaign into crisis today, his apparent condemnation of 47% of Americans.
And on September 10, a person with the same handle on DailyKos — biography: "To be confirmed by MSM soon. It's real." — posted the key videos to a diary.
Still, nobody paid attention. BuzzFeed, quick on the first video, hadn't noticed the rest, and our attention wandered. The missing location and context made Huffington Post Washington Bureau Chief Ryan Grim keep pushing for the full video, as were Carter and Corn.
It was on August 24 that Huffington Post — which would ultimately be the first to notice and post the 47% video — began chasing the story in earnest, Grim told BuzzFeed. Grim went into his website's back end to find the commenter's email; a few Huffington Post staffers "emailed him," Grim said, and the poster responded to Brad Shannon, who manages the site's D.C. operations.
Shannon and the leaker "corresponded over the past several weeks, with the guy saying he needed anonymity, would give us the full video if he felt protected etc.," Grim said in an email. "We knew the 47% video was up there and several weeks ago uploaded it to our own player so it was safe. But the holy grail was the unedited copy so we held off on promoting that.
"He went dark last week and this morning I bombarded him with tweets and emails until he responded and said, I love you guys, but I gave it to Corn. So we quick pulled the trigger on what we had," Grim said. The poster, he said, had decided to give it to David Corn, the Mother Jones Washington Bureau Chief, because of Corn's reporting on labor conditions at Global Tech, the Chinese company Romney described.
Their story went live at 3:15.
Some 45 minutes later, Corn posted the full video under the headline, "SECRET VIDEO: Romney Tells Millionaire Donors What He REALLY Thinks of Obama Voters."
The leaker's YouTube clips had not quite been solid enough to trust, and the Romney camp's silence had helped prevent them from taking off. Indeed, the editing had been, in one case, tricky.
The longer clips had no such problems. They showed Romney's blurry face; and it left little doubt about the context of his most damaging remark.
(This story was updated to include Clara Jeffery's tweet.)