The Campaign Is Over, But The Election Isn't
The storm, the jobs numbers, and the last decisions.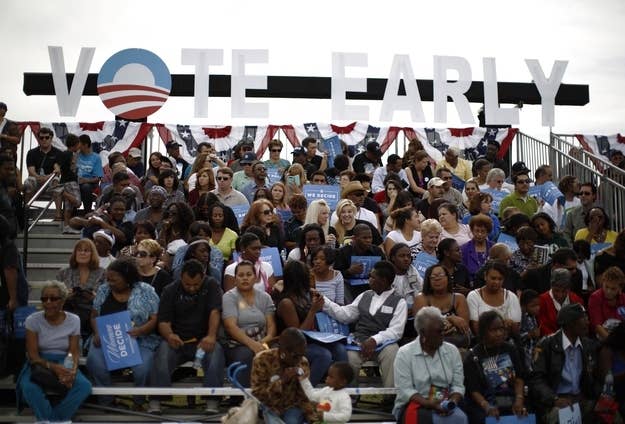 LAS VEGAS, NV — The presidential campaigns effectively ended Monday, when Hurricane Sandy made landfall and turned into a devastating, riveting national crisis centered on the country's media and financial capital.
Here on the campaign trail, instead of thousands of supporters cheering on the candidates, there are hundreds, or a couple thousand. The action, tangibly, is elsewhere.
"There isn't enough time for these campaigns to rebuild momentum. Insufficient time to get the planes back up in the air," said the Republican consultant Alex Castellanos, who advised Mitt Romney in 2008. "It's like Christmas Day: Technically, we might still have a few hours left to shop, but there isn't enough time to go, shop, and get back home."
What is left for the final undecided voters — relatively ill-informed, and distracted — are a handful of pieces of information almost entirely outside the campaigns' control. There is the hurricane recovery and the federal response, and President Barack Obama's role in it. And there is, Friday morning, the last piece of new information of the cycle: the monthly jobs report.
"Momentum [was] all going Romney's way," said New Hampshire Republican strategist Rich Killion. Bu the "storm has put an undefined presence on this, because most everything people are seeing, hearing, or talking about is not the election but the storm," he said.
Killion said he believed Friday and the weekend would open a brief window of non-storm news, in which undecided voters would make up their mind. And some figures in both parties said mean the end of the election. Instead, undecided voters are making up their minds based less on TV ads, stump speeches, and direct mail, and more on factors entirely beyond the reach of campaign managers in Chicago and Boston.
"The campaign is over, but the metaphysical state of an election in a democracy is still going on for some people," said Jonathan Prince, a Democratic strategist who led the DNC's outside spending effort in 2008. "They're making up their minds right now,"
What they are mostly not doing: going to campaign rallies. Crowd counts are markedly down on both campaigns after an initial spike through the debates. Part of that is due to the candidates' fluid schedules, where staffers have less time to rustle up an audience. But also clear is the declining enthusiasm of supporters on either side to wait for hours to hear two candidates for whom the shine has worn down.
Romney was routinely drawing more than 10,000 in his rallies — particularly after the first presidential debate — but this week it's been 2,800 Roanoke; 4,200 in Jacksonville; 3,500 in Coral Gables; and 2,000 in Tampa. Obama, known for his reliably 50,000-person mega-rallies at this point in the campaign in 2008 was down to 2,600 in Green Bay & 4,600 in Las Vegas on Thursday.
For the running mates, it's even worse. Joe Biden drew a paltry 475 in Fort Dodge, Iowa, while Paul Ryan aides optimistically put the crowd count for events in Greeley, Colorado, and Reno, Nevada, at 1,000.
The palpable sense: Americans are simply over the grinding presidential campaign. Take this week's viral video featuring a weeping four-year-old begging her mother to be done with Romney and "Bronco Bama."
And as swing state voters demonstrated a desire to get this campaign over with, even the faithful are losing altitude. The rallies aren't just smaller: They're less intense. In Greeley, audience members halfheartedly clapped along as country artist Lee Greenwood sang karaoke to his old hits. At a Biden rally last week in Florida, a group of older women tried in vain to keep a "Yes We Can" chant going for more than 20 seconds. In Reno last week with Romney, aides cordoned off a section of a large conference hall for the candidate, initially draping more than 100 seats because the crowd was so thin. For Obama, away from a college town, the scene is the same — a few thousand supporters, mostly older, politely wait for the candidate. The call-and-response chants and nonstop cheering of four years ago, or even three weeks ago, are gone.
All that's left is the storm, the jobs numbers, and a few decisions left to be made.
"A bunch of people in America are still making up their minds," said Prince.