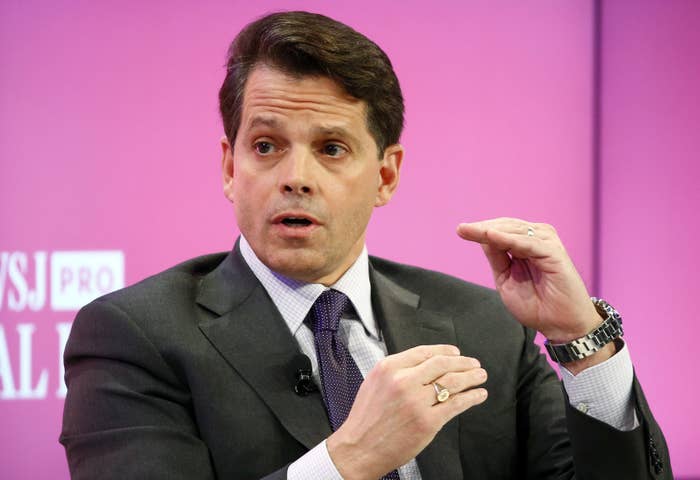 The toughest guy in Park City this weekend was Anthony Scaramucci, a top Donald Trump fundraiser and his emissary to the anti-Trump resistance.
The compact hedge fund manager, well-cut blue suit, open collar, and the light-on-his-feet prowl of a boxer, had just emerged from a panel discussion at Mitt Romney's annual conference here. His pitch on stage reportedly boiled down to comparing the Democrats to the White Walkers from Game of Thrones. Guests trickled out of the ballroom and he stood by the glass doors, Wasatch Mountains looming behind him, trying to make the case.
"I'm a team-playing Republican," he explained, breaking briefly (and with the blessing of a Romney aide) with the conference's off-the-record rules to speak to me about his mission. "We need to open the tent."
This is a very hard sell, even for a great salesman. And Scaramucci has some unfortunate history. A big Romney fundraiser, Scaramucci first backed Scott Walker and then Jeb Bush, at one point dismissing Trump as a "hack politician," objecting to the way he "talks about women," and calling Trump's criticism of hedge funds "anti-American."
Still, Scaramucci, whose bouncy machismo has made him a cable news fixture, is the sort of figure Trump courts. And as we were talking, Republicans — their side of these conversations is off the record — came up to greet the visitor warily.
Scaramucci tried a series of approaches in quick succession.
First, he appealed to wealthy Republicans' concerns about taxes and regulation.
Failing to support Trump "means eight years of a further slouch into socialism," he told one guest at the conference.
He played to their admiration for another speaker at the event, Paul Ryan.
"That means your speaker, who you love — leaving him behind enemy lines. You're ok with that?" he asked another.
(Ryan, even among friends, reportedly squirmed under difficult questions about his own endorsement of Trump, and faced California Republican Meg Whitman bluntly asking him why he would back a man she compared to Hitler.)
Scaramucci then tried Republican solidarity.
"As a team, we've allowed one person to break up the team," he said.
And he tried out a play to vanity.
"We need your wisdom," he told a skeptical Republican, suggesting Trump would like his advice.
Then Scaramucci tried a harder sell.
"Let me ask you one other question," he said. "What if he wins?"

"Do you want Sean 'Puffy' Combs to be the secretary of state and Gary Busey to be on the Supreme Court?"
This, Scaramucci suggested, is what Republicans can expect if they don't get on the Trump Train now. (Combs and Busey — who Trump fired in 2013 on Celebrity Apprentice — support Trump. However, the candidate's actual appeal to Republicans is how very very responsible he will be about Supreme Court appointments.)
"Everybody should oppose him, he wins anyway, and he should open the tent?" he asked, shaking his head.
Trump, Scaramucci did finally acknowledge, is Trump.
"I didn't say he was going to change. I don't think that," Scaramucci said. "But what about bringing in super smart people?"
Romney's annual conference was, in 2015, an important cattle call for the major Republican candidates. I was invited this year to talk to the audience — a rough approximation of Romney's donor network — about BuzzFeed and changing media, and found myself in the awkward position of being in the room for Ryan's talk and others, but unable to report on them.
In private conversations, some of Romney's loyalists still pine for him to run — but "that ship has sailed," a top aide said, something Romney himself confirmed in an interview with Wolf Blitzer at CNN. So the mood, when it comes to Trump, was resignation: He will lead the ticket in November.
Still, Romney has found a kind of passion and commitment in his opposition to Trump that, in some ways, never came through in his own campaigns. Two of the assembled Republicans told me they'd vote for Hillary Clinton. Others said, like Romney, that they wouldn't vote. Some, certainly, will support Trump, and the real question is whether the defections of Regular Republicans are a pure phenomenon of the 1% and the #NeverTrump Twitter crowd, or whether there are real votes there.
There are, surely, real dollars there, which is why Scaramucci was in town. Romney's fundraising network, which he has transferred in part to Ryan, is massive and formidable and he's not sharing it. It's unclear whether Trump will be able to keep up with Clinton on the billion dollar campaign tab — though it's also unclear whether he needs to.
Scaramucci, though, wasn't giving up. I asked him where he thought the people in Park City would be come November.
"They'll come around before the end," he said with a kind of grim determination.