Republican Source: Akin Moving To Withdraw [UPDATED]
The controversial candidate is "taking concrete steps." UPDATE: Another Republican close to Akin says he's "in the campaign."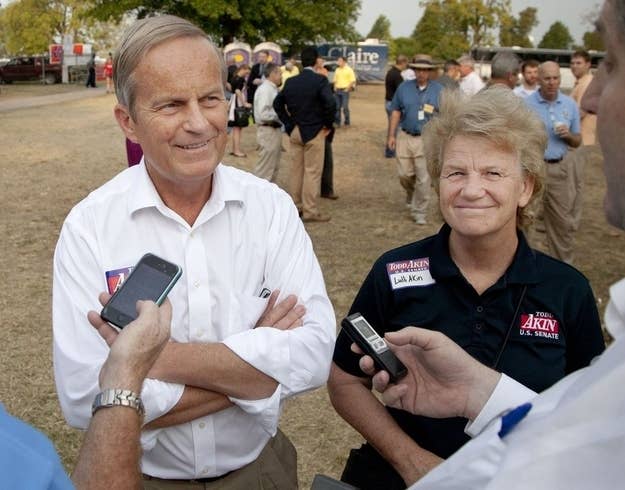 Missouri Republican Todd Akin has begun moving toward ending his candidacy after his remarks on rape and abortion provoked a firestorm, a top Republican said.
"Akin is taking concrete steps to withdraw by tomorrow at 5:00 p.m.," a senior Republican told BuzzFeed, adding that Akin could still change his mind.
But a Republican close to Akin said his position hasn't changed: He's still in the race.
Tomorrow afternoon is an important deadline: If he files papers to end his candidacy in Jefferson City tomorrow he can end his candidacy unilaterally; after that, he would have to file an application in court.
Possible Republican replacements, the Republican source said, include three former senators: John Ashcroft, Jim Talent, and Kit Bond. Other names being mentioned include former Ambassador Ann Wagner, who is running for Akin's now-vacant seat; and Auditor Tom Schweich.
UPDATE: Former Missouri Sen. Jim Talent tells BuzzFeed that he is not running for Senate to replace Akin. He also declined to explicitly call for Akin to step aside, but backed NRSC Chair John Cornyn's cool statement that Akin make his decision quickly.
"He's got a decision to make and he's got to make it quickly," Talent added. "He's got to know the situation and he needs to sit down and make a personal decision."
UPDATE: Another Missouri GOP source suggests that John Brunner, the self-funded second-place finisher in the primary, would be a strong candidate in a state committee vote for a replacement, if Akin were to withdraw. The source said Brunner would "seriously consider" jumping back in if Akin goes.