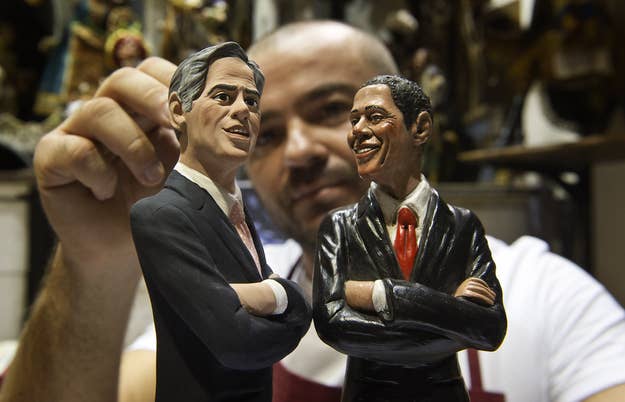 BOCA RATON, Fla. — The presidential campaign that descended on this swampy retirement community today is incredibly, improbably close, but reporters in the dingy spin room at Lynn University were clear on one thing: The media is winning.
The mood in the spin room, where reporters are go through several cycles of talking points, has grown frankly elated since the snoozy presidential evolved into something more.
"If we had been rooting, we got what we might have been rooting for," said Mark Caputo the Florida political reporter for the Miami Herald. "We've got a hell of a race on our hands.
Mitt Romney revival at the debate in Denver less than three weeks ago, and the Republican's, subsequent strong run have been a gift to a press corps that was deeply bored by the 2012 presidential campaign, and that was, some acknowledged Monday, frankly rooting for Romney to get back on his feet. It's a force as powerful as earlier press infatuations — with the charm of George W. Bush in 2000, with the power of the 2008 narrative of Barack Obama's victory.
"The media is always rooting for drama," said National Review political writer Robert Costa. "Romney's resurgence after Denver made them so happy that this is really a race."
"With Romney closing the gap after Denver, it is a more interesting race because it's a real contest," said Chicago Sun-Times's Lynn Sweet, a figure on the 2008 Obama campaign trail. "The press likes a real horserace."
Democrats in Boca, in fact, had begun complaining already about what they see as a cheerleading tone in the coverage of Romney's clawing his way back into the contest.
"I don't know how else you explain some of the coverage," lamented a senior Democratic Party official. "A poll that shows Romney up one point is Romney leading race. A poll that shows Obama up one is race tied."
Reporters at several national outlets demurred when asked who they thought the media was rooting for, and some in the crowded spin room rejected the notion that the media had turned to Romney's side.
"For the first time in any election that I've ever covered, there's not one person the media is rooting for," said the veteran TV producer Tammy Haddad, working Monday for Huffington Post. "The media is as split as the nation."
One thing on which the media is united, however, is that it had grown bored of its own boredom.
"There's only do many 'Romney is boring' stories you can write," said Costa, who added that the only thing he was personally rooting for was a "nail-biter."
(Other reporters, including Huffington Post's Jon Ward and the New York Daily News's Celeste Katz, said that their main rooting interest was in a clean vote count, and an election that is actually decided November 6.
MSNBC's Lawrence O'Donnell, however — who declined to answer the question of the media's rooting interest directly — warned that reporters should consider what they're wishing for in the prospect of a Romney White House.
"The boredom level you're asking for here is unprecedented," he said.