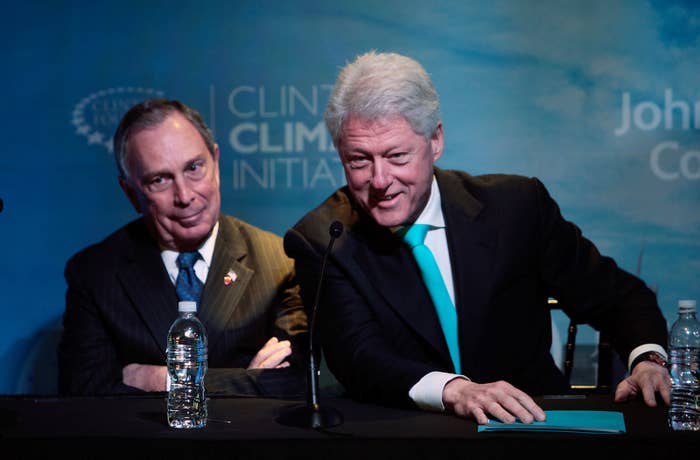 The annual Manhattan conference hosted for a decade by the Clinton Global Initiative became a kind of shorthand for what some hated about the Clintons: a mix of worthy and venal motives, a slosh of money and shady rich people around their world, and flashy and enduring relationships with autocrats in the Gulf.

Tomorrow, Bill Clinton will hand what used to be CGI's main event off to Mike Bloomberg. And Bloomberg is reviving part of the event's original role as a kind of US government in exile. The conference was created during the worst of the Iraq War and amid intense American isolation. European and Middle Eastern allies loathed George W. Bush, and turned instead to the open and sympathetic face of Bill Clinton's America.
Bloomberg's move to take over the conference (renamed the Bloomberg Global Business Forum) hasn't drawn much attention, but it's worth seeing in that context: The former New York mayor is inheriting not a conference, but a platform for an alternative American diplomacy. (Bloomberg, Axios wrote on breaking the news, is "the new Clinton.")
Bloomberg is formalizing the posture that brought him to Paris in June. After Donald Trump announced that he was canceling the climate accord, Bloomberg said he'll rally American businesses to meet its targets anyway.
"Nations are bound together by trade and investment, and while chief executives are not diplomats, they can be voices for cooperation on issues where the private sector can be constructive — from infrastructure to climate change," he said in an emailed comment Tuesday. "Actions taken by the private sector, while not replacing official diplomatic channels, can often carry more weight than words spoken (or tweeted) by public officials."
Bill Clinton's power at the event was always his personal ability to convene giant figures, something that made CGI a delight to cover. The halls of the Sheraton New York were filled with people you'd never get on the phone. I once cornered (a displeased) Carlos Slim to grill him about his financial relationship with the New York Times. The main stage featured people with real power — King Abdullah, Tony Blair, Kofi Annan, Condoleezza Rice.
And Clinton could cajole his array of connections onto stages that their PR handlers should not have allowed. In 2005, after Clinton had painstakingly mended fences with Rupert Murdoch — part of a long dance that ended abruptly in 2012 — he somehow persuaded the irascible right-wing media baron to appear on a panel with the CNN chairman Richard Parsons on a Friday afternoon in a dimly lit hotel basement, moderated by Clinton himself.
When Parsons boasted that CNN was "the best and best-positioned global news media company in the world," Murdoch simply couldn't take it.
"I don't watch CNN International, and I doubt that anyone else does," he snapped. The channel is "unwatchable… and it's so anti-American."
Both Barack Obama and John McCain spoke at CGI in 2008, and it lost its place as the alternative government in 2009. Instead, CGI built a not unfriendly relationship with the new White House. They stopped putting media moguls onstage to trash one another, started locking the press in a basement hold room, and political reporters like me stopped enjoying it quite as much.
It also grew over time to be a bit better organized, and directed millions to a dizzying range of charities. It will continue in some smaller forms, and many of the grants it facilitated have long-term implications — an emblematic one was the decision by a Minnesota hearing aid company, Starkey, to donate a million hearing aids to people in the developing world. (There are dozens of stories like this, and CGI did raise hundreds of millions of dollars for non-Clinton causes.)
Bloomberg's version has some of CGI's trappings, with the added polish of the kind of government in exile he represents. This isn't the former governor of Arkansas, balancing his pro-business policies with folksy populism. This is pure anti-Trumpism, globalist on the big issues of trade and climate, firmly progressive on social values. The global figures Bloomberg has been able to attract to this Trump-free safe haven reads like a wish list for (now collapsed) Trump advisory panels: Tim Cook and Jack Ma, Macron and Erdogan and Trudeau, Blankfein and Schwarzman. The hotel is a little fancier than CGI's and the guests need some qualification other than a simple willingness to give millions at Bill Clinton's say-so.
Clinton will open the Bloomberg event tomorrow, formalizing the handoff. This isn't the first project Clinton has passed off to Bloomberg; that was the Clinton Climate Initiative. And while the men are very different, the partnership reflects what they share, which is a kind of relentless ambition.
Bloomberg's new stage is a sign that on the issues on which he's already begun to dog Trump — climate change, in particular — the former mayor is likely just getting started.