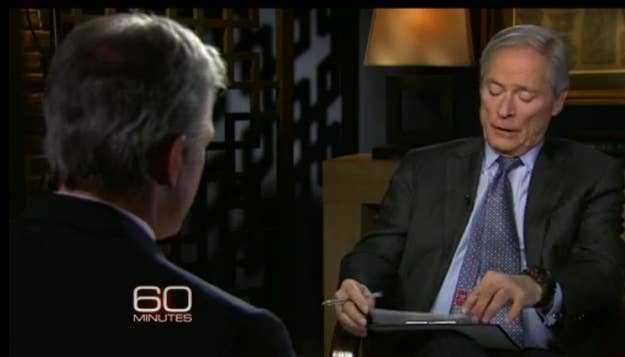 When the venerable CBS newsmagazine "60 Minutes" aired a segment critical of the Israeli treatment of Palestinian Christians last week, correspondent Bob Simon repeatedly suggested that Israeli Ambassador Michael Oren had crossed a line by contacting the network's top executive in advance to complain of a coming "hatchet job."
"We didn't realize it would become so controversial," Simon said in his introduction to the story, which featured an on-air clash between him and Oren. "I've never gotten a reaction before from a story that hasn't been broadcast yet," Simon told the ambassador during the segment.
But Simon's apparent shock — and high dudgeon — at Oren's conduct were nowhere to be found in a letter he wrote the ambassador before the taping, and which was provided to BuzzFeed by a political operative not party to the dispute who said he shared it because he thought it illustrated CBS doubletalk.
"Fortunately, we are still in the process of reporting the story, so [CBS News Chairman Jeff] Fager and I want to give you an opportunity to express your views and correct any misrepresentations or omissions which you apparently believe might have occurred," Simon wrote, in a courteous missive on personalized "60 Minutes" letterhead, dated January 4. "Thank you and best wishes."
Oren responded to Simon on January 11 with an equally courteous letter, saying he was "indeed concerned" about the planned segment and that he would like to "respond to the allegations raised" once he knew what they were.
All this is fairly common in the dance between reporters and sources. It's not unusual for reporters to seek difficult interviews with innocuous correspondence. Less common is the theatrical outrage Simon expressed on air, but not in the letter, at Oren's interest in shaping a story about his country.
And the courteous tone broke down during the taping of the interview in early February. As the tape ran, Simon confronted Oren with his complaints to Fager. Oren said the segment's topic was "outrageous" and "incomprehensible" in the context of violence against Christians elsewhere in the region, and that Simon's questions had "confirmed" his fears.
"Nothing's been confirmed by the interview, Mr. Ambassador, because you don't know what's going to be put on air," Simon responded.
And Oren dropped any hope that he could shape the segment in a February 13 letter CBS, also provided to BuzzFeed, written after the confrontational interview but before the episode aired.
"The interview not only confirmed my concerns about the segment but deepened them," he wrote, calling Simon's approach "a feebly disguised attempt to exploit Christians—and inflame religious tensions" without any "historical or diplomatic context."
Oren blasted "Mr. Simon's lack of understanding of – or genuine interest in – the basic facts regarding Christians in the Holy Land," and anticipated the segment "would be irresponsible, unfair, and beneath the standards of your program."
Rather than blaming Israel, he wrote, CBS should have blamed the local Palestinian administration, which has control of major West Bank cities, and the militant group Hamas, which controls Gaza. Israel's critics respond that the Palestinian authorities are under ultimate Israeli control, and Palestinian Christian voices in the "60 Minutes" segment blamed Israel for their hardship.
And the policy argument aside, the story, when aired, did confirm the Israelis' fears: It blamed the departure of Christians from the Holy Land primarily on the Israeli occupation of the West Bank, not on Islamist movements there and across the Arab world.
And the segment proved as controversial as Simon teased in its opening, drawing praise from Israel's critics and outrage from its government and its American allies.
The segment also made much of Oren's concern, and infuriated the Israelis by, in particular, suggesting that Israelis are "very sensitive" on the subject of Christians because "tourism is a multi-billion dollar business there" and most tourists are Christian.
"The suggestion made by Mr. Simon on air that Israel's concern stemmed from a possible loss if tourism profits was deeply offensive and reminiscent of the basest cultural stereotypes," said an Israeli embassy official, speaking on the condition of anonymity, who also defended Oren's approach to the network.
"The Embassy fulfilled its fundamental duty to respond to credible information that the segment would be, like recent 60 Minutes reporting on Israel, extremely biased," the embassy official told BuzzFeed. "In addition, 60 Minutes had not contacted a single Israeli official regarding the report on Christians."
A "60 Minutes" spokesman, Kevin Tedesco, declined to comment on the correspondence between Oren and Simon, which can be seen below.