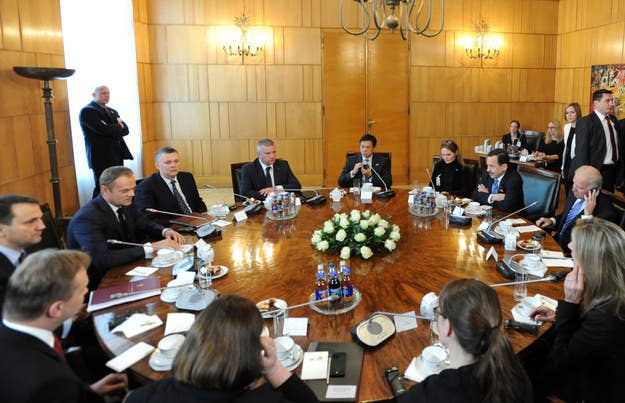 Polish Foreign Minister Radek Sikorski, generally viewed as a leading ally of the United States in Europe, said in a mysteriously-leaked recording Sunday that the alliance between the two countries is "not worth anything."
"The Polish-American alliance is not worth anything. It's even damaging, because it creates a false sense of security in Poland," Sikorski says on an excerpt of a longer conversation set to be published Monday morning in the magazine Wprost, which is reportedly between Sikorski and former finance minister Jacek Rostowski. It's unclear who recorded the conversation said to be from this spring, and why, though speculation has focused on Russian intelligence, which is believed to have leaked a similarly embarrassing conversation between American officials.
After his interlocutor asks why he's skeptical of the alliance, Sikorski continues that it is "bullshit."
"We are gonna conflict with both Russians and Germans, and we're going to think that everything is great, because we gave the Americans a blowjob. Suckers. Total suckers," Sikorski says, according to a translation of the account for BuzzFeed.
The recording is one of many made of politicians' conversations in posh restaurants, and has emerged as a massive problem for the country's ruling Civic Platform.
Sikorski also employs a racially-charged word in the conversation, describing the mentality of Poles as "Murzyńskość." An English-language Polish outlet described the phrase as meaning "thinking 'like a Negro.'"
Sikorski said on Twitter that he hadn't been to the restaurant in which he was allegedly recorded; Wprost's editor said the recording had in fact been made in a different location.