Obama's Anti-Baby Boomer Foreign Policy
Love it or hate it, last week's Cuba opening is the purest expression of his foreign policy yet. What Axelrod got wrong.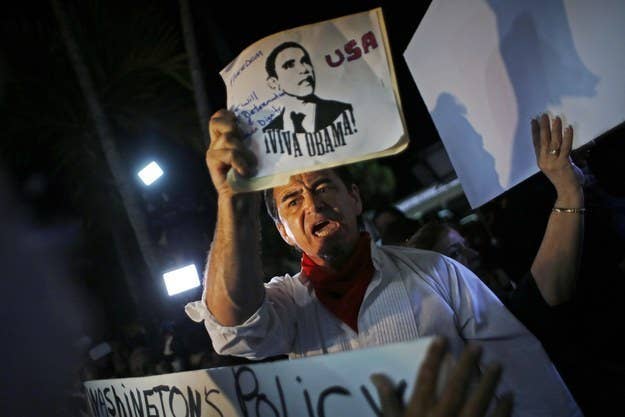 On the evening of July 23, 2007, Sen. Barack Obama's top adviser was doing his best to spin his way out of a way of the thinking that led, last week, to perhaps the purest of President Barack Obama's foreign policy victories: the opening of Cuba.
Candidate Obama, blindsided during a South Carolina presidential debate by a YouTube question from a bearded California photographer, had rashly said he would meet anti-American leaders including Fidel Castro, Hugo Chavez, and Kim Jong-il. And so David Axelrod made his way into the dank "spin room," projecting the sort of mellow confidence that good spinners do when they're really worried. He insisted to the skeptical press pack that we'd missed a really important distinction. Obama hadn't promised to meet them, Axelrod kept insisting; he simply said he was willing to.
We didn't really buy the spin, and Hillary Clinton's aides were gleeful, and even thought they saw a campaign turning point, clear evidence that Obama was "naive" and unready for the White House.
Seven years later, Axelrod doesn't exactly recall that as his finest moment — but not because the spin was so weak.
"I reacted too conventionally," he recalled in a telephone interview from Chicago a few days ago. "I really wasn't grasping his larger point. I reacted conventionally and he was thinking unconventionally."
Obama, in fact, rather liked his answer, and the campaign's research quickly showed it played well with Democrats. So Axelrod and his colleagues quickly reversed course and Barack Obama's view of the world — previously defined solely by his opposition to the Iraq war — really started to take shape. This was a foreign policy fully in sync with the campaign's deep generational promise: to "turn the page" on baby boomers like the Clintons and what the Obama campaign saw as their inane and toxic politics.
The notion that we really needed to abandon lines drawn around the time of Vietnam was an appealing point. But it was also American domestic politics, a piece of the American conversation. And when it came to actual foreign policy — as opposed to "foreign policy" as an element of American domestic politics — that was sometimes a fatal flaw.
Obama's framework didn't make particular sense to people in other countries, or to their leaders, or to their American friends. This was particularly clear during the rawer, earlier campaign moments. At the 2007 gathering of the pro-Israel group AIPAC, for instance, Obama drew eye rolls by suggesting Israel's enemy was "cynicism" — not just, say, its actual enemies. And by the end of his first year in office, he was admitting to Joe Klein his mistake, fundamentally, of assuming that the American zeitgeist was a global phenomenon.
"The Israelis and the Palestinians — have found that the political environment, the nature of their coalitions or the divisions within their societies, were such that it was very hard for them to start engaging in a meaningful conversation," Obama told Klein. "And I think that we overestimated our ability to persuade them to do so when their politics ran contrary to that."
Obama's approach to Russia, too, imagined that country in American terms — alienated by George W. Bush, ready for a "reset." In fact, Vladimir Putin has his own politics and Russian history has its own arc. Putin's domestic politics required an enemy in Washington. He was intent on turning the page too — only on turning it in the opposite direction, back toward Soviet-era power and confrontation. Obama's most ambitious opening of all, toward Iran, remains unresolved, and will be determined in part by the tension between an improved bilateral relationship and that country's domestic politics.
But in Cuba, Obama has found a pure expression of the vision he promised. This is a relationship frozen in time, governed by a logic imposed when Cuba mattered to American strategy, when the stakes were high, and when the Soviets were trying to turn the island into a nuclear missile base.
The strongest argument against the opening is that it violated the laws of power. The United States gave a lot and got very little:
"Obama says yes, yes to everything: an embassy, an ambassador, diplomatic relations, travel and exchange, status among nations, removal from the list of state sponsors of terror, and a serious opportunity to lessen the embargo that has kept the dictators caged for decades," complained the Free Beacon's Matt Continetti. "In return, the Castro brothers give up ... well, what?"
"This isn't giving away the store. This is giving away the shopping mall, town center, enterprise zone. And it is entirely in character with President Obama's foreign policy," he wrote.
But the logic on which Obama was elected is: Who cares? The stakes in a tiny, poor, and autocratic island in a region of dysfunctional states are extremely low for the United States, if high for Cubans and for the people whose property Castro confiscated. The logic of the conflict is rooted entirely in the past. And so Obama didn't play hardball; he simply turned the page, and delivered on the generational promise that got him elected in the first place.
Obama is "very, very satisfied" with his recent policy moves, Axelrod said, pointing in particular to the regularization of millions of undocumented immigrants, the climate deal with China, and the Cuba opening. Obama, he said, "can sense the clock ticking."
The president, Axelrod said, is focused on spending his last two years resolving "the big generational issues" that have been, like Cuba and like immigration, simply stuck for decades.
And then Obama will, likely as not, turn power back over to the generation before his. Indeed, the most surprising thing about the current field of candidates may not be that the country would choose the heir to the Clinton or Bush dynasty, but that voters would hand power back over to the baby boomers whom Obama convinced them to throw out.