Obama's 2008 Donors Don't Give In 2012
Nearly 90% of the Americans who gave $200 to Obama's 2008 campaign haven't re-upped this year. Disillusionment, and hard times: "I wish he was the socialist they accused him of being," says one.
In 2008, more than 550,000 gave more than $200 to Barack Obama, entering their names in the longest list of individual donors ever seen in American politics.
That list was a snapshot of the hope Obama inspired in a cross sections of liberals, young professionals, African-Americans, and Democrats who saw in him a generational and historic moment. But now, as Obama struggles to keep pace with his 2008 fundraising clip, that list offers a cross-section of Democratic disappointment and alienation. According to a BuzzFeed analysis of campaign finance data, 88% of the people who gave $200 or more in 2008 — 537,806 people — have not yet given that sum this year. And this drop-off isn't simply an artifact of timing. A full 87% of the people who gave $200 — the sum that triggers an itemized report to the Federal Elections Commission — through April of 2008, 182,078 people, had not contributed by the end of last month.
Interviews with dozens of those drop-off donors reveal the stories of Democrats who still plan to pull the lever for the president, but whose support has gone from fervent to lukewarm, or whose economic circumstances have left them without money to spare. The interviews and the data are the substance of an "enthusiasm gap" spurred by the distance between the promise of the campaign and the reality of governing, one that has begun to deepen Democratic gloom about this November's election.
"Where's the change I can believe in?" asked Lisa Pike, a 55-year-old from Williamsburg, Va. with a small medical transcription business who gave $658 in 2008. She said she is not planning on contributing this time around. "I wish he was the socialist they accused him of being. I wish we had the tons of change that would justify the right freaking out. I wish him well — I don't dislike him personally — but I'm disappointed that he's not the change-agent I had hoped for."
An Obama campaign spokeswoman, Katie Hogan, disputed BuzzFeed's analysis with the statistics, noting that 98% of its donors have given less than the $200 threshold this year and that the campaign is ahead of its 2008 pace. But Obama is now operating with the technical advantages of a permanent campaign, including history's largest email list, and the political advantages of incumbency, which traditionally draws business interests and favor-seekers to the candidate. Aides have long anticipated that muscle and technical prowess, combined with fear of a Republican takeover, will replace inspiration in keeping the campaign fundraising on track.
Former donors' complaints vary — healthcare, the economy, and Congressional deadlock rank high — but many of Obama's once die-hard supporters share a disappointment born of high expectations. Indeed, Obama's core supporters in the 2008 Democratic primary were liberals suspicious of Hillary Clinton's association with a moderate "New Democrat" past and her support for the Iraq war. They backed the Illinois Democrat despite his own relatively centrist platform, but were disappointed when he stuck to it. Several cited Obama's failure to include a single payer option in his health care bill, as well as general willingness to bend to Republican wishes as being central to their disappointment with the President.
"Mostly, the thing is we want more," said Kirsten Leitzinger of Rebersburg, Pa. She and her husband, Robert, a race car driver, contributed $1,250 in 2008 and still plan on voting for Obama this time around, but had also expected a more expansive health care bill. They have not yet decided whether they will contribute to his campaign this year; his presidency has left them with expectations and dreams unfulfilled.
"We were a little upset about healthcare. I really, really wanted that public option," Mrs. Leitzinger said.
"I'm looking around here for leadership, and it didn't happen," said Elizabeth Hollins. She and her husband Danforth have retired to Williamsburg, Va., and together contributed $2,450 to Obama in 2008. Hollins used to consider herself to be a diehard Obama supporter, but this year, she said, she is not as convicted in her backing.
"I was excited about him. I walked door to door," she recalled of 2008. "But I haven't been thrilled. Am I going to vote for Romney? No. But I want to be excited about my president."
"We are waiting to see more of the leadership we had hoped for before we fork over all of our money," Hollins said.
Obama's campaign elided the inevitability of Capitol Hill compromise. In 2008, that provoked intense frustration from the practical-minded Clinton, who at one point parodied Obama's appeal as "Let's just get everybody together. Let's get unified. The sky will open. The light will come down. Celestial choirs will be singing and everyone will know we should do the right thing and the world will be perfect.'"
"None of the problems we face will be easily solved," she warned in Providence, R.I., that February.
Her warning didn't derail Obama's campaign, but her objections appear to ring truer now than they did then to Democrats, and health care isn't the only issue on which it's played.
Compromise on another issue has alienated John Meidlinger, 61, who is a clinical psychologist from Grand Island, Neb. He gave $250 in September of '08. From his perspective, "The biggest deficiency is that he hasn't done more to regulate the banks. He should be more of a populist," Meidlinger said.
Yet another hope that Obama never explicitly made became a sticking point for Sandra McCauley, a retired family counselor from Jeffersonville, Ind. who gave $400 in 2008.
"I'd like to see us out of Afghanistan," she said.
"I didn't feel good that what I expected wasn't done," said Prashant Kothari, 65, an anesthesiologist from Tiffin, Ohio who gave $500 in 2008. "The promises during the campaign didn't materialize."
"I still think the world of President Obama and I was just so happy when he was elected," said Sandra Elkin of Chillicothe, Ohio. Elkin, 70, is retired but spends her time doing accounting work for her husband's real estate firm, and gave $250 in 2008. "I've just been a little disappointed in things, that's all. That's why I haven't contributed."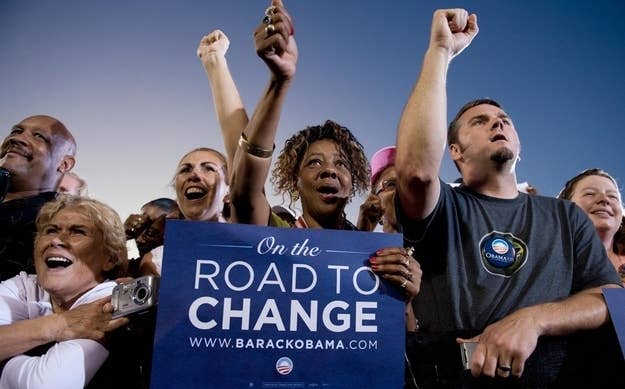 But Obama's policies are not the only reason why families like the Elkins have not contributed to the campaign this year, however.
"Our finances have changed a little bit," Elkin said.
Obama raised most of his money before the 2008 financial crash that sent the global economy into a spiral from which it hasn't fully recovered. Unemployment stood at 4.9% when Iowa Democrats chose him on January 3, 2008. It ticked back up to 8.1% this April.
"Financially, I had more money back then than I do today," said Greg Holmes, who works in the technology sector in Cedar Park, Texas, and gave $550 last cycle. "I'll vote for him, but I probably won't give any money."
"I don't have as much money," said Ann Walling, a retired Episcopal priest from Franklin, Tenn. who donated $1,900 to Obama in '08. Money aside though, Walling is still pledging her vote to Obama. "For the most part I'm very happy with him," she said.
"I've had to kind of back off my charity giving," said Leah Jones, a retired clinical microbiologist from Langdon, Kan., who gave $1,200 last cycle but said she's been driven to the financial brink by a son's illness, and hasn't even paid her income taxes yet.
"I've been really anxious to see where we're going to go on the health care plan under Obama," Jones said. "I need to be able to get insurance for my son with his preexisting conditions."
However, if Jones can get the medical bills paid, she said that she will try to give at least a little to Obama's campaign. Regardless, Obama can count on her vote.
Other former donors told BuzzFeed they remain loyal to the president, but feel less urgency in giving to a powerful incumbent than to an upstart candidate.
"Obama's got twice as much as Romney, and you're thinking: Why do I want to give 1,000 or 2,000 bucks if he's so fat with money?" asked Lyle Ackerman, a retiree in Janesville, Wis., who gave a total of $1,016 to Obama over the 2008 election cycle.
"I haven't given because I know he's got plenty of money this year, and he doesn't need mine. He'll get my vote," said Margaret Jones, a 69-year-old part time actor from Williamsburg, Va. Jones just auditioned for Roger Miller's musical adaptation of Huckleberry Finn, Big River.
Others said that a flood of big corporate cash permitted by the Supreme Court's Citizens United had persuaded them that small donations are meaningless.
"Citizens United now makes a farce of any puny amount I could give. Why would I waste my money to try to compete with the people who can throw half a billion at Newt Gingrich just in case?" Pike asks. "I will certainly vote for Obama, but that court decision has turned things on its head since 2008."
And some liberal donors believe their modest contributions will have more impact elsewhere. Ackerman said he's focused on the campaign to recall Wisconsin Governor Scott Walker.
Obama is "not liberal enough," said Karen Herwig, a retired nurse from West Des Moines, Iowa who donated $500 in the '08 cycle. "I'm making a lot of contributions to people through Emily's List, Act Blue, to Sherrod Brown."
The Obama campaign notes that many of the donors have given too little to be listed in the campaign finance reports and simply haven't yet crossed threshold for disclosure.
Hogan, the Obama campaign deputy press secretary, stressed that it's early yet. Though she declined to give a specific number of donors, she said that 98% of Obama's donors don't appear in the itemized reports; those people may well be tempted to give again and again, and to reappear as large and midsize donors. And there are more of them than there were at this point in 2008.
"We hit one million donors six months faster than last time, and hit two million donors four months faster than last time," Hogan said. "To outpace ourselves from the most unprecedented campaign in history…that's incredible."
The comparison, however, is inexact. In 2008, Obama started from scratch. He started this cycle with a list of more than 3.95 million donors and an email list more than 10 million names long.
But some of the drop-off donors contacted by BuzzFeed say they do plan to give money, something that an increasingly intense general election campaign may spur.
"I am pleased with everything and I think he's doing the best he can given the situation he's been placed in mostly by the Republicans," said Vicki Gehman, who is retired and lives in Newberry, Fla. "I am going to be donating, most definitely. And I probably will be working in the office here to help campaign."
"He's still my man for sure," said Dale Thompson, 64, a farmer from Rippey, Iowa whose farm grows corn and soybeans, as well as supports a Black Angus beef cattle herd. "I still support him 100%, I just haven't done it monetarily I guess yet."
"I've not made donations to any side in this election cycle yet, but that's probably more just because I've been busy and haven't been engaged in the campaign yet," said Scott Ostdiek, 47, a physician from Tempe, Ariz. "The difference for me versus four years ago is there was an active primary campaign going on."
And while Obama has lost 537,806 of those $200-plus supporters, he has gained some new ones: 104,138 of them, through the end of April.
The missing donors appear, in their raw numbers and in interviews, to be a living illustration of the enthusiasm gap. It should not, however, be mistaken for some sort of mass defection of the Democratic base; former Obama donors are not a group for whom Mitt Romney holds any appeal. And indeed, even those who are disappointed in elements of Obama's presidency went out of their way to say they appreciate the First Family.
"If I could race out and vote for Michelle Obama, I'd do it in a heartbeat," chuckled Hollins, the Virginia retiree. "She's a class act."
(With data analysis by Ky Harlin)