Obama Will Keep His "Heat Shield"
Eric Holder is the Obama Administration's indispensable man.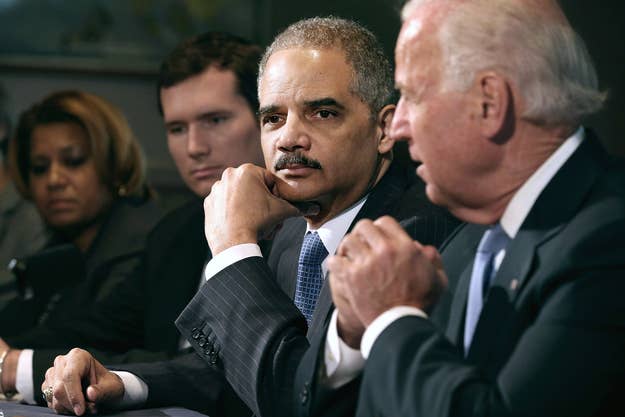 Eric Holder may be the least popular member of the Obama cabinet. He is at the center of many of the Administration's ugliest fights with left and right, over everything from drones to race. He has a special way of looking pained in nearly every photograph. But as President Obama's second-term cabinet takes shape, the biggest news may be that Holder, the single most politically important member of the cabinet, will stay for a second term.
Holder, whose position is formally less political than any other in the cabinet, is a vital political figure in the Obama Administration for three reasons. First, he has, without major exceptions, backed the president's views on executive power. Second, he has owned and absorbed the flak for many of the Administration's most politically challenging battles, from racially-charged fights over voting rights to the battle over so called "gunwalking" on the Mexican border. The third reason is simple: He has not led any politically damaging investigations into the Obama Administration.
In choosing Holder, a well-respected but low-profile Washington lawyer and former Deputy Attorney General who joined his presidential campaign early, Obama chose trust over symbolism. The Attorney General wields immense and independent power. A high-profile political figure chosen, like most Cabinet secretaries, for traditional reasons of politics, may act independently and do the president real harm. Some presidents have responded to that concern by appointing loyalists — in John F. Kennedy's case, his brother. Others, like the Bush Administration, have at times actively meddled in the Justice Department. The Holder model appears to be different. He carries no brief for Obama's staff, and has clashed with the likes of David Axelrod and Rahm Emanuel. But he is extremely close to the president.
"Holder is not a lackey in the mold of Bush '43 A.G. Alberto Gonzales," said Lloyd Green, a New York lawyer who was an aide to President George H.W. Bush. "But, Holder lacks the independence of Bush A.G. John Ashcroft and the professionalism of Holder's immediate predecessor, former federal judge Michael Mukasey. Holder is and remains very much about politics."
Holder has been with the White House on key questions, regardless of the ideological underpinnings: He has supported the legality of drone strikes and the raid on Osama bin Laden. He has also been the face of the high-profile fights over voting rights and Arizona's immigration law, both of which were key to mobilizing minority voters in the 2012 election. He did break with the White House once, ignoring Rahm Emanuel's eagerness to move forward and instead taking steps to investigate torture under the previous administration.
"One thing that people never understood about Holder's importance in this administration is how he has absorbed so many attacks that could otherwise land in the White House," said one former administration official who admires the Attorney General, and noted that the Justice Department dealt with such politically unpalatable questions as the Guantanamo Bay detention center and detainee trials. "Think of the three issues he's taken the most heat on: terrorism (KSM), race (Black Panther controversy, voting rights), and guns (Fast and Furious). Those are some of the most polarizing issues in politics, and he's been a heat shield on all of them."
"He's got the scars to show for it, but it's better to have a Cabinet official take those hits than have them land on the president. After all, the Attorney General's not on the ballot," the former official said.
All this means that conservatives who have tangled with the Obama Administration on legal issues carry a special grudge against Holder.
"President Obama probably could not have found a more pliant attorney general," said Judicial Watch President Tom Fitton, who accused Holder of looking the other way on Administration scandals.
Holder's return for the second term means that, in the eyes of the White House, he's done his job; even that he's indispensable. He's endured Congressional demands for his head. He also reportedly considered resigning in 2010, but Valerie Jarrett, another Obama intimate, reportedly told him that "this will not be good for you and it will not be good for your friend, the president."
What he has not yet endured, though, is an Administration scandal so clear, so extended, and so close to the top that it will set his loyalty and his responsibility directly at odds.
But he may get that chance. They say all the good scandals come in the second term.