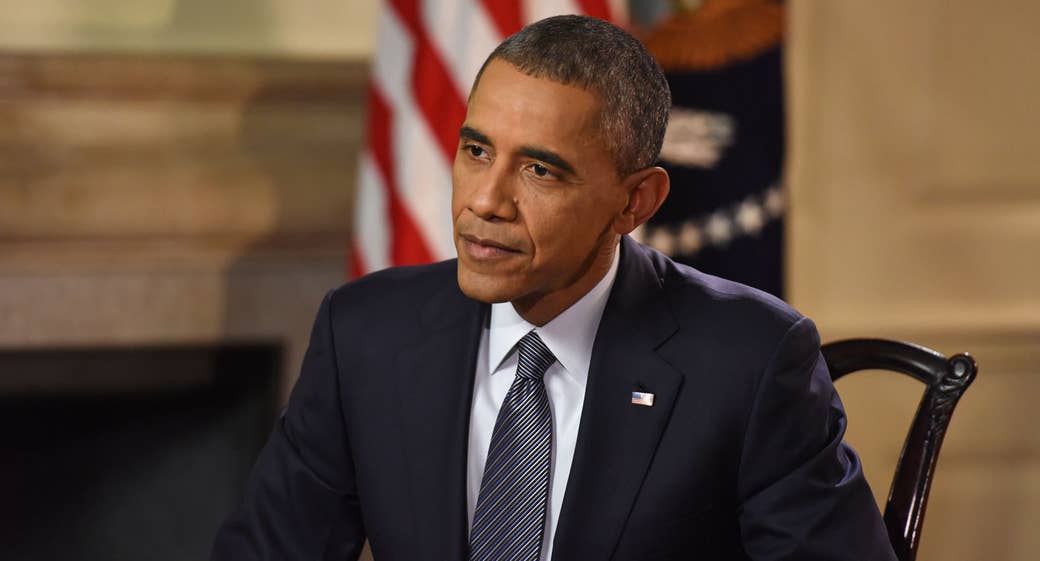 WASHINGTON — President Obama Tuesday welcomed the Supreme Court's signals that marriage equality is on the verge of becoming the law of the land, adding that he expected local Alabama officials resisting the shift to be swept aside by federal courts.
The Supreme Court Monday morning refused to put on hold a federal court ruling striking down Alabama's ban on same-sex couples' marriages while the ruling is appealed, with Justice Clarence Thomas making clear in a dissent that the court's action would be seen as a sign the court will soon rule that the Constitution requires equal marriage rights for same-sex couples.
"My sense is that the Supreme Court is about to make a shift, one that I welcome, which is to recognize that — having hit a critical mass of states that have recognized same-sex marriage — it doesn't make sense for us to now have this patchwork system," Obama said in an interview with BuzzFeed News. "It's time to recognize that under the equal protection clause of the United States [Constitution], same-sex couples should have the same rights as anybody else."
Obama's comments came on the second day in which same-sex couples were marrying in Alabama, the 38th state to allow same-sex couples to marry.
While Alabama Supreme Court Chief Justice Roy Moore has resisted the U.S. Supreme Court's direction — going so far as to order probate judges on Feb. 8 not to issue marriage licenses to same-sex couples — several judges began issuing licenses anyway Monday morning. Moore's order, and several probate judges' own views of the law or marriage, have kept more than half of the counties from issuing licenses, but same-sex couples are marrying in three of the state's four biggest counties — Jefferson, Madison, and Montgomery Counties. The fourth, Mobile County, is the subject of a Thursday hearing before the federal judge who has already ruled that the marriage ban is unconstitutional.
And while Moore doubled down Tuesday, telling Bloomberg Politics he would go to jail over the issue, Alabama Gov. Robert Bentley distanced himself from Moore, telling the Associated Press that he is "trying to move this state forward" and "do[esn't] want Alabama to be seen as it was 50 years ago when a federal law was defied."
In the interview, Obama said comparisons to Alabama's civil rights past — Gov. George Wallace infamously blocked the door of Foster Auditorium at the University of Alabama on June 11, 1963 — aren't exact, but that the same legal principle is involved.
"I won't say it's a perfect analogy, but there's a core principle here that's at stake, which is we have a supremacy clause in our Constitution," Obama said in response to a question about Wallace. "When federal law is in conflict with state law, federal law wins out."
Obama also dismissed Moore's attempts to foil the various federal courts' moves, invoking Moore's last high-profile clash with federal law over his efforts to bring a religious monument into the state supreme court building. That dispute ended with his removal from the bench.
"My recollection is that Judge Moore had a similar problem with a federal court ruling that you couldn't put a huge Ten Commandments statue in the middle of your courthouse and, ultimately, federal law was obeyed, and I think that the same thing will end up happening here," Obama said. "I think that the courts at the federal level will have something to say to him."