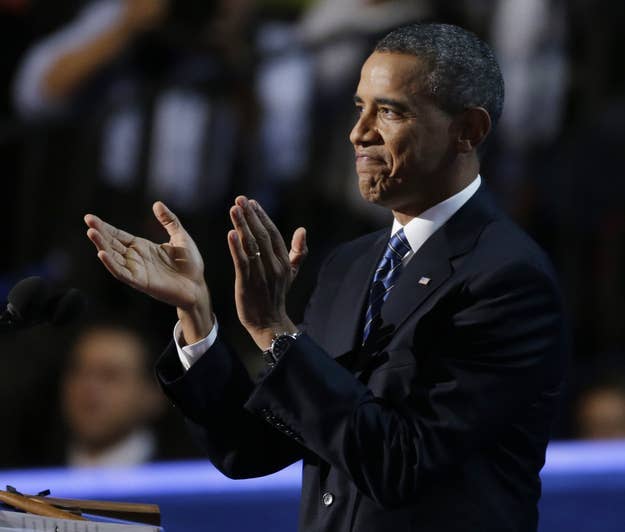 CHARLOTTE, NC — Barack Obama leaves the Democratic National Convention here with a commanding position in the race for president, leaving his Republican foe to hope that a meticulously staged three-day campaign event cannot overshadow a weak American economy.
The Democratic National Convention, energized by party soldiers' genuine affection for the first black president, accomplished what a cooler, well-staged Republican National Convention in Tampa did not: It broke through. Bill Clinton's discursive, 50-minute Wednesday speech was watched by more people than the Cowboys-Giants game.
And the president used Clinton's base to lean into his second term with a workmanlike and programmatic speech, and to offer the contrast and the detail that will be the focus of the fall campaign.
"You will face the clearest choice of any time in a generation," Obama said of the November election. "Over the next few years, big decisions will be made in Washington, on jobs and the economy; taxes and deficits; energy and education; war and peace – decisions that will have a huge impact on our lives and our children's lives for decades to come."
The convention's momentum, and Obama's address, left members of his party more confident of his reelection than they have been at any time since the summer of 2009. It was a dynamic that left many Democrats, who had expected Obama to spend the summer and fall battling desperately against poor economic indicators, marveling at the progress of his campaign.
"In this economy, the incumbent should be on the defensive. The challenger should be attacking and explaining how he would clean up the mess," said Harrison Hickman, a Democratic pollster. "This year it's just the opposite. Romney is unable to define himself because he spends all his time defending the House Republicans and, silently, the Bush administration. It's the worst possible position for a challenger."
Obama's path out of Charlotte is crystal clear. He is now running on a detailed plan for the next four years, a classically political document dominated by modest-sized (dare we say Clintonian?) initiatives carefully targeted at key groups of voters — like manufacturers, autoworkers, and the energy workers — organized in the states he needs to carry this fall. He has found, in Clinton, a defense against Mitt Romney's charge, that in an alteration of welfare policy he'd broken with Clinton's own legacy.
Romney's tactical path is far less obvious.
"At this point Romney would have to change the basic contours of the race to win," said Jim Jordan, a Democratic political consultant.
The Republican spent much of the summer trying to talk about the weak economy, and losing day after day to distractions ranging from his tax returns to outlandish statements by House Republicans to an extended defense of his running mate's views on Medicare.
The effective Democratic convention, senior figures in both parties said, leaves Romney only one path: To hammer the economy and to make sure that this time, his message breaks through, something his campaign did with a statement released while Obama was speaking: "Tonight President Obama laid out the choice in this election, making the case for more of the same policies that haven't worked for the past four years."
Romney's allies (and a Republicans political class that can barely be counted that way) argued that he needs to break through to a conversation — and an accounting of blame — for an economy that has yet to rebound fully from the financial crisis of 2008.
"The Romney plan was to win because of the economy," said John Weaver, the chief strategist of Jon Huntsman's primary campaign. "Well, that is all he has now. Unless you want to bet the ranch on three debates."
The debates, however, are now Romney's best chance to change and reclaim the race in which a large majority of Americans continue to say that the country is on the wrong track. "He has to win the first debate by explaining that he, not Obama, is real change," said the Republican consultant Alex Castellanos, who advised Romney in 2008 and has a chilly relationship with some of his current aides.
Almost universal, in the face of public polling suggesting Romney trails in most swing states even before an expected "bounce" after the Democrats' convention, was the acknowledgement that Romney is now fighting from behind.
Republican consultant Curt Anderson said he didn't think the convention would have much impact, and that most of his friends had watched football. But he said Romney is now clearly fighting from behind.
"We are down by a field goal going into the fourth quarter," Anderson said.