Obama Aide's Gambling Gig Makes Trouble In London
"Awkward timing," says the Times.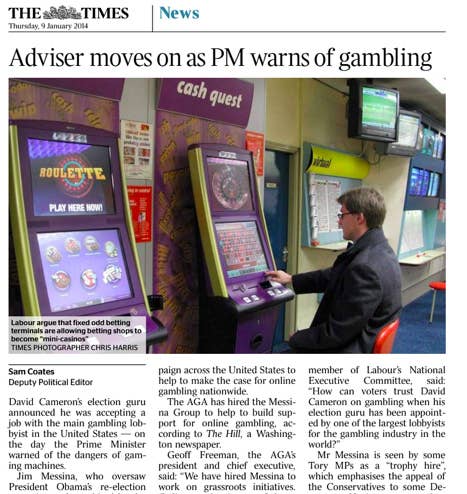 President Obama's 2012 campaign manager Jim Messina found himself the subject of unwelcome attention in the British press Thursday after he picked up a contract on behalf of the gambling industry — an industry that Prime Minister David Cameron, a marquee Messina client, is trying to regulate.
The American Gaming Association announced this week that it had hired Messina amid its campaign to prevent tighter federal regulation of online gambling.
Messina's hire comes as Cameron announced a plan to crack down on the "crack cocaine" of slot machines.
The Times of London Thursday noted the hire under the headline, "Tory adviser takes gaming job as PM warns of '£100 a go' machines." (The article is behind a pay wall.) It called the move "awkward timing."
"How can voters trust David Cameron on gambling when his electoin guru has been appointed by one of the largest lobbyings for the gambling industry in the world?" a Labour Party member of parliament, Jon Ashworth, asked the Times.