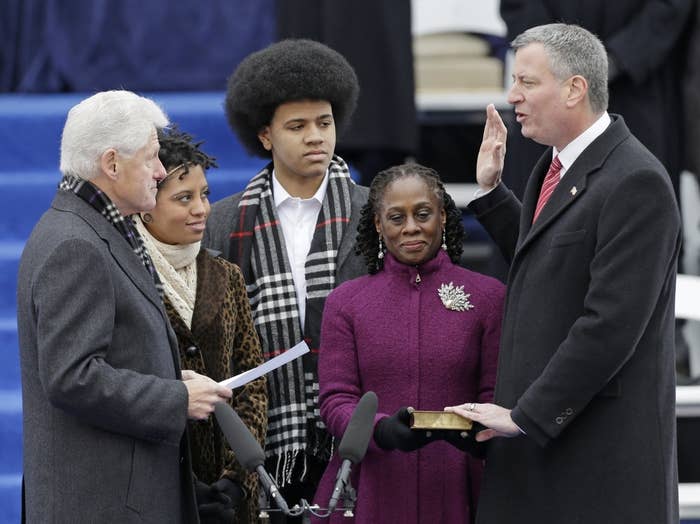 President Barack Obama confirmed his progressive supporters' worst fears five years ago when his staff released the name of the minister who would consecrate his inauguration: Rev. Rick Warren, a megachurch pastor who represents a strain of conservative evangelism open to working with a Democratic administration — but which is also deeply opposed to, among other things, marriage equality.
Bill de Blasio used his inauguration Wednesday to send the opposite message. His opening speaker, Harry Belafonte, is a rare figure of American radicalism whose stature and talent have carried him unreconstructed into the second decade of the 21st century. He denounced Mike Bloomberg's New York as "Dickensian" as the outgoing mayor sat by, stonefaced. The chaplain for the Department of Sanitation, Fred Lucas, then described the city as a "plantation." (It isn't entirely clear whether Lucas meant to invoke slavery with the word.)
This is not some kind of departure for de Blasio: Belafonte is a popular figure in a liberal city, a revered figure in part of it, and he was a staunch and visible campaign supporter. The message of economic and racial inequality was at the core of de Blasio's campaign; his most ambitious policy proposals are about taxing the rich to pay for preschool and his successful choice to run as the clear progressive option.
The mayor's speech was equally clear: He used the word "progressive" seven times ("New York" got eight mentions). He invoked the Occupy phrase, the "1 percent." And he did in his inauguration what Obama didn't: He promised to stay true to his detailed and ideological agenda.
"I know there are those who think that what I said during the campaign was just rhetoric, just political talk in the interest of getting elected. There are some who think now, as we turn to governing, well, things will continue pretty much like they always have," the new mayor said. "So let me be clear. When I said we would take dead aim at the Tale of Two Cities, I meant it. And we will do it."
De Blasio devoted far less of his energy and stagecraft to what Obama spent his early first term fruitlessly focused on: reaching out to his enemies and critics. De Blasio offered generous words but more careful, limited praise to Bloomberg on matters of public health and environmental protection.
His inauguration thrilled the progressives who supported him and worked for him, and who will rally around him — and, his allies hope, enforce a rare kind of discipline — in his agenda. It grated visibly not just on Bloomberg but on some of the white Democrats from southern Brooklyn, eastern Queens, and Staten Island who had been at the core of the two previous mayors' coalitions in this very tribal city, like one Democratic district leader from Bensonhurst:

Former President Bill Clinton, introducing de Blasio, offered a glimpse at the other path: Bloomberg "leaves the city stronger and healthier than he found it," he said, speaking of the value of "shared" commitment from rich and poor and shared economic ends of growth and equality. "We are interdependent," Clinton said. "We cannot move forward if we don't do it together."
A de Blasio aide dismissed the idea that his inauguration was shadowed by Obama's, or by the common progressive critique of Obama's first term — that he lost his base, and gained little, by reaching to the center, and that he tried to court rather than forcing compromise.
But the inauguration sent that clear signal: de Blasio will demand, not request, the support of his natural enemies — the finance industry; some real estate developers; veterans of the Bloomberg administration. Bloomberg's top political aide, Howard Wolfson, retweeted an Israeli journalist's take:
But de Blasio, in showing a willingness to make and keep enemies, revealed a political priority: keeping his friends. This is a long debate in American politics, and many progressives wish Obama had acted more like George W. Bush, showing and demanding constant loyalty from his base. De Blasio's strength is the passion he brought out from the multi-racial coalition of liberals and of poorer New Yorkers who voted for him. His inauguration is a signal that he'll expect that the people who represent him — local politicians, and New York's labor and ideological groups — return the loyalty that he shows for them: that they will accept his priorities, keep their own ranks in line.