Murdoch Dissatisfied With "Weak" Romney, Allies Say
Before venting on Twitter, the News Corp. chairman grumbled behind the scenes. A particular irritant: Immigration.

Rupert Murdoch's vote of no confidence in Mitt Romney's campaign for president is the latest sign, three people who speak to Murdoch told BuzzFeed, that the most powerful man in conservative media thinks the Republican nominee is too weak to win.
"Met Romney last week," Murdoch tweeted at 7:32 Sunday morning. Obama's "tough …Chicago pros will be hard to beat unless [Romney] drops friends from team and hires some real pros. Doubtful."
The tweet wasn't the first sign that Murdoch is unimpressed with the former Massachusetts governor. The chairman of News Corp., who gave maximum contributions to Hillary Clinton in 2007 and John McCain in 2008, has not given a dime to either of Romney's presidential campaigns. His cherished New York Post has taken unexpected shots at the Republican. Allies say he was simply giving public voice to concerns about Romney's politics and policy that are common knowledge in his circle.
"He and others in business world don't think [Romney] can win," a Murdoch confidant said Sunday. "They also don't think he is authentic. They want [Obama] out, but Mitt does not present a compelling alternative."
Murdoch first expressed his skepticism at the Republican's character back in February, as Romney's course to the nomination became clear: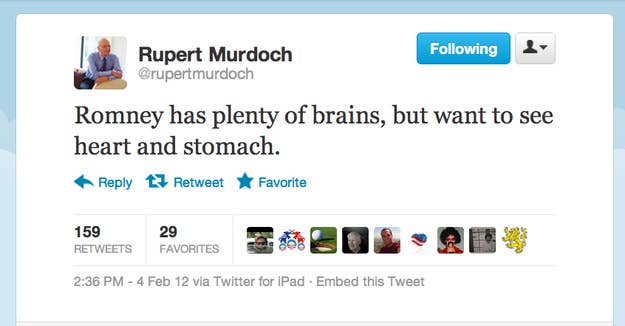 Asked Sunday about that February view, he elaborated that his skepticism was linked, in particular, to Romney's hard line on immigration: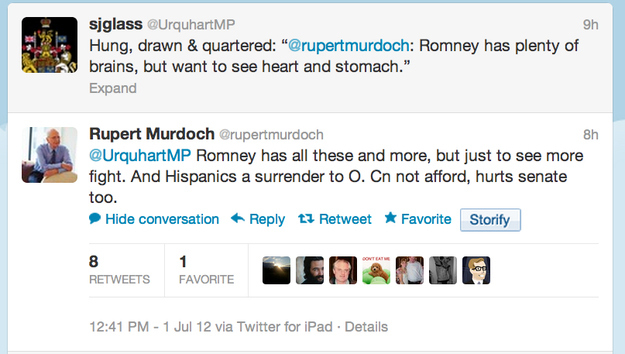 People close to Murdoch say the media baron has expressed disdain for what he sees as weakness — a quality that emerges, in particular, where Romney has sought to project strength to the conservative Republican base. Murdoch is a rare hybrid, an old-fashioned Chamber of Commerce Republican armed with the brass knuckles of any Tea Party brawler. The American politician to whom he is closest is New York City Mayor Michael Bloomberg, who prides himself on simply ignoring criticism of unpopular policy moves.
And Romney's rightward tack on immigration was, allies say, a particular signal of a kind of what Murdoch — who has been a vocal advocate of increased immigration and legalization for illegal immigrants — considers a fatal lack of courage.
"He thinks Romney is as lame as everyone else," a second person who speaks to Murdoch said.
News Corp. insiders point out that the New York Post, the raucous conservative tabloid which sometimes serves as a particularly personal outlet for its proprietor, has at times been surprisingly hard on the Republican candidate. Post business writer Josh Kosman has repeatedly offered unsympathetic takes on Romney's career in finance, with one article on Bain's role in corporate bankruptcies concluding, "[T]here's little question he made a fortune from businesses he helped destroy."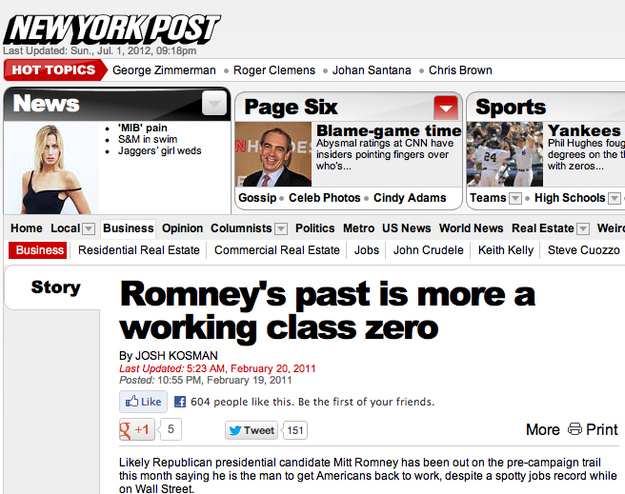 Another factor in the chilly relations between the men may be Romney's biography and business career. Murdoch's fortune was built on the populist, outsider crusades of his newspapers and (like Bloomberg's) on a risky entrepreneurial gambles. (He's currently battling a British investigation of his newspapers, and splitting his company in two.) Romney was born to power and ascended inside the establishment; his personal reputation is for caution.
Murdoch "has always thought of himself as a man of the people – that's what motivates Fox News," said Paul Levinson, a Professor of Communication and Media Studies at Fordham University in New York and longtime observer of the cable channel. "What Murdoch is doing is drawing attention to Romney's elitist mien and attitude, and that's reflected in his friend and most of the team around him."
The contrast with Obama's hardened Chicago hands seems, Levinson noted, particularly out of sync with Republican talking points: "The Republican line is that Obama is totally out of touch."
The gleeful Sunday morning tweets — paired with an assault on Scientology and a range of cheerful comments on the future of the Wall Street Journal — prompted an immediate surge of speculation as to what Murdoch's real game could be. One top Washington Republican suggested that Murdoch was simply inoculating his "fair and balanced" conservative television network, Fox News, against any suggestion that it might be campaigning for Romney.
But current and former News Corp. officials warned against reading any ulterior motives into their boss's blunt tweets.
"I would take it at face value," said a staffer. "I don't know that he dislikes Mitt; I'm sure he wants him to win. But he's not the only one who has some doubts about Romney and his team's ability to play the kind of hardball against Obama and the Democrats that the fall campaign is certain to see."
Murdoch's views of Romney have not, however, filtered down to Fox News, by far his most important American outlet and one whose chairman, Roger Ailes, has reportedly not always seen eye-to-eye with his boss. Twitter, indeed, may offer Murdoch a way around Ailes, and his tweets were hardly those of a politically-sensitive businessman who thinks he's dealing with the next president.
Spokespeople for New Corp., Jack Horner, and Romney, Eric Fehrnstrom, did not respond to inquiries about Murdoch's tweets. Murdoch, who did respond to several Twitter users, also ignored an inquiry from BuzzFeed: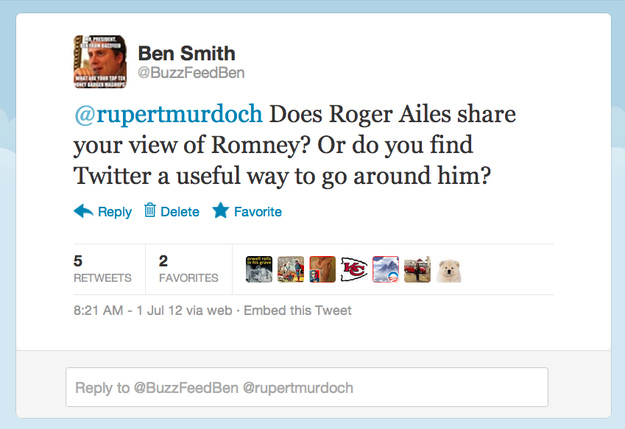 UPDATE: Murdoch offered an answer to Romney complaints Monday morning.