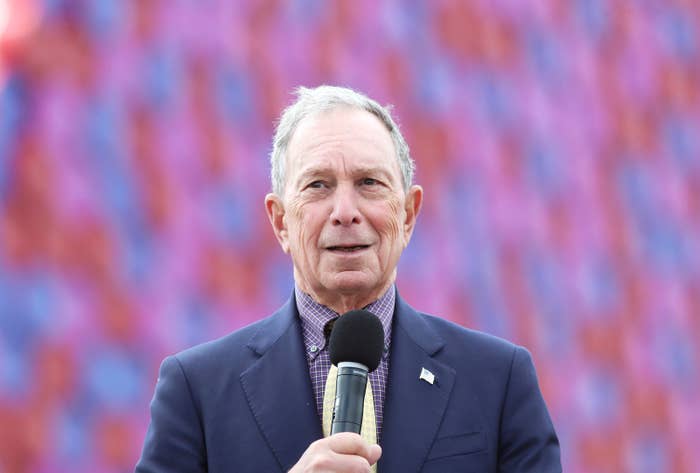 I regret to inform you that Mike Bloomberg is at it again.
Bloomberg is floating a run for president, for the third time, an exercise that often puzzles the Americans who become aware of it. In this divisive, divided time, is anyone begging for a low-profile technocratic leadership?
This is, at least, the operating theory at the eco-friendly Upper East Side mansion that houses Bloomberg's foundation: that there's space for a Democrat who wants to make America boring again. A candidate whose social media policy is "never tweet," and whose government would be so drama-free that Americans of all political stripes (except, perhaps, lovers of assault weapons and Big Gulp sodas) could go back to liking football.
"Elections are about swings," Bloomberg's longtime political aide and pot-stirrer, Kevin Sheekey, told me Monday. "About time we swing to boring with someone who can rise above the fray to chart a path forward toward greater national unity and mutual understanding."
As someone who has covered Bloomberg noncampaigns for president since 2008, this is how those noncampaigns work.
First, Sheekey describes the logic of such a campaign, in terms like the above — interesting enough to think it over.
Second, Bloomberg pays the tolls that get him past the gate. In years past, that meant putting in place a shadow operation that could get a third-party candidate on the ballot — prohibitive for any normal campaign, merely expensive for Mike. This year, in a throwback to his entry into New York City public life 20 years ago, it means writing big checks for one political party: $80 million to support House Democrats, and win the eternal gratitude of Nancy Pelosi and other House leaders; and $20 million straight to Chuck Schumer's favorite super PAC.
Fundraising on that scale isn't easy, and it is party leaders' top priority this time of year. They are duly grateful when tens of millions of dollars drop from the sky, and Pelosi showered praise on the former mayor at a (Bloomberg-sponsored) climate summit last month:
"He understands the public sector, the private sector, and the nonprofit sector, and how to harness the power of all three to drive progress," Pelosi said in an extended riff. "As mayor of New York, he advanced cutting-edge initiatives that slashed emissions and that set the gold standard for our nation. As a business leader, he appreciates the power of private capital to combat the global climate crisis. As a philanthropist, his generosity has been a magnet for other philanthropists, to inform the public of what the climate crisis means to them in their lives. As an author and producer, he is building public support for action and bringing the crisis to the forefront of our national and global conversation."
And his political operation, led by a former top aide to Clintons and House Democrats, Howard Wolfson, is working closely with the outside groups that make up much of the party's electoral infrastructure, including Pelosi's House Majority PAC, Planned Parenthood, and EMILY's List.
Bloomberg rented the Republican line to win in New York, but his politics were mostly comfortably Democratic long before he changed his affiliation to independent in 2007 and later spoke at Hillary Clinton's 2016 convention. He favors abortion rights and an activist government. He has invested most heavily in the issues of climate change and gun control — the latter of which sits neatly outside the Democratic Party's bitter internal ideological wars, but is one of the party's central causes.
"Republicans, who control both houses of Congress, have done little to reach across the aisle to craft bipartisan solutions — not only on guns and climate change, but also on jobs, immigration, health care, and infrastructure. As a result, Congress has accomplished very little," Bloomberg said in the statement in June announcing his new spending for Democrats. "In addition, and no less troubling, Congress has essentially stopped acting as a co-equal branch of government, by failing to engage in the kind of oversight of the law that the Constitution requires and the public expects.
"In fairness, some Republicans have taken their constitutional and legislative responsibilities seriously, like my friend John McCain. But too many have been absolutely feckless, including — most disappointingly — the House leadership."
There are many reasons to dismiss Bloomberg's run. He'd be running straight into the teeth of conventional political wisdom about this incendiary moment. He represents the Democratic Party's single worst demographic group — older white men. He has deep ties to what used to be thought of as the moderate wing of the New York Republican Party, from Rudy Giuliani, who blessed his first campaign, to the Long Island Republican Peter King, whom he still supports.
He'd be 78 on Election Day. Even the very rich don't seem, yet, to have solved mortality.
And if the #MeToo social revolution was hostile to his recent, mild defense of Charlie Rose, the sexism allegations and settlements he weathered during his 2001 mayoral campaign could easily scuttle a 2020 run.
But what of Sheekey's core contention, that the antidote Americans are seeking to Trump is less ideological than stylistic, and that there's a market for dull technocracy? Democrats running for president are already racing to the left, and to stand out with moments of drama. Will there be a lane for a low-key centrist? It won't get a lot of retweets, but if Bloomberg doesn't try it, someone else will, perhaps a Western governor like John Hickenlooper, Steve Bullock, or Jay Inslee.
Successful presidential campaigns, though, usually frustrate purists and simple ideas about "lanes": The true political geniuses build coalitions, and reject the idea of a single path. Obama, for instance, pulled together black voters and white progressives, over the objections of purists in each group.
And in a moment when the voices of women seem likely to be heard most clearly in the Democratic Party, that logic leads to a woman who can also promise an end to the national sense of crisis and drama. The Democratic Party hasn't managed to elect many women to the technocratic executive jobs — governorships — from which those (boring!) campaigns are most often run, though Gina Raimondo in Rhode Island is sometimes mentioned, and Stacey Abrams could do it if she wins in Georgia and doesn't pause for breath. That may well leave the boring path open to one of the strong women in the Senate, though it may be tough to choose to be boring in 2018.