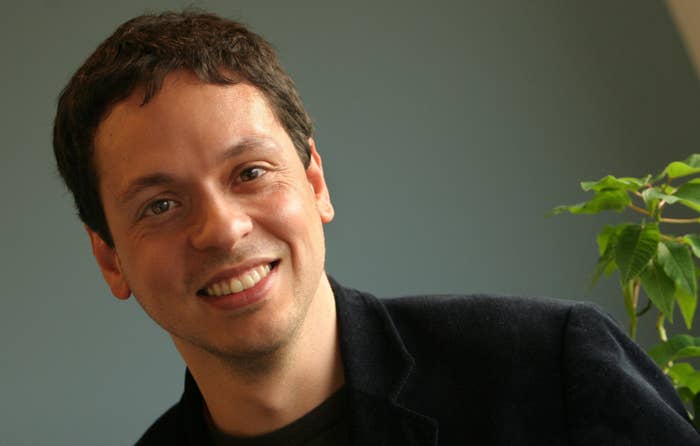 Markos Moulitsas is a singular success story of the new media business. After the Army and college, in 2002 he founded the original, ultimate liberal group blog, Daily Kos, which has survived all competitors and is now basically the last of its kind. He cofounded the sports site SBNation in 2003, a company that would become Vox Media.

I've known Moulitsas from the small world of political blogs, just a little, for years, and back in March 2014, I realized that he'd been awfully quiet, so I emailed him to ask what he was up to.
"I ask because you've always been up to such interesting things: SBNation (which weirdly people don't seem to know you started); Daily Kos; and then you were maybe the first of the big bloggers to realize that moment had passed, and to step away," I wrote him. "So I got it into my head that you're probably working on the next big thing and I wondered what it was."
"I've always got stuff percolating, but nothing I'm ready to announce just yet," he replied. "Sorry!"
This Sunday, just shy of four years later, he replied on that old email thread. Moulitsas has been up to something, it just took a little longer than he expected. And what Moulitsas has been up to is characteristically ambitious and characteristically a bit apart from everyone else's obsessions: He's been building a public opinion research company.
What makes his company, Civiqs, different is the scale of data it has collected: The company says it has — through years of online advertising — recruited a geographically and ideologically diverse panel of nearly a million volunteers, and counting, who take short daily online surveys; respondents are also matched to lists of voters. Civiqs uses that giant pool to ask 150 questions every day. And that scale and regularity means that it can see national opinion trends develop — and then easily and significantly slice them along demographic or geographical lines.
Political and commercial survey research is increasingly shifting to online panels like Civiqs, though traditionalists defend telephone polling. But the new platform's scale and sophistication marks "a major development in polling, and a really exciting one at that," says Dan Hopkins, a political scientist at the University of Pennsylvania who has taken a look at Civiqs' operation as an unpaid adviser.
In one striking example, Civiqs' data shows how every recent mass shooting has affected public opinion, and the real shock Parkland delivered to the American system — and particularly to the views of white suburban women whose votes will be key to the 2018 midterms:
Opinions about gun control over time: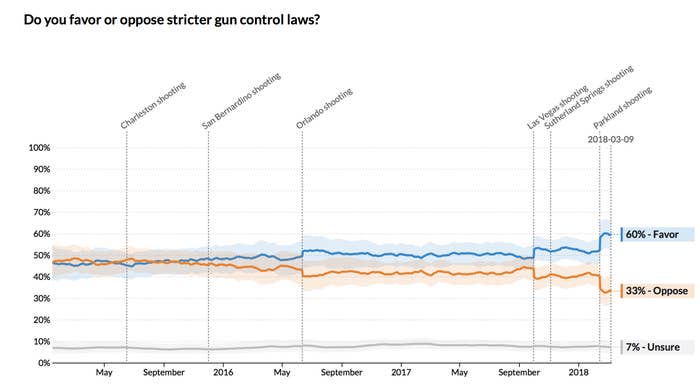 Opinions about gun control among white Republican women over time: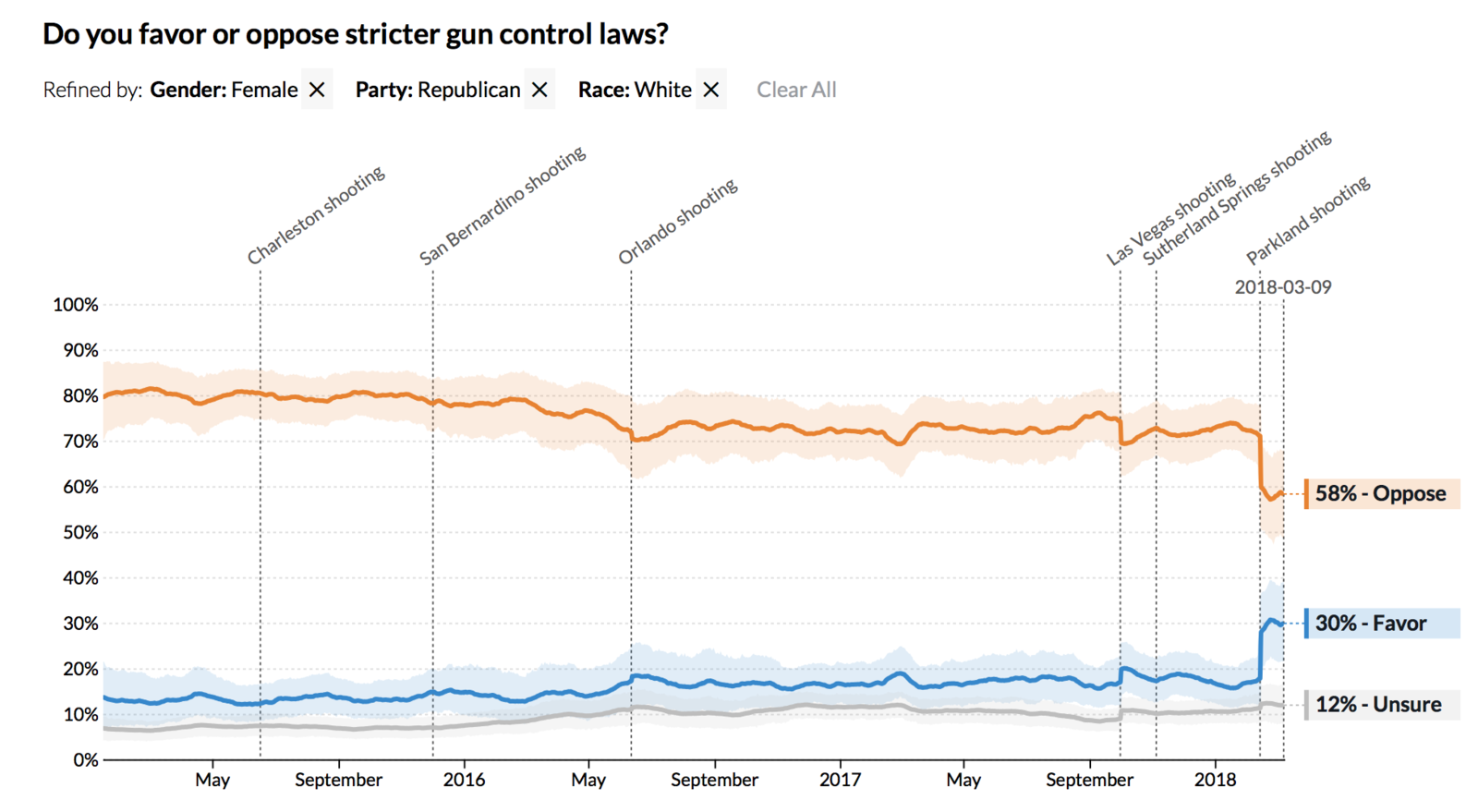 Moulitsas has always been more interested in polling, tactics, and, broadly, politics than many of his peers on the American left. Where others debated, for instance, the merits of centrist Hillary Clinton and progressive Bernie Sanders, Daily Kos stayed neutral — and its Daily Kos Elections drew bipartisan respect as a supremely nerdy source of election analysis. He's not neutral — indeed, he's the author of The Resistance Handbook: 45 Ways to Fight Trump — but he's also more focused on beating Republicans than on purifying his party.

The new data, Moulitsas said, should show Democrats how to win.
"We're the reality-based community and we've always prided ourselves on our allegiance to data," he said. "We don't talk about what the American people think — we look at the data. A lot of that is practical. We want a more progressive America, and to get there we need to know how to win."
Here's some of what the data is telling him: that the liberal base is "fired up"; that the tax law brought the conservative base "back to life"; and that "they love Donald Trump and they hate Mitch McConnell and Paul Ryan."
Practically speaking, that means Democrats should shut up about impeaching the president.
"If you run against Donald Trump and you put him on the ballot, you risk bringing out more Republicans. Talking about impeachment puts Donald Trump on the ballot," he said. "My argument would be to run against Mitch McConnell and Paul Ryan — they're very unpopular and they depress the Republican base. Keep Donald Trump off the ballot to the extent possible."
"I used to say that about guns, but after Parkland, we've seen insane numbers for white Republican women — they've gone from 10% to 30%" in support of gun control, he said. "For the first time, the gun issue may actually work in our favor."
This data is coming from a 12-person shop operating as an arm of Kos Media out of Moulitsas's headquarters on the 15th floor of an Oakland office tower, with a view over City Hall to the bay. Civiqs' director and chief scientist is Drew Linzer, a former YouGov pollster and political science PhD who was an associate professor at Emory.
Linzer said the company's slow launch stemmed from two challenges: assembling the massive panel and building an interface to surface the massive amounts of data they'd assembled. Some of the data will be public; some will be available to academics, media, and campaigns, for a fee.
"It's really about the quantity and detail of the data that we're collecting and releasing," Linzer said.
Civiqs launches Tuesday, and this article may or may not be the first real piece about it. Moulitsas isn't doing a PR rollout, but said he'd shared some details with the obvious "data nerds" — Nate Silver, et al. He's also publishing his own launch post on a midnight, Pacific time, embargo but on some reflection didn't mind BuzzFeed News publishing at midnight, Eastern.