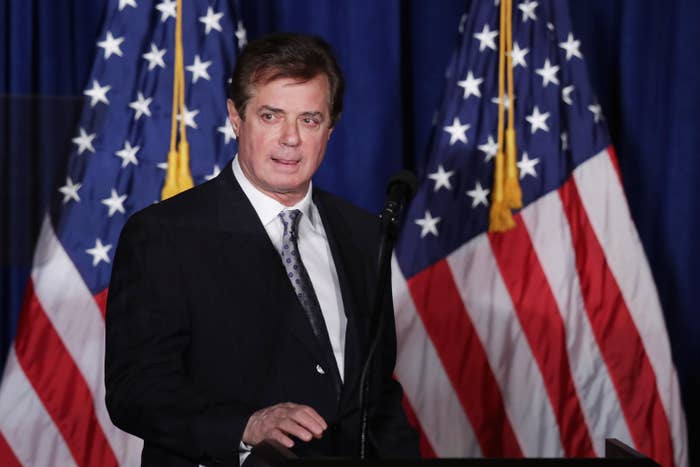 With Donald Trump on the brink of receiving classified security briefings from the Central Intelligence Agency, U.S. foreign policy figures of both parties are raising concerns about a close Trump aide's ties to allies of Russian President Vladimir Putin.
Trump's top adviser, Paul Manafort, has spent much of his recent career working for pro-Russian forces in Ukraine, and doing complex deals for an oligarch with close ties to Putin. And while a Democratic senator has already charged Trump is not responsible enough to receive secret information, Manafort's deep relationships with top pro-Russian figures raise special concerns.
Manafort may be best known for managing the 2010 campaign of Viktor Yanukovych, the Ukrainian politician whose ouster as president prompted a Russian invasion of the country. He has, according to court documents, managed tens of millions of dollars for Oleg Deripaska, an oligarch denied entry to the U.S. reportedly for ties to organized crime, but so close to Vladimir Putin that top Russian officials fought (unsuccessfully) to get him a visa.
Gary Schmitt, a former Reagan Administration official now at the American Enterprise Institute, said he believed Manafort's ties merit extra scrutiny.
"If Trump is to be given access to sensitive intelligence, which can't help but implicitly involve even more sensitive information about 'sources and methods,' then it's imperative that any campaign staff who have had commercial ties with foreign governments and politicians not be given access as well until they have gone through a full, thorough background check — not the typical perfunctory review," he said.
"Given his dubious foreign connections, it's fair to assume that many in the intelligence and national security community would be extremely wary of him handling or receiving material at even the lowest level of classification," said Adam Blickstein, a former aide to former Obama defense secretary Robert Gates.
Presidential nominees have been given access to classified briefings for decades, a tradition aimed at ensuring that they are prepared for the presidency, as well as that their campaign rhetoric not depart from secret realities.
Bradley Moss, a national security lawyer in Washington, D.C., said the process typically begins with the formal nomination, at the Republican National Convention, followed by a memorandum of understanding with the General Services Administration, a federal agency, that will offer him access to a "sanitized version of the president's daily briefing."
A staffer to Mitt Romney's 2012 campaign said that both Romney and vice presidential nominee Paul Ryan received detailed briefings from members of the same CIA team that briefs Obama. The briefings were conducted at secure facilities in Washington and elsewhere.
The aides were rushed through an intense security-clearance process, and while the Trump campaign didn't respond to an inquiry about which aide would join Trump in the briefings, people familiar with the process said it is difficult to imagine Manafort clearing such a process.
"Ties to Russia and the Kremlin would without question be a matter of concern. He'd have to explain in far more detail what the contact has been. That will have to be fleshed out in far more detail," said Moss. "It would be difficult — but not impossible — to imagine security clearing him."
A former Republican national security official put it more bluntly: "He's an intelligence classification vetting nightmare scenario."
Manafort's close ties to Russia's authoritarian ruler match Trump's own praise for Putin. Putin — whose project of undermining his western antagonists by any means has often included support for right-wing populists — last year called Trump a "bright and talented" figure, and Russia's propaganda outlets have amplified the American's campaign. Trump responded to Putin's praise in kind, saying that "he's running his country and at least he's a leader, unlike what we have in this country," and avoided condemning the murders of journalists in Putin's Russia.
"I got to know him very well because we were both on 60 Minutes," Trump said of Putin during one Republican debate. "We were stablemates, and we did very well that night."
(Though they appeared on the same show, Trump and Putin did not meet, because they were in different countries.)
U.S. relations with Russia are at their lowest point since the end of the Cold War. Putin's invasion of Ukraine in 2014 sought to rebuild Russia's sphere of influence in Eastern Europe, and the Obama Administration — which had tried and failed to make Russia a partner — imposed travel bans sanctions on the country's finance and oil industries. Russia has more recently frustrated U.S. attempts to depose Syrian president Bashar al-Assad, a Putin ally.
Trump has disturbed critics of Russia by suggesting the United States should not let the invasion of Ukraine get in the way of vaguely-described dealmaking.
"Trump has alluded to the fact that he seems ready to do a deal without preconditions, and that's exactly what Putin wants," said former U.S. ambassador to Russia Michael McFaul. "Putin wants to sit down and do deals and forget about annexation of Ukraine, forget about the forces he's supporting in Ukraine, forget about the crackdown in Russia. Trump is exactly the kind of president they seek."
McFaul also said that Manafort's ties to pro-Russian figures are a "concern" and that his proximity to Trump is "very odd if you think about who his clients are in that part of the world."
Schmitt, the former Reagan administration official, suggested that the CIA refuse to brief either candidate this year.
"Given Trump's erratic behavior, and his willingness to go public with any story regardless of how dubious, and Hillary's own sloppiness with emails and personal server, I'd rather the administration simply not provide the briefings to either candidate," he said. "Plus, Hillary really doesn't need them; she can always rely on Sidney Blumenthal for 'intelligence,' it appears."
CORRECTION
Mitt Romney and Paul Ryan were on the Republican presidential ticket in 2012. An earlier version of this post incorrectly said they ran in 2008.