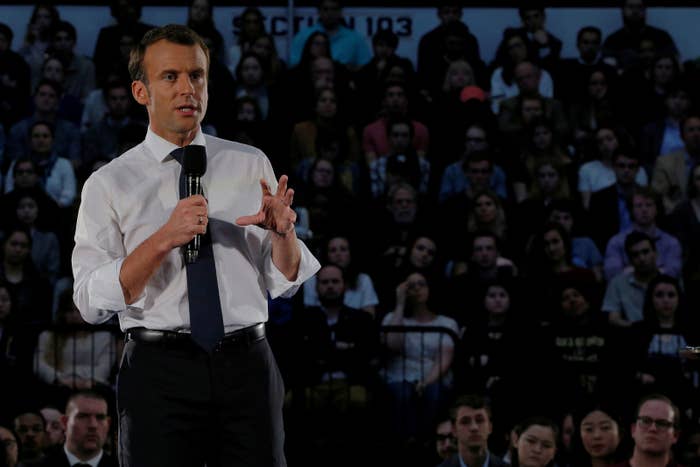 French President Emmanuel Macron believes President Donald Trump will pull out of the Iran nuclear deal as part of "a strategy of increasing tension," Macron told reporters at the conclusion of his high-profile, whirlwind trip to the United States.
"My view — I don't know what your president will decide — is that he will get rid of this deal on his own, for domestic reasons," Macron told a group of a dozen reporters and editors in an exchange at George Washington University on Wednesday.
The comment marked a recognition that even the theatrical personal chemistry between Trump and Macron couldn't dramatically shift Trump's plans, and that his trip was largely focused on containing the aftermath of US withdrawal. And Macron mixed personal praise and some optimism about Trump with sharp disapproval of US plans to pull out of treaties it had recently joined.
"It can work in the short term but it's very insane in the medium to long term," he said of the US decision "to change [its] opposition so often."
Macron also offered an analysis of Trump as both more consistent and less ideological than is commonly believed.
"When people say President Trump is not predictable, I think the opposite — he is very predictable," Macron said. "Look at his campaign commitments… [Trump] repeated in his office two days ago … that this was the worst deal ever — it's a nightmare, it was a catastrophe, and so on and so on."
Macron said he saw his trip as a success not in changing Trump's mind, but in advancing a potential framework for both the US and Iran after the current deal collapses.
"I think the US will decide very tough sanctions" after pulling out of the deal on May 12, he said. "I want to be the honest broker of the situation." Under US law, the current Iran deal requires the president to regularly waive the US's sanctions against Iran — and the next deadline is May 12.
Macron floated negotiations for a new deal at a press conference on Tuesday — one that would in theory put a permanent check on Iran's nuclear ambitions, as well as address other aspects of Iran's behavior beyond just the nuclear issue. That would include its military adventures throughout the region, including in Syria, as well as addressing Iran's ballistic missile program.
Macron said he believed he had persuaded Trump that his hopes for ending US involvement in Syria would create new problems.
"If you stop the day after our victory against ISIS, you leave the floor to the Iranians," he said he'd told Trump.
Macron said he understood Trump's approach to Iran to be pragmatic, not ideological.
"I think your president is a dealmaker," he said. "He wants to find a deal and he wants to find a deal under his condition."
"His experience with North Korea is that when you are very tough, you make the other side move and you can try to go to a good deal or a better deal," he said.
"That's a strategy of increasing tension," he said. "It could be useful."
But in the end, Macron said, his focus is to ensure that the US remains bound to the existing world order — "as the leader of this strong multilateralism and not the creator of a new political order of opposite powers."
CORRECTION
The pending Iran deal deadline relates to waiving US sanctions. Due to an editing error, a previous version of the story mistakenly said the deadline related to verification of Iran's compliance with the deal.