WASHINGTON — Sen. Harry Reid told BuzzFeed News Tuesday that members of the Electoral College should receive an intelligence briefing on Russian interference in the US election before they vote on Dec. 19.
The Senate's minority leader was interviewed at a BuzzFeed Brews event, where the retiring Nevada lawmaker also reflected on the state of the US Senate.
"I think this is as big a deal as Watergate, as 9/11. I think they should have a 9/11-type commission. I know that [US Sens.] Dianne Feinstein and Ben Cardin and others are calling for that. I think it's a step in the right direction," Reid said. "This is a scandal that has been uncovered."
In addition to calling for the commission, Reid said he placed much of the blame on FBI Director James Comey.
"I think Comey has done as much to denigrate the FBI in just the short three years he's been here as J. Edgar Hoover did during his time," Reid said.
When asked about whether he would trust President-elect Donald Trump to choose a better replacement for Comey if he stepped down, Reid responded that he did not think Comey would leave the position because he has a "sweetheart deal" there.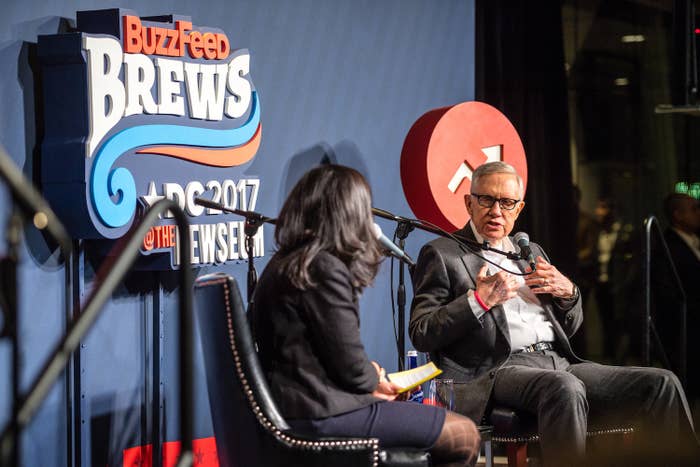 More current events came up during Reid's one-on-one interview. Regarding a group of electors has demanded a briefing on Russian hacking in a last-ditch effort to stop Donald Trump from becoming president — a move that has drawn some support from former Hillary Clinton campaign staffers — Reid said that "of course" they should get briefings.

"If they had the same briefings that I had they would be concerned about the election, and I believe focusing on the Electoral College is important," Reid said.
During the interview, which also focused on his legacy, Reid also reflected on his regret for voting for the Iraq war.
He also said that his old antagonist, Mitt Romney, "was right" about a central battle of the 2012 election: Russia's place as the major threat to the United States.
"Me and Mitt are pals," he joked, saying they only communicate through the press.
When asked about the challenges Sens. Chuck Schumer, the new Democratic leader, and Mitch McConnell, the Senate majority leader, would face, Reid said they would have to make sure that the Senate stays the Senate as it has been known in the last century.
"Republicans have taken the filibuster to extremes that are unknown to anyone," he said.
Reid, who changed the Senate's rules during his time as majority leader to weaken the filibuster, said that while it was not included in the Constitution, the filibuster had developed over time to make the Senate "operable." But recently, Reid said, the Senate had become "inoperable" and filibuster reform became necessary.
Meanwhile, the Democratic National Committee needs "competition" as it looks for a new chairman and direction post-election, he added.
"The DNC does nothing to help state organizations. That's what they should be spending their time on," Reid said, adding that there's a group of politicians who need to stay involved, including President Obama, Vice President Joe Biden, Secretary of State John Kerry, and Hillary and Bill Clinton.
Reid, who gave his farewell address on the Senate floor last week, will be retiring after a three-decade Senate career. He was elected to the Senate in 1986, and has been the Democratic leader for more than a decade.
As Reid prepares to leave the Senate, he said he and his family plan to stick around the Washington area.

Tarini Parti, BuzzFeed News' US Senate reporter, conducted the interview.