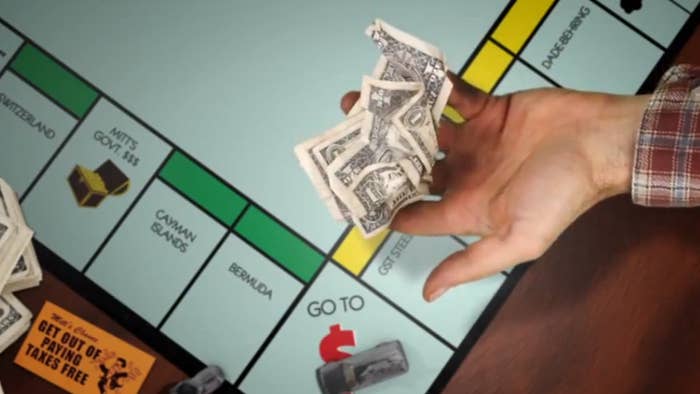 A top liberal super PAC in the 2012 election had undisclosed financial ties to the private equity firm Bain Capital — something that some people close to the group say interfered with its core mission of attacking Bain veteran Mitt Romney's business record.
American Bridge 21st Century PAC was launched in 2012 as part of a multi-pronged Democratic effort to define and defeat the Republican nominee, a project of David Brock, a former conservative reporter best known as the founder of the liberal media monitoring group Media Matters. By last January, it had amassed a vast store of opposition research, most of it focused on Romney's tenure at Bain Capital — and on the hard-edged private equity practices that would help define the Republican as an out-of-touch millionaire.
But in January, as Romney's nomination — and the line of attack — became clear, American Bridge's top fundraiser took a stand. In a series of meetings through the first half of 2012, several people close to the group confirmed, fundraiser Mary Pat Bonner demanded that the group avoid any public attacks on Bain. That's because, two sources said, two top Bain executives are key contributors to the network of organizations maintained by Brock and Bonner, which includes Media Matters and American Bridge. And some familiar with the group's work say it deliberately pulled public punches against Bain — though not against Romney — through much of the year.
"Anything that was discussed doing publicly in regard to Bain, even if it were just a quote piling on, was either shot down immediately, or there was a question, 'Could Mary Pat be OK with this?' And the answer was always no," said one person privy to the group's internal conversations. The group's political staffers were "unhappy" about the conflict — but accepted it and tried to work around it, the source said.
People close to the group's current leadership do not deny that Bonner fought to keep Bain out of the line of fire — and that she in fact at one point threatened to quit if Bridge put Bain at the center of the Romney story. But while some sources close to the group described her objections as a major drag on Bridge's ability to attack the Republican nominee, the group's current leadership describe it as a minor and ultimately insignificant issue that didn't get in the way of the group's efforts to spread opposition research behind the scenes.
A review of American Bridge communications paints a nuanced picture of a group struggling to attack Romney without smearing Bain. The group made passing mention of the company in 23 of the more than 200 press releases it sent this reporter in 2012, but generally maintained a just-the-facts-ma'am tone in relation to the company, a sharp contrast with the broad critique of "vulture capitalism" being advanced even by Romney's Republican opponents. Even as Priorities USA, its most aggressive ally, made Romney and Bain synonymous with predatory finance, Bain made it up to the subject line of just one American Bridge email, a forwarded Huffington Post story on Jan. 17.
"American Bridge was at the forefront of educating the public about Mitt Romney's record at Bain," American Bridge president Rodell Mollineau said in an emailed statement. "We spent a year producing more than 2,000 pages of original Bain research and worked with our progressive partners to determine the most strategic way to use it. Our Bain-related content was featured in more than 40 print, television and online stories," he said.
The group provided BuzzFeed with what it said were 14 instances of its "publically engaging" Romney on his time at Bain, which include a contribution to Politico by Mollineau responding to a question about whether attacks on Bain were legitimate. The response, which is in the affirmative, does not use the word "Bain."
The group also considered, and rejected, the idea of creating a website to be a hub of research about Romney and Bain. One source said Bonner helped kill it; another person close to the group said that no donor objected to the idea of such a site.
American Bridge officials also argue that those public forays were never their main goal. As a group focused on opposition research, American Bridge was a prolific source of tips on Romney's record at Bain to news organizations (including BuzzFeed), much of it provided on the condition the group not be credited, some of it provided with credit. It was also a key source of research to other liberal groups, said several progressive leaders prompted by the group to contact BuzzFeed.
It's impossible for an outsider to arbitrate whether the group's decision to operate largely behind the scenes was driven by Bonner's relationship with Bain capital, as some people close to the group charge, or whether it was a purely strategic decision on the merits, as the group's leaders forcefully argue. There is no dispute, however, that the group produced reams of research, much of which made its way into the slashing attack ads produced by Priorities USA.
"As someone who was an avid daily consumer of their research, I don't think they pulled any punches," said Paul Begala, a top adviser to Priorities and one of a few top Democratic figures who contacted BuzzFeed at the prompting of American Bridge to praise its work. Another Priorities USA official, Bill Burton, and Greg Speed, the executive director of America Votes, also contacted BuzzFeed to tout American Bridge's research on Romney and Bain.
Begala said, however, that his group had sought the support of the same two left-leaning Bain executives tied to Bonner, Jonathan Lavine and Joshua Bekenstein — and said that they declined to support Priorities USA because of its plans to attack the private equity industry in general and Bain in particular.
"For our PAC it actually made sense for [the Bain executives] not to give, because we were very critical of Romney's business practices, most of which occurred while he was at Bain," Begala said.
The battle inside American Bridge offers a rare glimpse behind the curtain of money in politics — and an illustration of how much more complicated the question of political money is in practice than in theory. Even as campaign finance reformers denounce the role of billionaires in politics, fundraisers and operatives struggle to cater to the financiers' perceived whims — often at great cost to their cause. Even as American Bridge's political staffers pushed to overcome the fundraiser's objections to Bain attacks, Republican donors with conflicting strategies and agendas were drowning out Romney's own attempts to project a clear message.
The fact that Bain executives would double as major liberal donors also complicates the portrait of the group as a conservative bastion of high finance. One person familiar with the internal conversations at American Bridge said Bonner, battling "donor fatigue" from donors being tapped for Media Matters, American Bridge, and other groups, was particularly concerned about two men. The attacks could "ruin her relationship" with two big donors, the person privy to internal conversations said Bonner warned: Lavine, a Bain Capital managing director who was also a major fundraiser for President Obama's reelection campaign in 2012; and Bekenstein, another top Bain executive who also contributed more modestly to Obama's campaign. Because American Bridge and Media Matters keep their donors secret, public records do not show either man's contributions and BuzzFeed was unable to determine who had given to which group, and how much. Neither Bekenstein nor Lavine responded to email inquiries.
There is also no evidence that Bekenstein and Lavine directly participated in internal conversations at American Bridge, though Bonner was taken internally to be their proxy. American Bridge paid her Bonner Group $641,094 in 2012, about 5% of the $12.5 million it raised overall, according to federal filings. Bonner didn't respond to a voicemail seeking her version of events.
Current and former staffers varied in their characterization of what one referred to as the "shadow" cast by Bain, with some saying it was merely a minor irritant, and others arguing that it distorted the group's work. Senior aides have also told associates that they successfully worked around the uncomfortable bargain, though they denied to BuzzFeed that there was any discomfort at all.
Two senior aides, communications staffer Ty Matsdorf and a former Democratic National Committee research director, Shauna Daly, also departed American Bridge during the election. Matsdorf said he left solely because he wanted to work on the election's front line in Nevada; Daly declined to comment in response to several emailed questions.
It's also unclear what, if any, contact there was between Bonner and American Bridge staffers on one hand and the Bain executives on the other, or what amount they gave to American Bridge.
A source close to the organization, and speaking for the group, declined to disclose the names of its donors, but said that he found it "hard to believe anything Mary Pat said would have stopped a program from moving forward."
"We have more than 300 donors and raised more than $40 million in the last cycle, and we've never had a donor who has ever given us reason to think their donations were in jeopardy based on anything we did or didn't do. No donor concern has ever led us to compromise the integrity or effectiveness of our work," the person said.
People close to the group also said that the concern waxed and waned, and that by the end of the cycle, the balance had tilted away from Bonner and toward more aggressive political staffers. On Oct. 28, American Bridge released the sort of searing public attack that many had expected from the start, a Priorities USA Action ad featuring an interview with a worker who begins, "Romney and Bain Capital shut this place down."
The American Bridge version uses a portion of the interview that does not include the words "Bain Capital."